New 'Star Wars' Hotel Images Tease What It Will Be Like To Stay In A Galaxy Far Far Away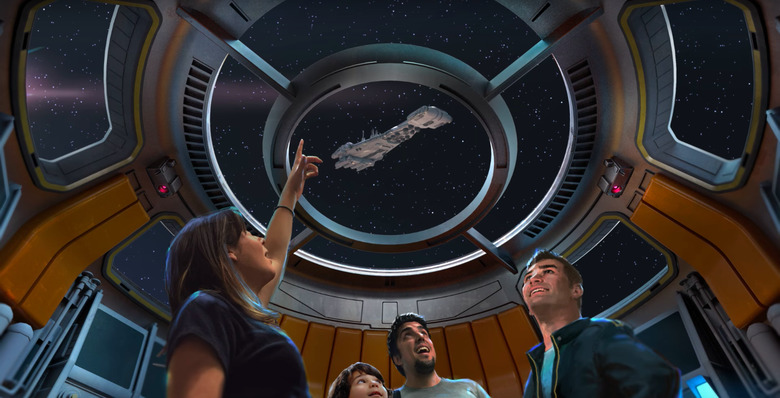 We're standing on the Galaxy's Edge, and on the other side is a stunning, immersive Star Wars-themed hotel experience. More concept art for the highly anticipated Star Wars hotel has been released by Disney Parks, and it's only making us more excited to get in our starships and travel to a galaxy, far, far away. Or at least, board a plane to Walt Disney World.
Disney Parks has revealed new concept art for the ambitious new Star Wars hotel that will be unveiled in the next few years. We've been following each new development of the Star Wars hotel with bated breath after the hotel was first teased in spring 2017 and officially confirmed to be in the works at D23.
A few grainy concept images have been released of the luxury resort, but now Disney Parks have released two new motion stills that give us a better glimpse of the Star Wars hotel.
The two new images give a glimpse at an impressive skylight that shows a starship floating overhead, as well as a mock-up of one of the family cabins.
According to Disney Parks, the resort will be "seamlessly connected" to the Star Wars: Galaxy's Edge land at Disney's Hollywood Studios, which is set to open next year (Galaxy's Edge is also coming to Disneyland in California, but there will not be a hotel component). Guests at the hotel will be encouraged to dress in Star Wars-inspired attire and will greeted by people dressed as familiar Star Wars characters.
Guests will be able to live and breathe the Jedi-in-training life, participating in a multi-day adventure without ever leaving the Star Wars bubble, Disney Parks and Resorts Chairman Bob Chapek told fans at the D23 Expo in Tokyo, Japan. The combined Galaxy's Edge and resort experience will take you on a "journey through space will begin as you board a star ship and depart with your fellow guests."
No opening date has been given for the hotel, but it will likely shoot to open during or before Disney World's 50th Anniversary in 2021.
Star Wars: Galaxy's Edge will be open to the public sometime in 2019.