VOTD: 'Early Man' Featurettes Extensively Reveal Every Step Of Making A Stop-Motion Animated Movie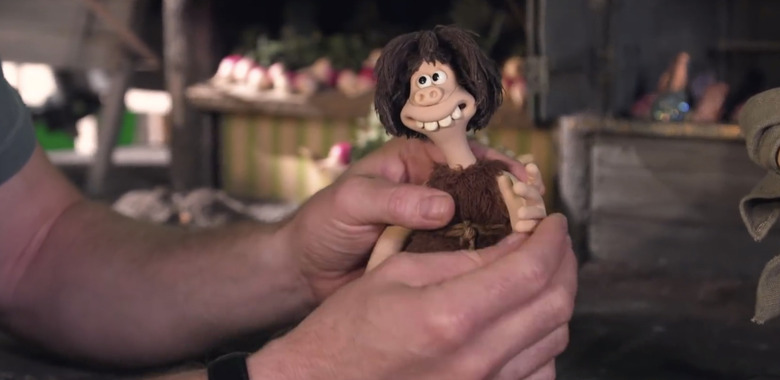 Even though Black Panther is the talk of Hollywood right now, there's another movie that opened last weekend that deserves our attention, and that's Aardman Animation's latest production Early Man.
In an age when computer animation is so prominent, stop-motion animated has gone by the wayside. But thankfully studios like Aardman Animation are keeping it alive be creating fantastic feature length adventures using clay models that move frame-by-frame. Early Man is one of those films, and you can take a look at the step-by-step process of how this film is made with an extensive batch of behind the scenes featurettes below.
Storyboarding Early Man
First up, like any motion picture, the visuals are storyboarded so filmmakers know exactly what needs to be done on set. In the case of a stop-motion animated movie, the storyboards inform what the animators need put in front of the camera. Adam Savage and the crew at Tested talked with a story board artist from the film to find out more about their process of beginning the movie in 2D.
Designing the Sets of Early Man
Before filming can begin on a stop-motion animated movie, the sets on which the characters will be animated must be built. This featurette goes behind the surprisingly large set in the the production design room at Aardman Animations to learn how Early Man's sets are blueprinted, prototyped, and then built to be filmed.
Creating the Characters of Early Man
Meanwhile, before the sets are populated with characters, those characters have to be created and defined. Here, animation director Will Becher takes us through the development of the film's characters, including their personalities. This gives the animates an idea of how the characters should move consistently throughout production in order to stay true to their character design and personality.
Shooting Early Man
Once the complex and detailed miniatures sets are ready for stop-motion filming, the characters have to be mounted and moved around on set one frame at a time. This featurette takes a look at how filming is completed on the shooting sets of the film, which is a painstakingly tedious process.
Organizing the Production of Early Man
Oh, and before the movie goes in front of cameras, all of this organization had to be done to figure out how the film will be completed with a bunch of different animators working on several scenes simultaneously. Assistant director Ben Barrowman goes through the organization process, which sounds maddening.
One Final Look Behind the Scenes of Early Man
And finally, here's a featurette that generally looks behind the scenes if you don't have the time to watch all of the videos above. Otherwise, Early Man is in theaters right now.