The Best, Weirdest, And Craziest Streaming Foreign Movies And Shows: Hungarian Oscar Nominee, Singing Nuns & Sexy Japanese Desserts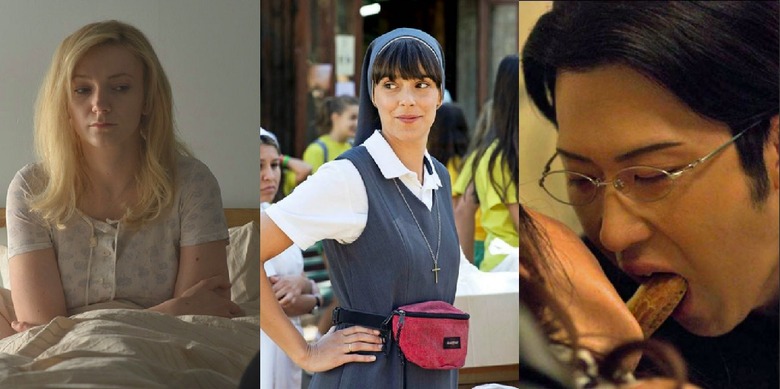 (Welcome to Pop Culture Imports, a column that compiles the best foreign-language movies and TV shows streaming right now.)
When Netflix's streaming service first launched, I remember the catalogue was filled to the brim with low-budget foreign flicks — Eurotrash B-movies or Bollywood knock-offs that you would usually watch when you're browsing for something to fill a lazy Friday night. But times have changed and today, there are more quality foreign movies and TV series available. So many, that it's almost impossible to keep up.
That's where this column comes in. Looking for the latest juicy Korean drama? Want to see the latest romance that Bollywood has to offer? Curious about the acclaimed Hungarian film that garnered an Oscar nomination? Or are you just in the mood for some anime? It's all here. While reading subtitles isn't everyone's cup of tea, these films and TV series will make you want to.
And don't worry, there will be a fair share of Eurotrash B-movies and Bollywood knock-offs, too.
1. On Body and Soul (Hungary) — Netflix
Hungary's Oscar-nominated film is a surreal slow-burn, whose cold exterior gives way to a profoundly warm romance. And you can catch it now before it competes in the best foreign language film category at the Academy Awards ceremony on March 4.
On Body and Soul follows two co-workers at a slaughterhouse who discover that they have been sharing the same dream. An instant connection is struck up between the socially awkward, possibly autistic Mária (a stunning Alexandra Borbély) and the weary older Endre (Géza Morcsányi). Ildikó Enyedi directs the dreamy movie, balancing a stark, sanitized palette with shocks of brutality and rare moments of tenderness.Watch This If You Like: Thelma, Raw, The Lobster, a good steak dinner.
2. Kantaro: The Sweet Tooth Salaryman (Japan) — Netflix
Obsession. That's the best word to describe this outrageous offbeat Japanese comedy series. Based on the manga series Saboriman Ametani Kantarou by Tensei Hagiwara, Kantaro: The Sweet Tooth Salaryman is about a stoic book salesman so obsessed with dessert that he routinely rushes through his workload so that he can visit dessert shops, where he basks in the sweet flavors and hyperbolically blogs about it. And I guarantee that you will be obsessed with this show.
Honestly, it's hard to put into words what makes Kantaro so special. It's more than stylish dessert porn or an over-the-top Japanese comedy — though it is both those things and more. Let me describe to you a typical scene. Every episode, Kantaro (played by the impressively expressive Matsuya Onoe) pontificates on the meaning of dessert by drawing ridiculous parallels to historical figures — Churchill, Freud, and Goethe would roll in their graves — before he finally takes a bite into the dessert of the week. After he makes an orgasm face for way too long, he's suddenly transported into a bizarre fantasy sequence where he's either doused in syrup or his head is transformed into a melon. Yeah, it's a weird show. I love it.
But even if wacky Japanese comedy isn't your scene, Kantaro can appeal to every foodie looking to chew on something between their Great British Bake-Off marathons. Each of the dessert shops Kantaro visits is a real shop in Tokyo, and the show paints each dessert — from Japanese concoctions like anmitsu and mamekan to parfait — with loving care.
Watch This If You Like: Tampopo, Amélie, Chocolat, Willy Wonka and the Chocolate Factory, weirdly sexual dessert imagery.
3. Human Flow (China) — Amazon Prime
"We too are humans," a Rohingya man says tearfully, after describing the plight of his stateless people who are being forced to flee Myanmar in Human Flow. It's a statement that seeps through Ai Weiwei's galvanizing documentary about the global refugee crisis.
The Chinese political artist paints a harrowing, haunting, and humanizing portrait of the refugees fleeing from the war-torn Middle Eastern countries to an unwelcoming Europe. As a documentary, Human Flow is not quite interested in the politics — minimizing the complexities of war to brief news headlines — as it is in the humanity of it all. Human Flow lingers on stunning shots of the refugees interviewed by Ai, and on the moments of humanity and levity that balance out the sheer horror of the situation. It's an artist's approach to documentaries: see, and feel its weight.
Watch This If You Like: Hotel Rwanda, An Inconvenient Truth, Ai Weiwei art exhibits.
4. Holy Camp! (Spain) — Netflix
Holy Camp! takes its title to heart, delivering an equal amount of avid religiosity and hammy performances from the musically-inclined cast. Adapted from the insanely popular stage musical of the same name, Holy Camp! is a quirky, irreverent musical comedy about friendship and coming of age — and a girl who starts hallucinating a vision of a Liberace-style God who serenades her with Whitney Houston songs.
The story follows a pair of promiscuous best friends who dream of becoming famous reggaeton singers, but are stuck for the summer at a wholesome Catholic camp. But things change drastically when María (Macarena García) starts having visions of God and Susana (Anna Castillo) begins questioning her own sexual identity. The two of them spar verbally and spiritually with the overseeing nuns, the regretful Milagros (Belén Cuesta) and her stuffy superior Sor Bernarda de los Arcos (Gracia Olayo). It sounds silly on paper, but Holy Camp! is a fun, sincere romp that manages to sell its more patently ridiculous moments through the charm of its cast.
Watch This If You Like: Grease, 8 Femmes, Saved!, Whitney Houston.
5. Junji Ito Collection (Japan) — Crunchyroll
Junji Ito is one of the most renowned Japanese horror artists, famous for his disturbing illustrations that have earned him the nickname the "David Cronenberg of manga." Now, some of his most popular works have been turned into an anthology anime series.
As expected, the series is macabre and grotesque with an undercurrent of black humor. The humor doesn't quite translate well to animated form (at some points the series feels like a flat-out comedy) and the animation doesn't do nearly enough justice to Ito's art, but it's still a compellingly creepy series. Episodes range from the tongue-in-cheek story of curse-obsessed boy, to the existential dread of a man caught in a decades-long dream.
The entire series is available for free on Crunchyroll, no subscription necessary.
Watch This If You Like: American Horror Story, xxxholic, being traumatized.
6. The Trader (Georgia) — Netflix
The Trader is a sleepy, short documentary that follows a traveling merchant in rural Georgia who sells secondhand clothes and items from the back of his minibus. Directed by Tamta Gabrichidze, not much happens in the brief documentary, but it feels profoundly affecting all the same. On the surface, The Trader seems like a heartwarming peek into the daily lives of rural Georgians whose main currency is potatoes. But the documentary ends up being a harrowing snapshot of an impoverished village full of people who have given up on their ambitions, and children who happily rifle through broken toys but have no hope for the future. The Trader only opens a brief 23-minute window into the lives of rural Georgians, but it's an immensely powerful 23 minutes.Watch This If You Like: The Gleaners and I, contemplating the injustice of the world.
7. Babylon Berlin (Germany) — Netflix
A  German period drama television series based on novels by Volker Kutscher, Babylon Berlin follows police commissioner Gereon Rath in 1929 Berlin, as he uncovers a great conspiracy while investigating one of the city's biggest pornography rings. At the same time, another conspiracy unfolds as Soviet rebels hijack a train in a mission hatched by Trotsky supporters in the city.
Extravagant, stylish, and kinetic, Babylon Berlin lives up to its reputation as the most expensive non-English drama series ever produced, portraying a jazz-age city on the cusp of a cultural explosion and a foreboding future of violence and fascism. The complex character arcs and whirlwind narrative makes it one of the most binge-able new series on Netflix.
Watch This If You Like: The Crown, The Americans, Boardwalk Empire, spies and simulated sex.
8. Re: Mind (Japan) — Netflix
Re: Mind is probably the fastest binge you'll ever go through. A plot twist-heavy thriller, Re: Mind opens on a group of 11 high school classmates who wake up with silk bags on their heads and irons clapped to their feet, bound to an elegant dining table in a Victorian-inspired room. But a dramatized Escape Room this series is not, as the girls hopelessly try to free from themselves over the course of 13 episodes. Instead, the series becomes an elaborate game of "whodunnit," with the girls eventually pointing the finger at each other. Re: Mind is a surprisingly addicting series for a show that takes place essentially in one setting, with twist after twist compelling you to watch on.Watch This If You Like: Saw, Cube, Liar Game, the most frustrating game of Escape Room.
9. Love Per Square Foot (India) — Netflix
I told you there would be Bollywood! But it's arguable whether Love Per Square Foot, with its meager six songs, would totally qualify for that label. Easily disposable songs or not, Love Per Square Foot is a charming Indian Hindi-language romantic-comedy about house hunting. Really.
The movie follows Sanjay (Vicky Kaushal) and Karina (Angira Dhar), two millennials living in cramped family conditions in Mumbai who are desperate for the chance to live in their own homes. But pricey real estate dictates that the two must fake a marriage so that they can secure a loan for a couples condo. Yeah it's a cliched "fake relationships" movie, but Love Per Square Foot is a fun clash of personalities, clash of cultures movie (Sanjay's family is Hindu while Karina's is devoutly Christian) that zips and zags, even under a few too many subplots.
Watch This If You Like: The Proposal, What Happens in Vegas, Leap Year, rich and delectable cheese.
10. Prison Playbook (South Korea) — Netflix
Prison Playbook is a black comedy from popular Korean TV creator Shin Won-ho, known for his critically acclaimed Reply series, a slice-of-life anthology TV show whose different seasons took place in 1997, 1994, and 1988. Prison Playbook follows a beloved baseball player who gets convicted of assault and sent to prison. Like many a Korean drama, the narrative starts off at a sluggish pace, but after three episodes, Prison Playbook establishes itself as an intriguing, darkly humorous character drama. While the supporting characters are a riot, the lead (Park Hae Soo) is a bit dull, though it is tough to play a blank-faced dullard as written. The unorthodox flashbacks and timeline contrivances keep things interesting — both are common tools with Shin — and the stellar supporting performances make Prison Playbook worth a watch.Watch This If You Like: Orange is the New Black