The "Dora Milaje" Of 'Black Panther': Celebrating The Black Women Behind The Camera Of Marvel's New Film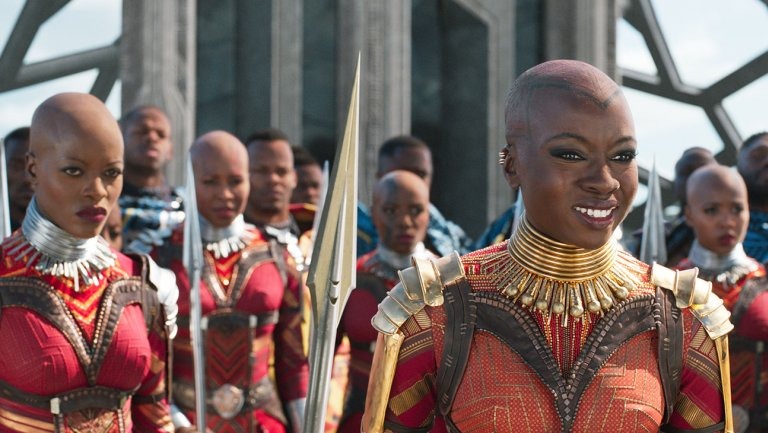 T'Challa has the responsibility to protect his nation as the Black Panther, but protecting right alongside him are the members of the Dora Milaje – the elite, all-female warrior group of Wakanda. Known as "the adored ones," the Dora have a focused duty to watch over their king and they take that task very seriously.
The Dora serve as the muscle of Wakanda in the comics and there are similar parallels to Black Panther (the film) and its talent behind the talent. As director Ryan Coogler assumed the role as the leader of the production, his own Dora Milaje provided extraordinary skills that brought the film to life. It's time to celebrate some of these women for their art and give a lesson on their work achievements. These are the women of color who helped bring Black Panther to life.
Ruth E. Carter: Costume Designer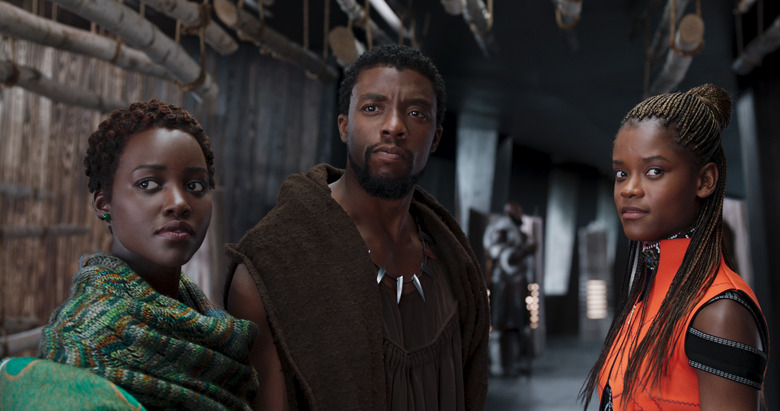 Ruth E. Carter has an extensive resume working on some of the most well-loved Black films of the last 30 years. Her career started as an intern at the esteemed Santa Fe Opera. In 1986, she moved to Los Angeles and began working at the Los Angeles Theater where she met Spike Lee. Lee and Carter developed a rapport and Lee hired Carter to do costume design for 1998's School Daze, the first of many collaborations with each other. That same year, Carter worked on the parody Blaxploitation film by Kenan Ivory Wayans, I'm Gonna Get You Sucka.
Lee and Carter collaborated again in 1989's Do The Right Thing. From there, Carter began consistently designing for a myriad of films in the Black movie lexicon – films such as The Five Heartbeats, Malcolm X, Love and Basketball, Shaft, B*A*P*S, and more. Beyond film, Carter has also done costumes for television shows like Being Mary Jane and the Roots TV mini-series. Recently, Carter has done design work for period pieces such as Lee Daniel's The Butler, Selma and Marshall.
With Black Panther, Carter had a unique task of designing looks for a people who are a part of the larger African continent in the Marvel comics' source material, but whose nation is fictional. Carter made the decision to base her designs on actual tribes across the continent to ground the outfits in tradition and celebrate the culture of those countries today. She was inspired by the Maasai tribe in East Africa, the Himba tribe in Namibia, and others to give the wardrobe of the Wakandans an afro-futuristic vibe. Carter herself has stated in interviews that the foundation of her design inspirations comes from many interpretations in the Black Panther comics. "Everybody had their own take on this Black Panther world and universe" she says in a Marvel Studios featurette. "I knew it was something that we could recreate from a place of imagination."
Hannah Beachler: Production Designer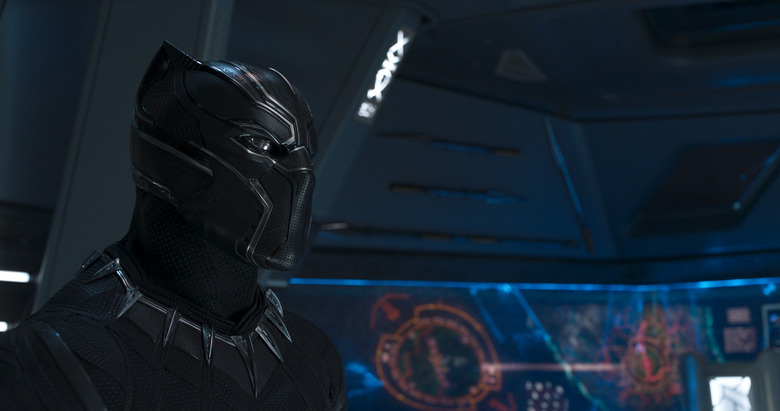 Hannah Beachler is a production designer and art director who has leveraged her degrees in fashion design and film to make the backdrops of her projects become their own character. Beachler has been working in the art design world since 2004 and in the production design world since 2007. She met and worked with director Ryan Coogler on his first film, Fruitvale Station. With an eye for research and a knack for art, Beachler has worked as a production designer on every Coogler-directed film.
Beyond Creed and Black Panther, Beachler was also the production designer for the Don Cheadle-directed Miles Ahead, the Oscar-winning film Moonlight, and Beyoncé's groundbreaking Lemonade TV Special on HBO. Beachler received a primetime Emmy nomination for Lemonade in 2016.
Like Carter, Beachler also had a unique task of creating a nation that has an extensive comic background but making it as grandiose and suitable for the silver screen. The technological advancements of Wakanda mixed with traditional pieces also makes this project a tall order. Beachler rose to the task due to her extensive research of modern architects who had notable work in Africa.
Speaking to Marvel, she described her inspiration, saying:
"I started poking around and looking at really modern architects who have designed in Africa, all over Africa, east and west Africa. And someone who I really fell in love with was Zaha Hadid, who has passed away, but she is one of the foremost architects. Her architecture is very voluptuous and very flowing, very organic. And the more I started digging into Senegal and Nigeria and finding things, while not necessarily futuristic-looking, very modern in their sensibilities as far as the way they're putting together their elements and the colors that they use, I was struck by that. I think in Kenya, Uganda—Johannesburg was another one—where no matter where you go, you really do see that they're always keeping in mind the tradition."
This focus of keeping the tradition shines through in the film. From the merchant's square that T'Challa and Nakia walk through, to the clean lines and designs in Shuri's lab, it's impressive to see how the world of Wakanda comes to life through her eyes.
Douriean Fletcher: Jewelry Designer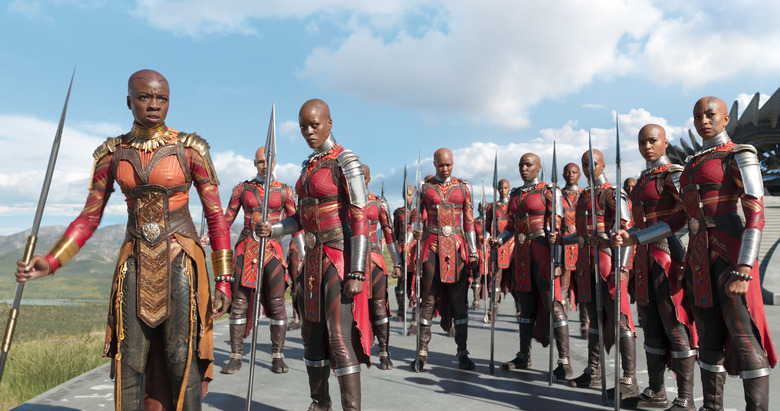 A jewelry designer for over 10 years, Fletcher is no novice in her field. She traveled to South Africa to develop her design style and proudly works on handmade pieces with raw materials. Her brand (and website) describes her pieces as "fine art jewelry" that celebrates the culture it is inspired by.
Fletcher's style and her flare for avant-garde pieces caught the eye of Ruth E. Carter, which eventually led her to Black Panther. Carter and Fletcher crossed paths when Carter was the costume designer of the Roots TV mini-series. The two kept in touch, and Carter brought her on the team when she was hired the Black Panther.
In an interview with LA Times, Fletcher goes into details about her process and how she did some of Ramonda's (Angela Bassett) pieces, as well as all the metal work for the armor and necklaces of the Dora Milaje:
"I worked in the costume section. I had my own workshop. So any time [cast members] would come in, I might've had two torches in my hand or a hammer — with a safety helmet on. And I'm really petite, so it was probably weird to see this little black woman just hammering away."
Because this is a film with characters who are a part of a monarchy, the jewelry needs to reflect that regal opulence as well as the easy access that Wakanda has to the rarest metal in the Marvel universe: Vibranium. The intricate designs shine on screen – the silver of the shoulder pads on the Dora Milaje stands out amongst the bright red/orange of their armor.
Fletcher is currently selling an official Black Panther jewelry capsule collection on her official website.
IMAGE
Celebrate the Doras
As Black Panther continues ripping through the box office, there's no doubt that these ladies will continue being successful and talented. So when we talk about what works for Black Panther, these three should be one facet of that. It's one thing to have a stellar cast, but there is no film without the look the feel of Wakanda: the textiles, jewelry and the environment itself is the center of this universe.
These brilliant women have adorned this world with their style. And this film is better off because of it.