'Silicon Valley' Season 5 Trailer: The Hit HBO Comedy Returns, Without T.J. Miller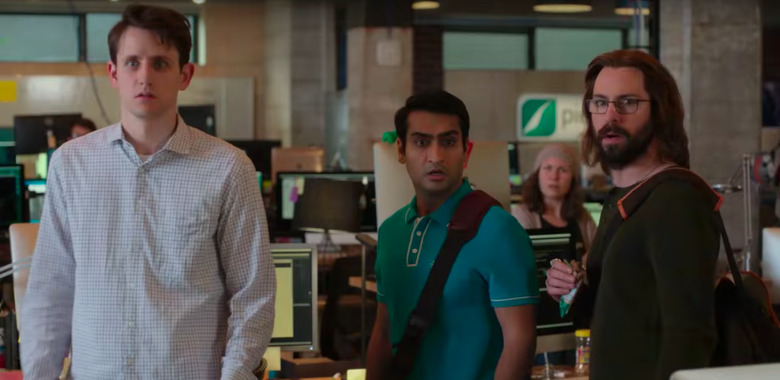 The Pied Piper gang is back, and they have a whole new slew of problems. One of which, amazingly, is a litter of puppies.
Silicon Valley season 5 marks a new era for the scrappy tech company. Pied Piper is finally expanding its legitimacy beyond its start-up roots, running into everything from increasingly hostile competition to puppy-related work accidents. But most notably, this will be the first season without T.J. Miller as Erlich Bachman.
Silicon Valley Season 5 Trailer
The new trailer for Silicon Valley season 5 harkens many changes. Richard Hendricks (Thomas Middleditch) wakes up in the hospital, Pied Piper is expanding with 50 new employees, and there are puppies in the office. But things still remain mostly the same, with Richard striving to prove himself as a capable CEO, even as his friends and his competition get in his way.But one character is notably absent: Erlich Bachman. At the end of season 4, Miller left the show to pursue his movie career and his character was written out of the series. Bachman, as far as we know, is still off in a monastery in Tibet. The decision to write Miller out of the show was made long before the actor's sexual misconduct controversies.
"The producers of Silicon Valley and T.J. Miller have mutually agreed that T.J. will not return for season 5," HBO said in a May statement (via Variety). "In Erlich Bachman, T.J. has brought to life an unforgettable character, and while his presence on the show will be missed, we appreciate his contribution and look forward to future collaborations."
The HBO show also stars Zach Woods, Kumail Nanjiani, Martin Starr, Josh Brener, Amanda Crew, Matt Ross, Suzanne Cryer, and Jimmy O. Yang.
Silicon Valley returns on Sunday, March 25, 2018 on HBO.