'Lost In Space' Trailer: The Classic Sci-Fi Series Gets Rebooted On Netflix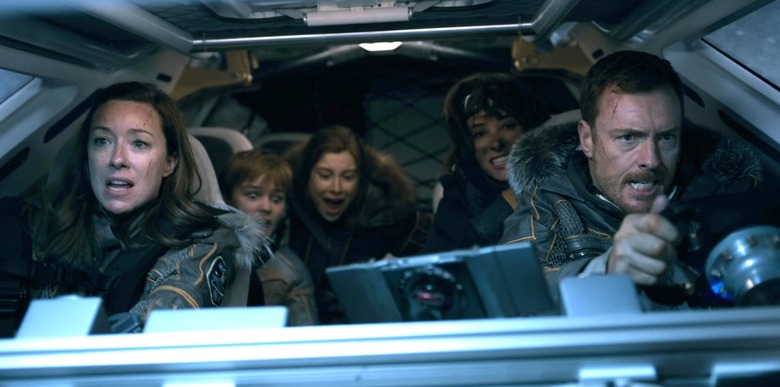 "Danger, Will Robinson!"
Lost in Space is a classic television series in that it's iconic. Everyone can quote it. Everyone is familiar with its iconography. But it was never a great show – it was merely a show that a lot of people grew up watching. Now, a promising reboot of the series could change that. The first Lost in Space trailer has arrived, teasing the new version coming to Netflix in just a few months. And yeah, it's pushing my classic Star Trek buttons pretty hard.Lost in Space originally ran from 1965 through 1968, with its 83 episodes telling the story of the Robinson family, who set out to colonize a new planet and find themselves turned around in the cosmos. They were joined by a slick pilot, a scheming saboteur, and, of course, a robot named Robot. The sets looked like they were made of cardboard. The storytelling was hokey. It was all a big goof, really. But there's no denying its inherent charm or the strength of its high concept premise.
Now, the rebooted Lost in Space trailer promise a slicker, sleeker, more serious take on the material.
Lost in Space Trailer
Of course, this isn't the first time Lost in Space has received a glossy reboot. Stephen Hopkins' 1998 film exists and it's a total nightmare. The kind of nightmare that wastes Gary Oldman. The kind of nightmare that tries to transform Matt LeBlanc into a po-faced action star. Do yourself a favor and do not revisit it before checking out this new version.
While this is very much a teaser trailer, I like what I'm seeing. The optimistic tone and the focus on human achievement reminds me very much of classic Star Trek and that's great! Even a show about space travel gone wrong can use a big boost of optimism! And with director Neil Marshall (Game of Thrones, Hannibal, Westworld and awesome genre movies like The Descent and Doomsday) behind the camera for a few episodes, it's surely also going to be intense. Because that's just Marshall's default mode.
The new Lost in Space stars Toby Stephens as John Robinson, Molly Parker as Maureen Robinson, Ignacio Serricchio as Don West, and, most enticingly, Parker Posey as a gender-swapped Dr. Smith. Presumably, the Robot will play himself.
Lost in Space will arrive on Netflix on April 13, 2018.
The Official Synopsis
Set 30 years in the future, colonization in space is now a reality, and the Robinson family is among those tested and selected to make a new life for themselves in a better world. But when the new colonists find themselves abruptly torn off course en route to their new home they must forge new alliances and work together to survive in a dangerous alien environment, light-years from their original destination. Stranded along with the Robinsons are two outsiders who find themselves thrown together by circumstance and a mutual knack for deception. The unsettlingly charismatic Dr. Smith (Posey) is a master manipulator with an inscrutable end game. And the roguish, but inadvertently charming Don West (Ignacio Serricchio) is a highly-skilled, blue-collar contractor, who had no intention of joining the colony, let alone crash landing on a lost planet.