Tiffany Haddish To Lead New Animated Netflix Show From 'BoJack Horseman' Team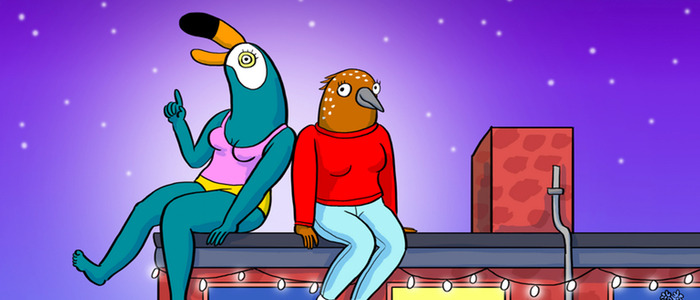 Netflix is adding another animated series to its line-up with Tuca & Bertie, a new show from the team behind BoJack Horseman. The streaming service has cast newly minted superstar Tiffany Haddish to voice the lead character.
BoJack Horseman is one of the best original shows Netflix has to offer, and now the team behind BoJack is branching out into a new animated series. On top of that, they've cast Girls Trip breakout star Tiffany Haddish in the lead. Tuca & Bertie comes from Lisa Hanawalt, supervising producer of BoJack Horseman. Raphael Bob-Waksberg (BoJack Horseman), Noel Bright (BoJack Horseman, Friends), Steven A. Cohen (BoJack Horseman, Jack & Bobby) and Haddish will all serve as executive producers along with Hanawalt.
Here's a synopsis for the show:
The animated series is a comedy about the friendship between two 30-year-old bird women who live in the same apartment building: Tuca, a cocky, care-free toucan, and Bertie, an anxious, daydreaming songbird.
The animation will be handled by Shadowmachine, who also handle the animation for BoJack. Indeed, the image released for Tuca & Bertie features character designs almost identical to the type of designs seen on BoJack. If Tuca & Bertie manages to adopt the same brilliant, existential tone as BoJack, Netflix will have two incredible original animated shows on their hands. If, for some strange reason, you've avoided watching BoJack Horseman, I highly recommend you rectify that immediately. It's one of the smartest shows on TV right now, and while on the surface it may appear to be a silly cartoon about talking animals, it's a surprisingly deep, often emotionally devastating series. The most reason season may have been the best so far.
Tuca & Bertie is just the latest in a string of projects for the increasingly in-demand Haddish. After her big scene-stealing turn in Girls Trip, Haddish has landed gigs hosting Saturday Night Live and mentioned being in talks with Paul Thomas Anderson for a new film. She also recently landed a role in the comic book adaptation The Kitchen, co-starring Melissa McCarthy. On top of that, Haddish signed a first-look deal with HBO at the beginning of 2018, and has a wealth of upcoming projects, including Limited Partners, The Oath and The Temp. Oh, and she's also starring in the upcoming TBS series The Last O.G. alongside Tracy Morgan. In other words, Tiffany Haddish is very busy.
There's no date set yet for Tuca & Bertie. BoJack Horseman season 5 will likely arrive on Netflix sometime this year.