'Red Sparrow' Clip: Jennifer Lawrence Holds Something Back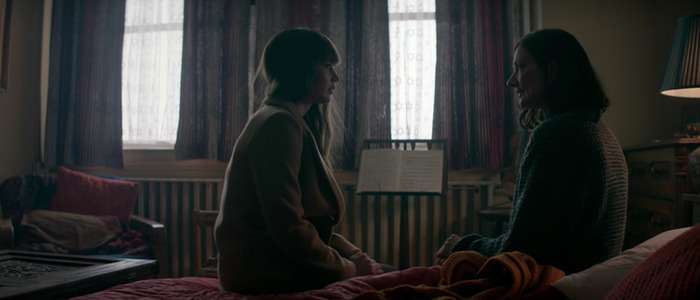 Depending on which critic you ask, Red Sparrow is either a surprisingly good adult drama or a slog to sit through. Either way, there's some buzz behind the Jennifer Lawrence spy-thriller. A new Red Sparrow clip offers a dramatic-yet-subdued look at the film.
This brand new Red Sparrow clip isn't action packed. Nor is the type of scene you might expect to see in a standard spy thriller. Instead, this is a quiet, reflective moment between Jennifer Lawrence's character and her mother (Joely Richardson). Check it out.
Red Sparrow Clip
I still don't know what to make of Red Sparrow. This clip is, to be blunt, rather unexciting. I suppose it serves as a showcase for Lawrence's acting, but this isn't the type of clip that puts butts in seats. On top of that, the trailers have been underwhelming. And yet, critical buzz has been fairly positive. Some critics have called the film surprising, and stressed that it's definitely not the action thriller some trailers have been selling – which might explain this clip. A subdued, action-free clip like this gets the point across that Red Sparrow is not an ass-kicking action flick like Atomic Blonde.
In addition to Lawrence, Red Sparrow stars Joel Edgerton, Matthias Schoenaerts, Charlotte Rampling, Mary-Louise Parker and Jeremy Irons. That is a damn solid cast, which makes me want to see this movie even more. On top of all that, the script comes from Justin Haythe, who wrote the highly underrated A Cure For Wellness. In other words, all signs point to this being a surprisingly good film.
Francis Lawrence, who worked with Lawrence on several Hunger Games sequels, helms the film. Will Lawrence be able to deliver the goods here? Fingers crossed. I appreciate that Red Sparrow is trying to present a more subdued, low-key type of spy thriller. I just hope it doesn't end up being so subdued that I fall asleep in the theater.Red Sparrow opens on March 2, 2018.
Prima ballerina Dominika Egorova faces a bleak and uncertain future after she suffers an injury that ends her career. She soon turns to Sparrow School, a secret intelligence service that trains exceptional young people to use their minds and bodies as weapons. Egorova emerges as the most dangerous S
parrow after completing the sadistic training process. As she comes to terms with her new abilities, Dominika meets a CIA agent who tries to convince her that he is the only person she can trust.