'The Dangerous Book For Boys' Trailer: Amazon Series Adapts The Ode To Childhood Imagination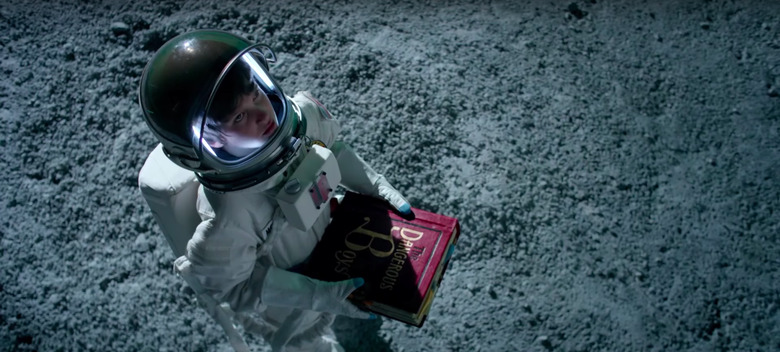 It's all well and good to romanticize the childhoods of the '80s, when kids biked around freely and made complicated contraptions to prank unsuspecting adults. But what about the kids of today? You can warn them about the dangers as much as you want through episodes of Black Mirror, but maybe it's not fear they need, but imagination.
That's where The Dangerous Book for Boys comes in. The new Amazon Prime TV series adapts the British guide book into a six-episode comedy about a smartphone-obsessed boy who discovers that you don't need technology to have fun. You just need an eclectic handbook passed down to you by your dead father.
The Dangerous Book for Boys Trailer
Bryan Cranston and Superbad director Greg Mottola took a popular British guidebook and transformed it into a heartwarming narrative about a family dealing with grief through the power of imagination.
The McKenna family copes with the sudden passing of Patrick (Chris Diamantopoulos, Good Girls Revolt), a quirky inventor who leaves behind a strange guidebook for his sons, filled with advice about spaceships and tree forts, as well as stories of historic battles gone by. It sparks inspiration in his youngest son Wyatt (Gabriel Bateman), who suddenly finds himself communicating with his father through elaborate, whimsical fantasies.
The series also stars Erinn Hayes, Drew Logan Powell, Kyan Zielinski, Dashand Liam, and Swoosie Kurtz.
The bestelling Dangerous Book for Boys was written by Conn and Hal Iggulden as a handbook for British Boys on everything from fishing to building a watch. In 2007, Scott Rudin's production company attempted to adapt it to film, but the project never got off the ground. It wasn't until 2014 that an adaptation saw the light again, when Cranston first put the book into development as a series, according to Variety.
Cranston co-created The Dangerous Book for Boys and co-wrote the first two episodes with Mottola. Mottola will direct the series while Malcolm in the Middle's Michael Glouberman serves as showrunner.
Here is the official synopsis for The Dangerous Book for Boys:
Inspired by the best-selling book, The Dangerous Book for Boys is heartwarming story of a family overcoming loss with the help of a book filled with life lessons that was handed down from a father to his three boys. The book inspires adventurous fantasies in the youngest son, Wyatt, that teaches him how to bring his family closer and move forward.
All six episodes will be available on Amazon Prime starting March 30, 2018.