'Jessica Jones' Season 2 Trailer: Jessica Is Doing Things Her Way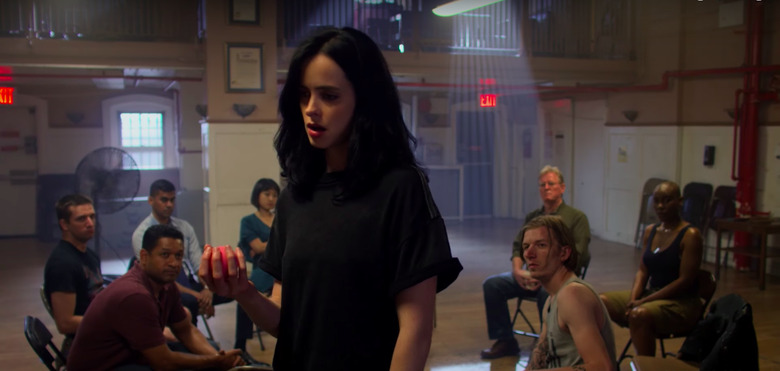 Jessica Jones is back, and she is angry. And no, those anger management sessions aren't doing her any good.
The hard-drinking anti-heroine of Jessica Jones returns in a new trailer for the Netflix show's second season. But unlike the cryptic first trailer for Jessica Jones season 2, this latest trailer squeezes in as much action as possible, even sprinkling in some of the high-adrenaline scenes from season 1.
Jessica Jones Season 2 Trailer
Hell hath no fury like a woman forced into anger management therapy, and Jessica Jones is all fury in the newest Jessica Jones season 2 trailer.
"Some people call me a hero," Jessica intones in the trailer. "Others call me a freak. I didn't ask for this. I'm just trying to make a goddamn living in this goddamn city."
Cue a montage of Jessica doing private-eye work, which for some reason the trailer has to explain by cutting to a season 1 scene of Luke Cage (Mike Colter) asking, "You're a P.I.?" Don't get your hopes up that Luke will show up again — he's busy with his new beau Claire (Rosario Dawson) in Harlem, and all the scenes we see of him in this trailer appear to be from season 1. Still, there's no guarantee that Luke will be entirely absent. After all, we're getting incessant hints that Jessica's old nemesis Kilgrave (David Tennant) is returning in season 2, despite being, you know, dead.
This newest trailer for Jessica Jones season 2 doesn't seem that concerned with plot or narrative consistency. Maybe 40% of the scenes shown in the trailer are from season 1, as is Jessica's line "I gotta make a decision. One, keep denying it. Or two... do something about it." It's an empowering way to end the trailer, sure, but it's a bit confusing. I'm going to assume that this trailer isn't for ardent Marvel fans who have seen every series from Daredevil to Iron Fist, but for newcomers to Jessica Jones, which is easily the best and most accessible Marvel Netflix series.
Here is the synopsis for Jessica Jones season 2:
New York City private investigator Jessica Jones (Krysten Ritter) is beginning to put her life back together after murdering her tormenter, Kilgrave. Now known throughout the city as a super-powered killer, a new case makes her reluctantly confront who she really is while digging deeper into her past to explore the reasons why.
Jessica Jones also stars Rachael Taylor, Carrie-Anne Moss, and Eka Darville. Newcomers include Twilight's Leah Gibson as Ingrid, and Tumbleweeds' Janet McTeer.Jessica Jones season 2 will premiere on Netflix on March 8, 2018.