'Bill And Ted 3' Script Resurrects William Sadler's Death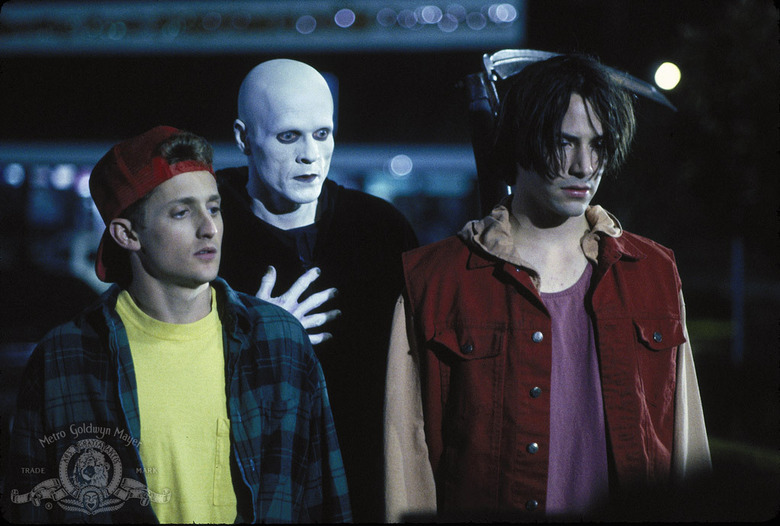 Death becomes Bill and Ted 3 — but not in the way you expect. No, the movie is still alive and kickin' and in development for now, though that much can't be said for a certain Bill and Ted character set to return to the sequel. That's right, it's William Sadler as Death.
Bill and Ted screenwriter Ed Solomon has been steadily beating the drum for the Bill and Ted sequel, now titled Bill and Ted Face the Music. That includes teasing out details from his Bill and Ted 3 script and appealing to former Bill and Ted actors on Twitter to potentially return for the third film. And it looks like Sadler is more than game.After taking a trip down memory lane with the original Bill and Ted's Excellent Adventure, Ed Solomon has set his sights on the future. Which means it's time to get that long-gestating Bill and Ted 3 off the ground. The film has been talked about by its creators and actors Alex Winter and Keanu Reeves for nearly 10 years, but with a title nailed down and a script in the works, it seems like Bill and Ted Face the Music could finally, well, face the music.
Solomon has been diligently working on the Bill and Ted 3 script, tweeting out new details all the while. One tidbit: the return of William Sadler's Death, who first appeared in 1991's Bill and Ted's Bogus Journey.
"Bill CRUSHED it as Death. And we laughed a lot writing him in [Bill and Ted 3] so let's hope it's something that happens," Solomon wrote on Twitter. But that may be more than just a pipe dream — it seems like Sadler is already dressed and out the door to reprise the role.
Have scythe, will travel.

— William Sadler (@Wm_Sadler) February 18, 2018
Bill and Ted met death in the Bill and Ted sequel, Bill and Ted's Bogus Journey, which followed the two metalheads as they're killed by evil robots and are challenged to a game of chess with Death that will return them to the mortal world. It's a satirical send-up of Ingmar Bergman's Seventh Seal, right down to the ghastly costume design of Death and the life-or-death chess match. But you know, with pure-hearted idiots instead of a medieval knight.
What is Bill and Ted 3 About?
Will Bill and Ted Face the Music have the pair wrestling with their own mortality again? That could very well be possible, with Solomon's preliminary script following the pair as middle-aged family men who have long given up their passion for music. Solomon told Digital Spy :
"We have a script that we really are proud of, that we worked very hard on, that we've done many iterations of – and we did it on spec, meaning we spent years working on it because we wanted to get it right, creatively.
This is not, 'Hey let's all cash-in on the Bill & Ted thing for money' – this is the opposite. This is, 'We love these characters, they've been with us for our whole lives' – Chris and me, and Alex and Keanu – and we wanted to visit them again as middle-aged men. We thought it would be really fun, and funny, and sweet."
So how does Death factor into that? Perhaps he will return as a stark reminder of their bodacious youth, and shock them back into living life to the fullest. I could see either Bill or Ted having a near-death experience that could reignite their passion for metal music. Of course, they'll have to play something other than chess (and Battleship). Maybe Candy Crush.
But the film will also have to deal with the passing of one of their own. George Carlin, who played Bill and Ted's time-traveling guide Rufus, passed away in 2008. But Solomon said that the film will not only address the loss of Carlin, but pay tribute to him.
"George Carlin is so deeply missed by all of us," Solomon said. "There is a... not just an homage to him, it's more than that. His absence is a part of the whole movie."