Olivia Wilde Gets 'Booksmart' For Her Feature Directorial Debut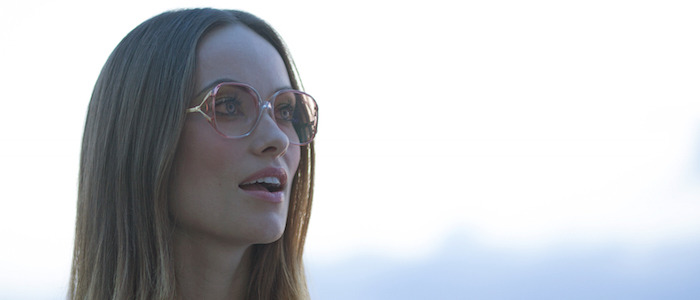 After spending the first portion of her career acting in front of the camera, Olivia Wilde is shifting gears. She was bitten by the producing bug back in 2010, and has since shepherded movies like 2013's Drinking Buddies (which features one of her best performances to date) and 2015's Meadowland into existence. Now Wilde is making her feature directorial debut with Booksmart, which will star Kaitlyn Dever (Short Term 12) and Beanie Feldstein (Lady Bird) as a pair of straight-laced high schoolers who decide to party like crazy before they graduate.
Variety brings word that Wilde will direct Booksmart, an original script written by Emily Halpern and Sarah Haskins, a pair of writing partners who have worked on shows like Black-ish and Trophy Wife. The movie follows Dever and Feldstein's characters, who realize just before high school graduation that "they should have worked less and played more. Determined never to fall short of their peers, the girls set out on a mission to cram four years of fun into one night."
It's always cool to see high school party stories that center on female protagonists, because there have been plenty of those movies with male leads. And for every Superbad, there are four or five lesser films like Project X. And sure, occasionally you'll get a high school movie that actually has something to say about the academic and societal pressures of being a student (Justin Lin's Better Luck Tomorrow is a great example), but even that focused primarily on male characters. Tackling this from a female perspective may actually result in an approach that mixes things up a little and doesn't just recycle the same four or five set pieces we've seen in this subgenre a hundred times already.
Dever and Feldstein are inspired choices to star, too. Dever has been around for a little while, breaking out with her role as a hardened teen in FX's modern western Justified and showcasing intense vulnerability in the indie film Short Term 12 (which also launched Brie Larson's career to another level). Feldstein is newer to the Hollywood scene; she's Jonah Hill's younger sister, but she had a role in Neighbors 2: Sorority Rising and brought humanity and humor to her role of Julie, Saoirse Ronan's best friend, in Lady Bird. The pair of them playing straight-A students who let loose sounds like fun to me, especially if Wilde is able to give the movie a personality beyond its stock premise.
For her part, Wilde has directed music videos for Red Hot Chili Peppers and Edward Sharpe and the Magnetic Zeros, which you can see below:
Booksmart is being produced by Megan Ellison's Annapurna Pictures and Gloria Sanchez, the female-focused branch of Adam McKay and Will Ferrell's Gary Sanchez Productions. No release date is set yet, but we'll keep you posted when we hear more.