'Collateral' Trailer: Carey Mulligan Heads To Netflix To Solve A Murder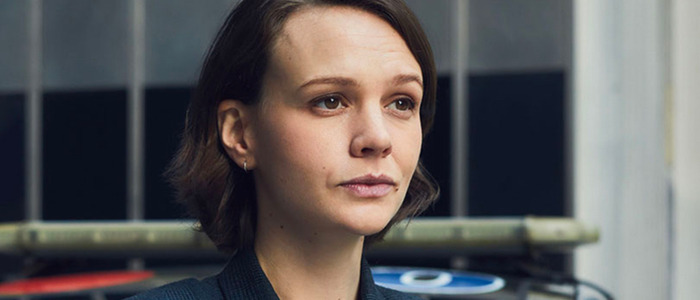 Everyone wants in on that sweet Netflix original series action, including Carey Mulligan. The Drive actress is the latest big name to appear in a Netflix series as she headlines Collateral, a new drama which originally debuted on BBC Two. Below, the Collateral trailer sets up the central mystery of the show: the murder of a pizza delivery driver.
While Collateral isn't technically a Netflix original, it still gets to tout that much-desired Netflix seal as the show washes up on American shores courtesy of the streaming platform. Netflix will debut the series, which originally played across the pond on BBC Two, giving Carey Mulligan a chance to play one of those hard-nosed, trench-coat-wearing coppers that always seem to headline Brit mysteries. Watch the Collateral trailer below.
Collateral Trailer
"Why would anyone kill a pizza delivery man?" Mulligan's character asks her, and she has a point. Pizza brings joy to us all – why would anyone try to tarnish the miracle of pizza? The pizza man murder kicks off a surprisingly far-reaching conspiracy. Here's the official synopsis via Deadline:
"Set over the course of four days, the story centers on Detective Inspector Kip Glaspie, who refuses to accept that the murder is a random act of senseless violence and becomes determined to discover if there is a darker truth. Politician David Mars instantly is embroiled in the drama through his turbulent relationship with his troubled and unpredictable ex, Karen. All the while, Jane Oliver, a compassionate vicar, struggles to conceal her affair with the only witness to the crime."
Collateral isn't Mulligan's first foray into the land of Netflix. The actress also recently appeared in the excellent, highly acclaimed, and Oscar-nominated Netflix original Mudbound. In an interview about Collateral, Mulligan spoke a bit about jumping from the big screen to the small. "For most the actresses I know, [going to TV has] been about going where the better writing is," Mulligan said. "Films tend to provide a lot for men, in terms of great leading roles, and not so much for women...I just want to play the most interesting, complicated, real person. And interesting, complicated, real people in film are really rare."
In addition to Ms. Mulligan, Collateral also stars former Doctor Who co-star Billie Piper, as well as John Simm, Nicola Walker, Nathaniel Maretello-White, Jeany Spark, Hayley Squires, Kim Medcalf and Ben Miles. The series hails from writer David Hare (The Reader) and director S.J. Clarkson (Jessica Jones). Collateral is one of many BBC shows that have jumped to Netflix after debuting in the UK, including Broadchurch, River and of course, the charming-as-hell baking series The Great British Baking Show. Sadly, there probably won't be much delightful, carefree baking on Collateral.
Collateral debuts on Netflix on March 9, 2018.