The Feature Films Of Aardman Animations Ranked From Worst To Best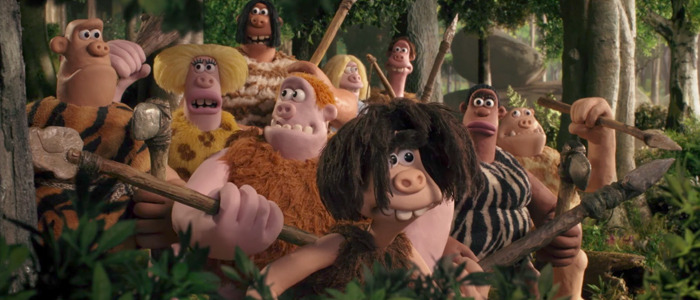 One of the great underrated purveyors of modern family entertainment, Aardman Animations has been comfortably chugging out feature films and shorts over the last 30 years to acclaim from critics and audiences alike. Over the last few years, Aardman's stop-motion style has been matched in the United States by the Laika studio, with its ambitious storytelling in Coraline and Kubo and the Two Strings, among others. But this past weekend, Aardman's newest movie, Early Man, got to take center stage as a form of counter-programming against Black Panther.
With Early Man in theaters, it's time to look at the whole of Aardman's feature-length output with this ranking. So, do like Wallace and grab the nearest cheesy snack, and dig in.
7. Flushed Away
There's something very strange about watching Aardman characters in a computer-animated environment. Flushed Away, the last film Aardman made with DreamWorks SKG, isn't the only film from the studio that's computer-animated, but it is easily their worst. It features big stars —  Hugh Jackman, Kate Winslet, and Ian McKellen — and the kind of premise that people feared would sink Pixar's Ratatouille, which opened the summer after this film. Ratatouille proved that you can make an animated film about rats without it being disgusting. Flushed Away, from its very title, leans far too much into the opposite scenario. There's some humor here — with Aardman, how could there not be? — but Flushed Away is best left...well, you know.
6. Early Man
The latest film from Aardman, and the first film from director Nick Park in over a decade, is pleasant and charming, but a little too lightweight relative to the rest of the studio's output. Set during the Age of Bronze, Early Man is essentially an underdog sports comedy with lots of cavemen playing European football. Eddie Redmayne and Tom Hiddleston voice the hero and villain, respectively; while Hiddleston gets the showier role as a greedy French bad guy, the humor is rarely as sharp as in Aardman's earlier films and the film's absurdity comes in fits and starts. Some of the film's best characters don't speak at all, like our hero's pet hog and a giant, fanged duck who ends up helping out the good guys near the end. Early Man has its charms, but is still kind of a letdown.
5. Arthur Christmas
To date, there really is just one genuinely weak Aardman Animations film. The studio doesn't make nearly as many films as Pixar or DreamWorks or Disney, but that also means that their success rate is pretty high. I say this because I know that Arthur Christmas has a lot of fans, and some of them may be displeased at the film's placement here. I like this movie! It's funny! But it's not...quite as good as Aardman's other films, even in the one case where the film's lead is someone whose current status in Hollywood is deservedly quite shaky. Arthur Christmas loses some points for me for the same reason Flushed Away does: it just feels wrong to see an Aardman movie in CGI. The story and cast are charming enough, and Aardman's play on Christmas can be funny enough, but the visuals always give me pause. That said, it's a perfectly decent modern holiday standard.
4. The Pirates! In an Adventure with Scientists!
Earlier this year, American audiences — too few of them, but that's a different discussion — got to delight at the image of Hugh Grant fully committing to his performance opposite a CGI bear in Paddington 2. (You know, the current best film of 2018. It'll change eventually, but not yet. I digress.) But Grant is no stranger to the wry English family film, as evidenced by his leading voice performance in Aardman's The Pirates! In an Adventure With Scientists!. (In the States, the movie was called The Pirates! Band of Misfits, because apparently scientists are just the absolute pits for box office.) The pirates depicted here, led by Grant, are less vicious and more doofy and ridiculous. So of course Grant's typically friendly but awkward personality fits in quite well here, as do fellow voice performers David Tennant, Imelda Staunton, and Martin Freeman. This one's not Aardman's finest, but also a bit underrated relative to the studio's other content.
3. Wallace and Gromit: The Curse of the Were-Rabbit
If any characters from Aardman Animations were ever going to inspire a feature film, it would have to be the company's most memorable creations, Wallace and Gromit. While the well-meaning Englishman and his much savvier dog make for a dynamic duo, their feature debut is nowhere near as brilliant as the short films in which they appeared in the 1990s, in spite of being charming and keeping with the style of those shorts. There's nothing exactly...wrong with The Curse of the Were-Rabbit, but the feature proves one thing: Wallace and Gromit work best in smaller doses. This feature, in expanding one of their adventures, includes a requisite romance, among other subplots. It's enjoyable! But the shorts are so, so much better.
2. Chicken Run
Time has been...somewhat unkind to Chicken Run, the first Aardman Animations feature film. On one hand, the film's depiction of a group of chickens trying to escape the clutches of a vicious farmer and his wife showcases Aardman's expressive and detailed stop-motion animation, as well as the filmmakers' penchant for intense and crazily designed action sequences. On the other hand, Mel Gibson. In 2000, having Mel Gibson star as the big-name lead of an animated film wasn't a big deal (aside from him lending his star power to the project). While some folks already knew Aardman from the Wallace and Gromit shorts, many people were being introduced to the studio with this film, and why not have Mad Max in the picture to ease people into Aardman's British sensibilities? But in 2018, Mel Gibson's involvement makes this an awkward viewing. The movie is still quite funny, and one of Aardman's best, but it's also impossible to ignore how uncomfortable hearing the voice of Mel Gibson in such a heroic character.
1. Shaun the Sheep Movie
This may be a hot take, but I'll say it: the best Wallace and Gromit-adjacent movie doesn't even feature either of the title characters. Shaun the Sheep first appeared in the wonderful short A Close Shave, and was eventually spun off into his own TV show, which led to this equally wonderful 2015 feature film. Shaun the Sheep Movie eschews dialogue in favor of sight gags, grunted sound effects, and more. The premise is light and lean — the sheep on an English farm are left to their own devices when their farmer gets conked on the head and gets amnesia, and they all wind up in the Big City — and allows directors Mark Burton and Richard Starzak to utilize all sorts of sly jokes in the madcap adventure. Shaun the Sheep Movie did well enough worldwide — it made barely $20 million in the States — that it's going to have a sequel next year, which has a very high bar to clear now.