Guillermo Del Toro Has An Unconventional Cameo In 'The Shape Of Water'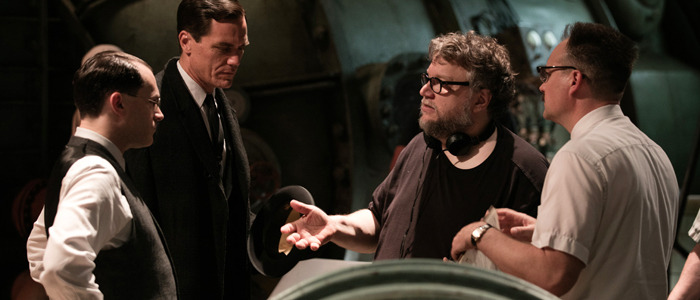 Directors have been making cameos in their own movies since the early days of cinema, so it's appropriate that The Shape of Water – which is at least partially a throwback to classic Hollywood – would include a cameo from its own filmmaker as well. It also seems appropriate that an iconoclast director like Guillermo del Toro wouldn't have a traditional cameo in his movie; even if you were straining your eyes to look for him, you'd never see del Toro's face on screen during the entire run time. That's because he appears in a more unconventional cameo, aiding actor Doug Jones in bringing his exotic fish-man creature to life.
Read more about The Shape of Water Guillermo del Toro cameo below.
The Shape of Water's supervising sound editor Nathan Robitaille recently spoke with Vanity Fair about the creation of the movie, and while we've seen featurettes about the creation of the film's creature, we still haven't learned much about his voice (such as it is). It turns out that Robitaille provided the foundation of the creature's voice himself, mixing in animal noises with his own guttural sounds. In addition to Robitaille's baseline effects, audiences can hear a swan hissing and cooing pigeons emit from the creature at various points in the film...as well as aural contributions from del Toro.
Robitaille noticed del Toro's raspy breathing patterns while watching him on set, and decided to utilize that sound to fill out a missing element of the creature's identity:
"Once we got [del Toro] into the studio, it was obvious pretty fast that the most beautiful texture was coming from his breathing. So I started harvesting his breaths that I got between takes and glued everything together."
Vanity Fair points out that del Toro's breathing is most clearly heard when the creature is hurried into a bathtub.
Guillermo del Toro's History of Cameos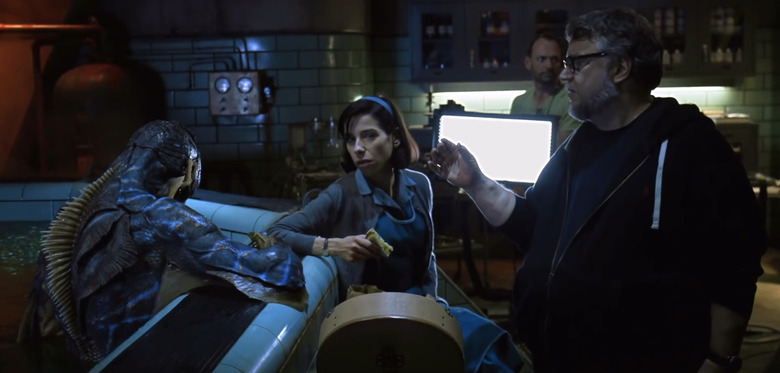 But The Shape of Water is far from the first time del Toro has acted in a movie or TV project. While he's obviously much better known for his work behind the camera directing films like Pan's Labyrinth and Hellboy, del Toro has popped up in a handful of projects over the years.
He had an uncredited role as "Man Walking Dog" in his 1993 movie Cronos, played "Bullboy #2" in 2000's Bullfighter, and had another uncredited part as "Guy Dressed As Dragon" in 2004's Hellboy. But del Toro's distinct voice has proven to be one of his greatest assets. He lent his voice to animated characters in films like 2011's Puss in Boots and 2014's The Book of Life, played the role of "Señor Muelas" in the animated Trollhunters TV show, and narrated a segment of 2013's Extraordinary Tales.
Did you know that del Toro was in a James Bond movie? Yep – he's credited as "Additional Voices" in 2008's Quantum of Solace. That's a piece of trivia I'd never heard before.
Not only that, but del Toro has actually provided creature vocals on film before. He did so in 2008's Hellboy II: The Golden Army and 2010's Don't Be Afraid of the Dark. So while providing the partial voice of a creature may be unconventional for other directors, breathing life into his leading man in The Shape of Water wasn't anything new for GDT.
But I want to leave you with my favorite del Toro cameo of all time. Longtime fans of the FX/FXX comedy It's Always Sunny in Philadelphia may already know this, but del Toro has occasionally appeared on the show as Pappy McPoyle, the patriarch of the bizarre McPoyle family. See for yourselves:
The Shape of Water is currently in theaters and it has been nominated for 13 Academy Awards.