Bond Watch: Christopher Nolan Takes Himself Out Of The Running To Direct James Bond 25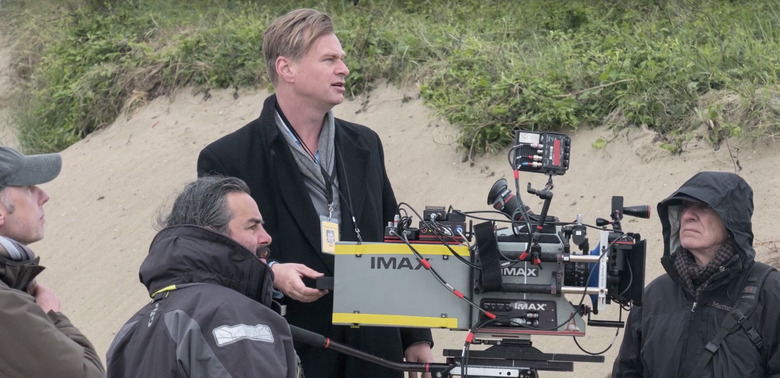 Another day, another James Bond rumor put to bed. This week: Christopher Nolan is not directing the next James Bond movie. Sorry, Nolan fans.
The Dunkirk director has "categorically" ruled himself out of directing James Bond 25, according to Digital Spy. On BBC Radio 4's Desert Island Discs, Nolan denied that he was in the running to direct the next Bond film:
"I won't be the man. No, categorically...I think every time they hire a new director I'm rumored to be doing it."
Nolan has expressed a love for the franchise in the past, even teasing that he has spoken with James Bond producers Barbara Broccoli and Michael G Wilson several times. But talks of Nolan directing a James Bond movie amounts to no more than rumors — and the director telling press that he would be interested in directing a 007 film. Someday. He told BBC Radio 4:
"I'd love to make a Bond film at some point and I think those producers – Barbara and Michael – they do a tremendous job and Sam Mendes has done a terrific job the last couple of films, so they don't particularly need me."
It's no surprise that fans keep returning to Nolan as one of their go-to choices for a James Bond director. Nolan has said that one of his most popular films, Inception, took cues from the James Bond franchise. "I've always been inspired by the films and would love to do one someday," Nolan added to BBC Radio 4.
Interestingly, Nolan has become so prolific that the James Bond films have started taking inspiration from him as well. Sam Mendes, who directed the acclaimed 2012 Bond film Skyfall heavily borrowed imagery and narrative beats, from Nolan's The Dark Knight. "In terms of what [Nolan] achieved, specifically The Dark Knight, the second movie, what it achieved, which is something exceptional," Mendes told Indiewire at the time. "It was a game changer for everybody..."
Nolan taking himself out of the running comes on the heels of rumors that Blade Runner 2049 director Denis Villeneuve will helm Bond 25. However, producer Barbara Broccoli has said that the franchise hasn't ruled out a female director. Not to mention Edge of Tomorrow director Doug Liman's enthusiastic bid for the franchise.
For now, the only thing confirmed for Bond 25 is that star Daniel Craig is returning (for the last time) and that the film is scheduled for a 2019 release.