VOTD: Watch A 3-Hour Chat With Jordan Peele, Greta Gerwig, Christopher Nolan & More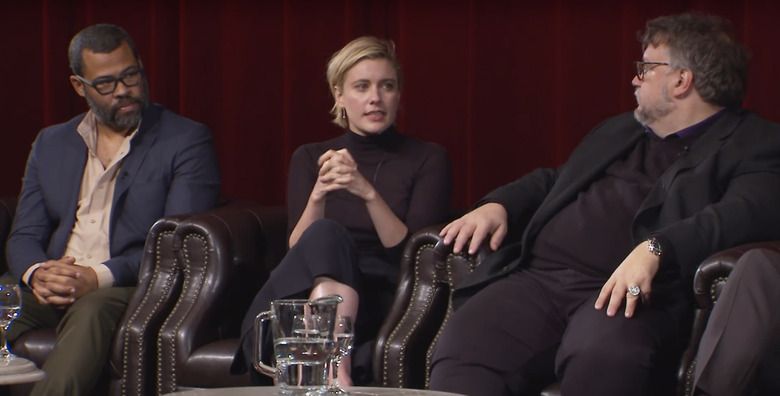 The Director's Guild Of America awards have already been handed out, giving Guillermo del Toro one of several major victories on his path to potentially (and seemingly likely) winning Best Director at the Academy Awards. But before the awards took place, all of the DGA nominees got together for an extensive conversation about their filmmaking process and more.
At the Director's Guild of America's Los Angeles Theater on February 3, 2018, Guillermo del Toro (The Shape of Water), Greta Gerwig (Lady Bird), Martin McDonagh (Three Billboards Outside Ebbing, Missouri), Christopher Nolan (Dunkirk), and Jordan Peele (Get Out) all sat down for a three-hour conversation for the annual Meet the Nominees symposium.
Watch the 2018 DGA nominees discussion below.
This was a standing room only event, and when you heard what these filmmakers have to say, you'll understand why it's such a popular event year in and year out. This year we're dealing with a couple veteran blockbuster filmmakers (Nolan and del Toro), two filmmakers who are just beginning their filmmaking careers (Peele and Gerwig) and a director known for his edgy indies (McDonagh), so the range of their answers is extremely interesting.
The conversation kicks off with moderator Jeremy Kagan posing the question of where each filmmaker likes to be on set when filming a given scene. Christopher Nolan is the first to answer, and he gives an informative response that makes you hand on every word he says. What's really cool is that when Gerwig answers the question, she admits that she read a lot of interviews with Nolan and modeled her directing style after his. See, every filmmaker takes cues from those who cam before them.
That's just a small taste of the revelations made in this technical, in-depth conversation between some of the most buzzed about filmmakers of the year. The entire video is worth watching, even if you have to break it up over several sittings..