What Is The Future Of Marvel Women? Kevin Feige Open To Possible Solo Movies For 'Black Panther' Ladies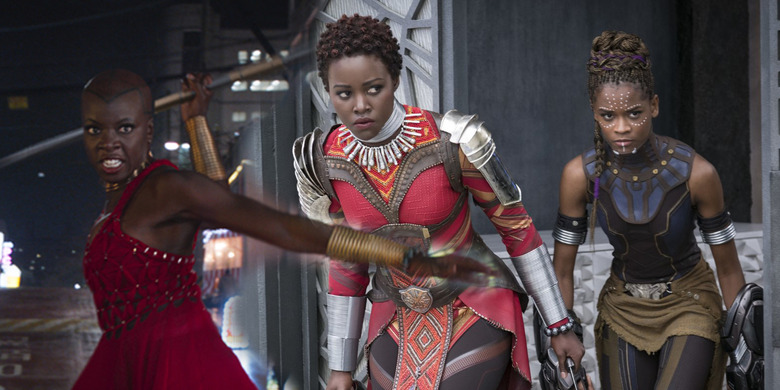 The future is female. Or at least, it could be, Marvel Studios president Kevin Feige coyly suggested.
Demands for more female representation in the Marvel Cinematic Universe have dogged the movie studio since its inception, but it will still be another year before we see our first solo female Marvel superhero movie hit the big screen. Captain Marvel will hold the mantle of the MCU's first female-led superhero movie, but could a whole slew of female-led Marvel movies be in our future?
Marvel women have been stealing scenes from beneath their male leads for long enough. From when Black Widow first strutted on screen in Iron Man 2 to the triple threat of Okoye, Nakia, and Shuri in Black Panther, women have been the strong ones, truly, of the MCU. So it's about time they get the spotlight, right?
Maybe, Kevin Feige recently told Vulture after the rapturous reception towards Danai Gurira, Lupita Nyong'o, and Letitia Wright's characters in Black Panther:
"It is an embarrassment of riches. Even watching the audience at the Black Panther premiere respond to Lupita, Letitia, and certainly Danai in their action sequences ... you watch Danai spinning around in that casino, taking out dozens of people, and you go, 'Of course you can make a whole movie about that!'"
Read that? "A whole movie" about Danai Gurira's general of the Dora Milaje, Okoye! But before you get excited, it should be noted that Feige has been doing this for years. Hyping us up for the fan favorite minority and female characters of the MCU with vague promises of a solo film or a spin-off, only to waffle on those plans for years.
Feige admitted to Vulture that there are no concrete plans yet for these female-led films, but that the fan-favorite female characters will appear in future movies like the upcoming Avengers: Infinity War:
"It is all about figuring out when and how. But by the way, many of them have already filmed additional scenes in upcoming movies, so some of that is gonna come sooner rather than later. All of them will be seen again."
But hey, at least we're finally getting that Black Widow movie, even if it's almost a decade after fans first started demanding it. And Tessa Thompson, who also stole the scenes in Thor: Ragnarok, is diligently beating the drum for an all-female superhero team, assuring fans that Marvel has "interest" in the movie.
Can fan response determine the future of the Marvel universe? With the slow-moving development of the Black Widow movie, there may be hope yet. Gurira, Nyong'o, and Wright were some of the greatest parts of Black Panther, a film where the supporting cast could each receive their own spin-off film. And with the contracts for our main Avengers soon ending, the future of the MCU could easily be female.