New George Romero Zombie Novel Arriving In 2019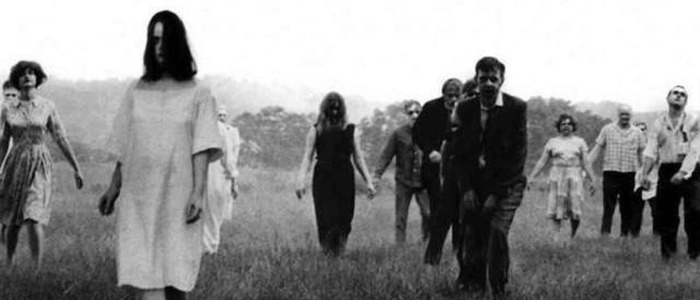 The Living Dead, an unfinished George Romero zombie novel, will infect bookstores in 2019. Romero died last year before he could complete writing. Now, The Shape of Water novelization author Daniel Kraus will finish the book in time for release.
The Night of the Living Dead director and the father of the zombie movie as we know it, died last year at the age of 77. Romero's legacy lives on, and it will continue to do so with an upcoming novel, The Living Dead. Romero dabbled with the book off and on for over a decade, and died before he could complete it. Now, EW reports Daniel Kraus, who co-wrote the novelization of Guillermo del Toro's The Shape of Water, will pick up where Romero left off.
"Some of [the book] was in tremendous, publish-ready state, " Kraus told Ew. "Other parts, near of the end of what he wrote, were sketchier, clearly intended to be fleshed out later."Kraus adds:
"Only half the job I'm doing is finishing this book..The other half is putting George back together, in a sense — not just from reading his every obscure interview and analyzing his every obscure work, but also immersing myself in the art that he loved. I'm studying his favorite movies, watching his favorite operas, listening to his favorite music, all in an attempt to find in them the inspirations he might have found. I'm taking thematic and structural cues from these works and working them into the book. It's not like having George next to me, but it's what I have, and I'm treasuring every moment of it."
The novel will be yet another addition to Romero's Dead universe, which began with Night of the Living Dead (which recently hit Blu-ray from Criterion), and continued on with Dawn of the Dead, Day of the Dead and many more. Like all of Romero's zombie-related work, it will blend horror with social commentary. It will also feature a nuclear submarine, which is pretty damn cool. Kraus reveals that Romero next wanted to make another zombie film. Not just any zombie film, but a "film noir, complete with black-and-white photography and a 1.33:1 aspect ratio."
It's very disappointing that we'll never get to see that. At least we'll have The Living Dead, though, which is slated to hit bookstores in Fall 2019.
Read the full The Living Dead plot synopsis below.
The Living Dead Plot
On October 24th, John Doe rises from the dead. Assistant Medical Examiner Luis Acocella and his assistant Charlene Rutkowksi are vivisecting him when it happens, and so begins a global nightmare beyond comprehension.
Greer Morgan is a teenager living in a trailer park, and when the dead begin their assault, the true natures of her neighbors are revealed. Chuck Chaplin is a pretty-boy cable-news anchor, and the plague brings sudden purpose to his empty life.
Karl Nishimura is the helmsman of the U.S.S. Vindicator, a nuclear submarine, and he battles against a complete zombie takeover of his city upon the sea. And meanwhile, a mysterious woman named Etta Hoffmann records the progress of the epidemic from a bunker in D.C., as well as the broken dreams and stubborn hopes of a nation not ready to give up.
Spread across three separate time periods and combining Romero's biting social commentary with Kraus's gift for the beautiful and grotesque, the book rockets forward as the zombie plague explodes, endures, and finally, in a shocking final act, begins to radically change.