'Red Sparrow' Clips, Featurettes And TV Spots: Jennifer Lawrence Will Keep You Guessing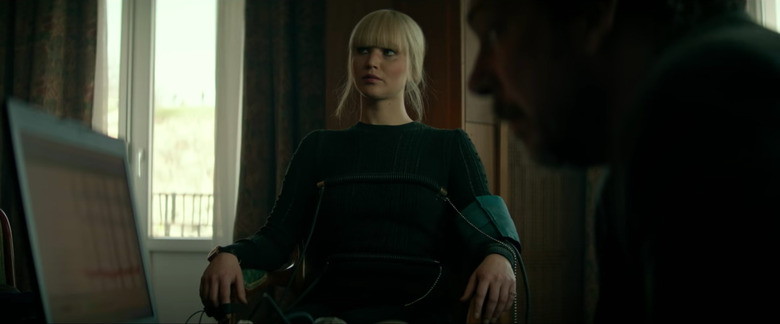 Jennifer Lawrence has aced the steely-faced seductive stare. That much we can tell during the barrage of clips, TV spots, and marketing for her upcoming spy thriller Red Sparrow.
The film hits theaters in a matter of weeks, and with early buzz building for the movie, 20th Century Fox is kicking its marketing into high gear. But can the air of mystery around Francis Lawrence's Cold War-era film be maintained?
A slew of new Red Sparrow clips and TV spots have been released by 20th Century Fox. While the TV spots recycle much of the same footage we've seen before — alongside tantalizing text declaring "Red Sparrow will keep you guessing" — the first new clip is an intriguing one. It's a glimpse of Dominika Egorova's training to be a Sparrow, and it's quite distressing. Dominika balks at being ordered to take off her clothes in front of others, but Charlotte Ramping's instructor scolds her for her insolence.
Red Sparrow Clips
At the center of all of this is Jennifer Lawrence's Dominika, who still remains much of a beguiling mystery despite her prominence in each clip, TV spot, and poster. Who is Dominika exactly? What are her intentions? Does she truly mean to become a double agent for the Americans?
Even in the above featurette about Dominika's character, all those questions remain unanswered.
Here is the official synopsis for Red Sparrow:
Prima ballerina Dominika Egorova faces a bleak and uncertain future after she suffers an injury that ends her career. She soon turns to Sparrow School, a secret intelligence service that trains exceptional young people to use their minds and bodies as weapons. Egorova emerges as the most dangerous Sparrow after completing the sadistic training process. As she comes to terms with her new abilities, Dominika meets a CIA agent who tries to convince her that he is the only person she can trust.
Red Sparrow is directed by Francis Lawrence and stars Joel Edgerton, Matthias Schoenaerts, Charlotte Rampling, Mary-Louise Parker, Joely Richardson, and Jeremy Irons. It's set to hit theaters on March 2, 2018.