'The Last Movie Star' Trailer: Burt Reynolds Sends Up His Own Career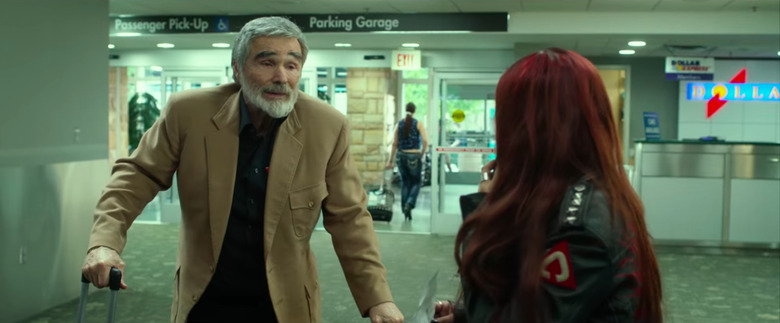 They say life imitates art, but when you've had a storied career like that of Burt Reynolds, it can easily be the other way around.
In The Last Movie Star, Reynolds plays a not-too-transparent version of himself: a fading former Hollywood idol who gets invited to accept a lifetime achievement award at a film festival — only to discover that the festival is a low-rent affair held out of a bar.
The Last Movie Star Trailer
Vic Edwards is an aging "has-been" who started out as a college football legend and rose to become one of Hollywood's greatest heartthrobs.
It's a role written for Reynolds, mirroring his career trajectory as a halfback at Florida State University and his early years as a Hollywood stuntman. Reynolds would become one of the defining Hollywood idols of the '70s, starring in films like The Longest Yard and Smokey and the Bandit, and famously posing on that bearskin rug for Cosmopolitan. But other than an award-nominated turn in 1997's Boogie Nights, Reynolds' recent career has remained relatively obscure and relegated to direct-to-DVD movies.
It's a sadly common career arc that many a former heartthrob sees, and one that Reynolds lightheartedly sends up in The Last Movie Star. Part meta-commentary on his career, part fish-out-of-water story, The Last Movie Star follows Vic Edwards as he jets off to Nashville to accept a lifetime achievement award from a rinky-dink film festival. Embarrassed by the decidedly unglamorous festival awarding him, Vic ends up embarking on a "memory tour," revisiting old friends and recounting old stories to his adoring, scrappy fans.
The movie, which comes from premiere indie studio A24, seems like a cheery comedy with some familiar faces from the comedy circuit — Chevy Chase plays Vic's encouraging friend, Modern Family's Ariel Winter plays his scantily-clad guide, and Hot Tub Time Machine's Clark Duke plays the enthusiastic fanboy. And yes, that is the boy (Ellar Coltrane) from Boyhood.
The Last Movie Star is directed by Adam Rifkin. It initially premiered at the Tribeca Film Festival and was acquired by both A24 and DirecTV.
Here is the official synopsis for The Last Movie Star:
An aging screen icon gets lured into accepting an award at a rinky-dink film festival in Nashville, Tenn., sending him on a hilarious fish-out-of-water adventure and an unexpectedly poignant journey into his past.
The film premieres on DirecTV on February 22, 2018 and will open in select theaters in New York and Los Angeles on March 30, 2018.