Theme Park Bits: 'Ant-Man And The Wasp' Ride Concept, Lunar New Year At Universal Hollywood, And More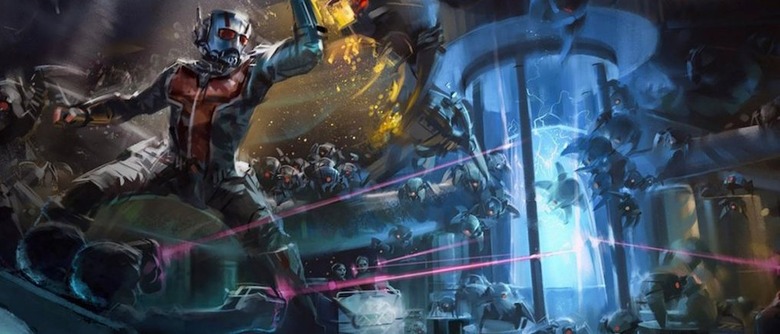 In this edition of Theme Park Bits:
See concept art for Hong Kong Disneyland's upcoming Ant-Man and the Wasp ride.
Watch some video highlights of Universal Hollywood's fun-filled Lunar New Year event.
Gangs in motorcycle jackets would appear to be taking over Disneyland.
Is it possible to speedrun Disneyland like a video game, and do everything on the map in one day?
Tweets galore showing the inside of the brand new Disney Home store in Downtown Disney.
And more!
A slew of Disney park announcements came out of D23 Expo Japan 2018 this week. We've got most of the news compiled into a separate article, but one new item that has since posted to Disney Parks Blog is the release of concept art for the new Ant-Man and the Wasp attraction that is coming to Hong Kong Disneyland.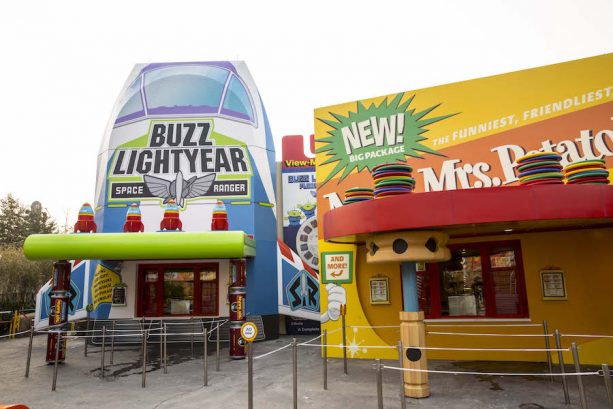 This week in Toy Story Land news: the Toy Box Cafe is now open at Shanghai Disneyland. The imaginatively themed quick-service restaurant serves three-eyed alien pizza and other novelty food out of windows in the toy packages for Buzz Lightyear, Lots-o'-Huggin' Bear, and Mr. and Mrs. Potatohead. The rest of Shanghai's Toy Story Land opens April 26.
Beginning this May, @Disneyland park guests can encounter Rey at #StarWars Launch Bay in Tomorrowland: https://t.co/bgePAYrkfz pic.twitter.com/pZ1CfXUTTS

— Disney Parks (@DisneyParks) February 13, 2018


The week wouldn't be complete without some park news related to Star Wars, either. What we have this time around is the announcement that Rey will be getting her own meet-and-greet spot in Star Wars Launch Bay at California's Disneyland. Starting this May, the character will join the Light Side with Chewbacca while Darth Vader and Kylo Ren continue holding down the Dark Side.
Sweet tooth?

Start drooling over these deliciously NEW milkshakes now available at Toothsome Chocolate Emporium. https://t.co/yhR9LD2m5s. pic.twitter.com/Zh0pKctmWb

— Universal Orlando Resort (@UniversalORL) February 13, 2018


Three new milkshakes are available at the Toothsome Chocolate Factory & Savory Feast Kitchen in Universal Orlando's CityWalk.
On the opposite coast, Universal Hollywood's Lunar New Year event has kicked off and Inside the Magic has some very cool video and photos showing Minions in Chinese costumes, the Mandarin-speaking Megatron, Po and Tigress from Kung Fu Panda, as well as Po's trainer, the anthropomorphic crane, Mr. Ping, who is now appearing in a new interactive-puppet character encounter.
Movies and TV shows have given us gangs with names like the Dead Rabbits (Leonardo DiCaprio's gang in Gangs of New York) and the Sons of Anarchy. The last place you would expect to see that kind of culture spill over is Disneyland, but apparently, a subculture of "social clubs" has formed around the park in recent years, with names like the White Rabbits and the Sons of Anakin popping up on denim motorcycle jackets decorated with pins and patches.
Club members with Disney tattoos make their way through the park and so great are their numbers that they can even sometimes take over every vehicle on a single ride. Now, a feud has broken out between club leaders as one sues another in civil court for the mob-like tactic of extorting "protection" money from him. The Los Angeles Times has more on this fascinating story.
.@Disney Legend Bob Gurr Q&A panel to be held by "Walt Disney – Master of Dreamers" filmmakers in Celebration https://t.co/Ww4g1zBFVC pic.twitter.com/TQfd3KFpSw

— Inside the Magic (@InsideTheMagic) February 14, 2018
On Saturday, April 28, legendary ride designer Bob Gurr will be participating in a Q&A panel in the Disney-developed community of Celebration, Florida, where he is expected to discuss Walt Disney's journey from the 1964 New York World's Fair to Epcot. Inside the Magic has more details about his appearance, which is hosted by the filmmakers behind the upcoming documentary "Walt Disney - Master of Dreamers."
If you're not in the know about speedrunning, it's the practice of playing through a video game as fast as possible. As USgamer reports, an Oakland-based software engineer is now applying the same concept to Disneyland. She's plotting a speedrun of the park that would see her do "everything on the map" in one 16-hour day. 
REVIEW: Splitsville Luxury Lanes Opens in Downtown Disneyhttps://t.co/5eXNWRZYfl pic.twitter.com/X2yRRwol9K

— WDW News Today (@WDWNT) February 15, 2018


WDW News Today has a review up of the new Splitsville Luxury Lanes bowling facility in the Downtown Disney District.
Prepping for 9:45 am opening Disney Home Store Opening Downtown Disney Anaheim pic.twitter.com/99ZLyoODG8

— LaughingPlace.com (@laughing_place) February 14, 2018
If you're not content to just visit theme parks, but would actually like to integrate Disney into more of your home life, then Downtown Disney may hold just the right store for you. The appropriately named "Disney Home" store opened on Valentine's Day and LaughingPlace.com was there tweeting up a storm.
And here we are inside the former D Street, now #DisneyHome at #DowntownDisney Anaheim. pic.twitter.com/fBn9DC68Ch

— LaughingPlace.com (@laughing_place) February 14, 2018
Lots of Disney accessories for your home in the new #DisneyHome Store that just opened today at #DowntownDisney Anaheim. pic.twitter.com/N2HeJd2YC9

— LaughingPlace.com (@laughing_place) February 14, 2018
What an appropriate first purchase at the Valentine's Day opening of the new #DisneyHome store at #DowntownDisney Anaheim. Proud customers Jack and Terri Marr can say that they were the first! pic.twitter.com/buvXbwHTXB

— LaughingPlace.com (@laughing_place) February 14, 2018
Much more to see at the just-opened #DisneyHome Store at #DowntownDisney Anaheim. pic.twitter.com/BNzH6lvtA8

— LaughingPlace.com (@laughing_place) February 14, 2018
The site also posted a Disneyland Resort update this week:
We update the goings-on at Disneyland including breakfast at Red Rose Taverne https://t.co/rdCrMQguq9 pic.twitter.com/8wjve8AZwf

— LaughingPlace.com (@laughing_place) February 12, 2018
For online shoppers, YesterEars has two new limited-release t-shirts with retro patterns depicting Mickey's Toontown and the Country Bear Jamboree available on shopDisney from now until February 22.
Meanwhile, The Disney Blog has info on the increase in ticket prices at Disney parks.
Knott's Berry Farm's Sky Cabin has reopened again https://t.co/Vo79Invayq pic.twitter.com/MyZILkPMg6

— O.C. Register (@ocregister) February 13, 2018
Last but not least, The O.C. Register reports that the Knott's Berry Sky Farm Cabin has reopened after being closed for more than a year.