'Isle Of Dogs' Reviews Round-Up: They're Good Dogs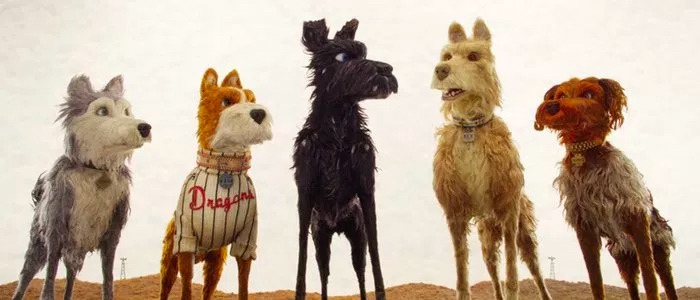 Isle of Dogs, one of /Film's most anticipated films of 2018, just had its premiere at the Berlin Film Festival, and reviews are leaping in. The consensus? They're very good dogs, folks. Wes Anderson's latest stop motion marvel features an all-star cast that includes Bryan Cranston, Edward Norton, Bill Murray, Jeff Goldblum, Kunichi Nomura, Ken Watanabe, Greta Gerwig, Frances McDormand, Courtney B. Vance, Fisher Stevens, Nijiro Murakami, Harvey Keitel, Koyu Rankin, Liev Schreiber, Bob Balaban, Scarlett Johansson,Tilda Swinton, Akira Ito, Akira Takayama, F. Murray Abraham, Yojiro Noda, Mari Natsuki, Yoko Ono, and Frank Wood.
Below, feast your eyes on our early Isle of Dogs reviews round-up.
Isle of Dogs Reviews Round-Up
The Playlist's Jessica Kiang mentions the film's "potent political commentary" and the way the film addresses "the value of outsider perspectives":
Indeed, buried in amongst the surprisingly potent political commentary (the clash between demagogues and experts; the limits of democracy when decisiveness is needed; the value of journalism in the age of propagandist "fake news") there is a further undercurrent about the value of outsider perspectives, and how much better we are when we blur the lines.
Thomas Humphrey at Screen Anarchy writes that the film will feel "mildly familiar" for Anderson fans, but it also "remains an absolute delight":
In some ways, though, fans should be warned that this film isn't quite as quick-fire and polished a gem as some of Anderson's previous films. It does also suffer of feeling mildly familiar, using as it does the same ploy that Fantastic Mr. Fox uses of putting A-list actors' instantly recogniseable voices into mesmerizingly alien cartoon worlds. Nevertheless, this effect is undeniably one that remains an absolute delight to any cinematic pallette worth its own salt.
Over at Forbes, Scott Mendelson calls Isle of Dogs a " cinematic delight":
Isle of Dogs is a cinematic delight. It straddles the line between kid-friendly adventure and adult-skewing political drama, but it is good fun for older kids and their parents. The voice work is terrific, and I'm quite partial to Frances McDormand as the overly empathetic translator. Penned by Anderson, Roman Coppola, Jason Schwartzman and Nomura, this is a richly detailed homage to the likes of Kurosawa and Ozu, while operating as a blend of Japanese and American social parable arguing against our current nationalistic streak. It is a genuine original from one of the last American marquee filmmakers who hasn't been sucked into the franchise machine.
The Hollywood Reporter critic David Rooney says "The Fox Searchlight March release has cult potential stamped all over it," and adds:
[T]he unique charm of Isle of Dogs is its bottomless vault of curios, its sly humor, playful graphic inserts and dexterous narrative detours. Anderson breaks the story down into various parts with chapter headings ("The Little Pilot," "The Search for Spots," "The Rendez-Vous," "Atari's Lantern") creating a literary structure that binds the discursive story together.
Variety's Guy Lodge says the film is "perhaps not an entire meal" but "rewarding nonetheless":
A winningly dippy hodgepooch of lo-fi sci-fi, band-of-outsiders adventure and the most meme-ready canine antics you'll find outside of YouTube, this leisurely tale of abandoned mutts taking on a corrupt human government is effectively puppy-treat cinema: small, salty, perhaps not an entire meal, but rewarding nonetheless.
Indiewire says "Wes Anderson Delivers a Stop-Motion Stunner About the Garbage World We Live In" and adds:
The worse things get, the more fantastical Anderson's films become; the more fantastical Anderson's films become, the better their style articulates his underlying sincerity. Disorder fuels his imagination, and the staggeringly well-crafted "Isle of Dogs" is nothing if not Anderson's most imaginative film to date.
On Twitter, Steven Weintraub of Collider says he was "blown away" by the film:
As a stop-motion fan absolutely blown away by Wes Anderson's 'Isle of Dogs'. The level of detail in every shot is jawdropping. Want to watch it again being able to stop it on every frame. Also loved the story and characters. Such a great movie.

— Steven Weintraub (@colliderfrosty) February 15, 2018
Hannah Woodhead's Little White Lies review states that Isle of Dogs is "perhaps [Anderson's] most restrained since Rushmore", and says:
In some ways it's difficult to define who Isle of Dogs is really for. This isn't a puppy-filled adventure for children, featuring some mature themes and occasional violence (yes, with puppets), but it doesn't quite reach the pinnacle of animated weirdness last seen in Charlie Kaufman's Anomalisa. It feels, more than anything, like a cinematic love letter – to Japan, to dogs, and to finding your pack, wherever they might be.
In The Guardian, Jonathan Romney describes the film as "hugely enjoyable":
[T]his hugely enjoyable package shows an indefatigably fertile imagination letting rip in inimitable style – and packing an eco-themed, antibigotry message as well. You can rest assured, Anderson ain't selling us no pup.
Cinema Blend critic Eric Eisenberg says Isle of Dogs is a "movie that plays on the best of the writer/director's sensibilities":
Not only is it a fantastic return to the stop-motion animated medium, but with the help of an incredible number of talented artists and performers, it's a movie that plays on the best of the writer/directors sensibilities, while accessing entirely brand new areas of it.
Isle of Dogs opens on March 23, 2018.
ISLE OF DOGS tells the story of ATARI KOBAYASHI, 12-year-old ward to corrupt Mayor Kobayashi. When, by Executive Decree, all the canine pets of Megasaki City are exiled to a vast garbage-dump called Trash Island, Atari sets off alone in a miniature Junior-Turbo Prop and flies across the river in search of his bodyguard-dog, Spots. There, with the assistance of a pack of newly-found mongrel friends, he begins an epic journey that will decide the fate and future of the entire Prefecture.