'Voltron: Legendary Defender' Season 5 Trailer: The Paladins Make A "Deal With The Devil"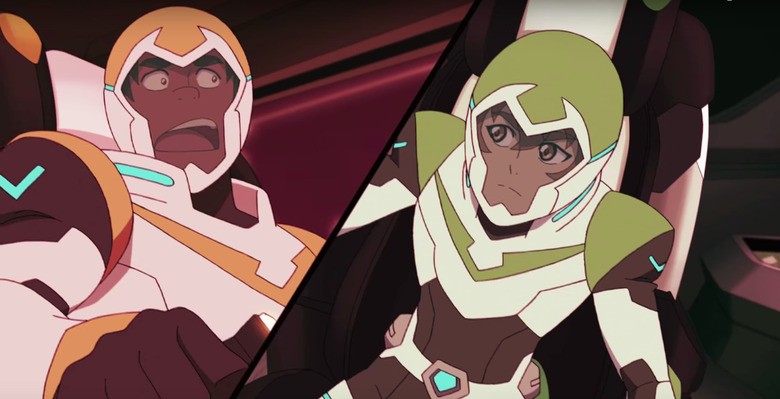 The war against the Galra Empire drags on, but things are only getting more tense for the Paladins.
The last season of Voltron: Legendary Defender found Team Voltron with an alluring, but dangerous offer from their former enemy. But while the deal finally puts the end of the war in their sights, it may have worse repercussions than they could have anticipated.
Voltron Legendary Defender Season 5 Trailer
Season 4 of Voltron: Legendary Defender found the Paladins suddenly approached with an alliance from their former enemy, the disgraced Prince Lotor, son of Galra Emperor Zarkon. Naturally, the Paladins don't trust Lotor one bit. But with their backs to the wall, they have no choice to enter a wary alliance with their former foe.
"This whole thing is like making a deal with the devil," says Lance (Jeremy Shada) in the trailer.
The Paladins may have scored a major victory against Galra, but Team Voltron continues to be besieged on all sides, from outside by Galra, and from within with the team's discord over teaming up with Lotor.
It continually astonishes me how quickly Dreamworks and Netflix pump out seasons of Voltron: Legendary Defender — I'm ashamed to say that I'm approximately two season behind. The reboot first premiered on Netflix in 2016 and is already four seasons and 39 episodes into a 78-episode commitment from Netflix. This rapid-fire release of seasons may be attributed to the show's decision to split one "complete" run of episodes into two seasons — hence the first two season's 13-episode runs while season 3 and 4 boast seven and six episodes, respectively.
Voltron: Legendary Defender also stars Josh Keaton, Steven Yeun, Bex Taylor-Klaus, Tyler Labine, Kimberly Brooks, Rhys Darby, and  A.J. Locascio.
Here is the official synopsis for Voltron: Legendary Defender season 5:
The looming question remains: Can Lotor be trusted? Tensions rise among the paladins as they struggle to answer that question. Get ready for many twists and turns in the all new season of Voltron Legendary Defender, coming to Netflix March 2!
Voltron: Legendary Defender season 5 premieres on Netflix on March 2, 2018.