'Mary Magdalene' Trailer: Rooney Mara Meets Jesus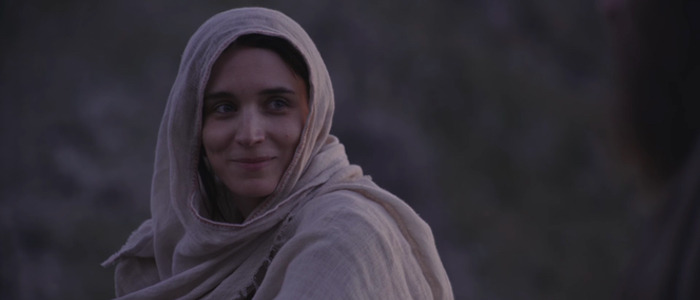 In Mary Magdalene, Rooney Mara portrays one of the most prominent women in the New Testament as she meets Jesus H. Christ himself, played by Joaquin Phoenix. In a new pull-quote heavy Mary Magdalene trailer, Mara and Phoenix ratchet up the emotion and intensity to sell Garth Davis' spiritual drama.
I remain curious about Mary Magdalene. Whitewashed casting aside, Rooney Mara is a phenomenal actress, and while Mary Magdalene has been featured as a supporting character in several films, she's never taken the lead until now. On top of that, Joaquin Phoenix is one of the best actors working right now, so the prospect of him playing Jesus is almost too compelling to pass up. A new Mary Magdalene trailer is here, and it's bursting with pull-quotes and inspirational music. Check it out.
Mary Magdalene Trailer 
This isn't the best trailer, but I remain curious. I'm a non-believer myself, but I grew up attending Catholic school, and as a result, Catholic iconography has been burned into my brain. I'm always fascinated in films that attempt to tell a more grounded portrait of Jesus' era, and that's what this trailer – which is void of any supernatural miracles – seems to suggest. Director Garth Edwards seemed to confirm this when he told Crave:
"It's a very humanistic portrayal of the story, so I think it's going to be something nobody's ever seen before. So I think that's very exciting..., I just think for me it's a very relatable version and I'm quite excited to share it. So I get into the edit room soon, so I can't wait."
Another positive thing about Mary Magdalene: it features one of the last film scores composed by Jóhann Jóhannsson, who died suddenly last week. At the very least, the film will have a great soundtrack. In addition to Mara and Phoenix, Mary Magdalene also stars Chiwetel Ejiofor and Tahar Rahim. The film comes from director Garth Davis, who helmed Lion, which also featured Mara.
Mary Magdalene opens March 16, 2018.
MARY MAGDALENE is an authentic and humanistic portrait of one of the most enigmatic and misunderstood spiritual figures in history. The biblical biopic tells the story of Mary (Rooney Mara), a young woman in search of a new way of living. Constricted by the hierarchies of the day, Mary defies her traditional family to join a new social movement led by the charismatic Jesus of Nazareth (Joaquin Phoenix). She soon finds a place for herself within the movement and at the heart of a journey that will lead to Jerusalem. Written by Helen Edmundson and Philippa Goslett, MARY MAGDALENE also stars Chiwetel Ejiofor and Tahar Rahim.