'Cobra Kai' Teaser Trailer Reunites 'The Karate Kid' With His High School Bully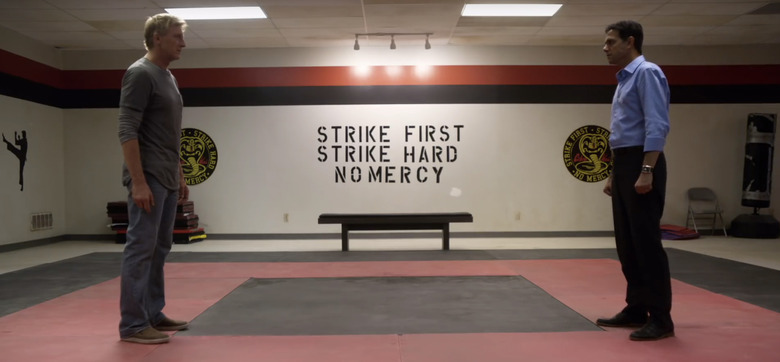 At the end of last summer, we learned YouTube Red had picked up a new series called Cobra Kai that would see Ralph Macchio and William Zabka reprising their famous roles as Daniel LaRusso and Johnny Lawrence from The Karate Kid. Now we finally have our first look at the show.
Cobra Kai takes place in present day, where the former karate championship opponents are now adults struggling to find balance in their lives. In the first Cobra Kai teaser trailer, Johnny (Zabka) reopens the Cobra Kai dojo in a last ditch effort to make something of himself. This inevitably leads to a confrontation with Daniel (Macchio) and the return of the old rivalry between them.
Watch the Cobra Kai Teaser Trailer
This has a much more serious tone than I was expecting, but that's not surprising since YouTube Global Head of Original Content Susanne Daniels told us earlier this year that it was more of a dramedy. At the time, she said, "I think it leans into the tone of the movies in that there are dramatic moments throughout. I think it's very faithful really in some ways to what the movie set about doing, the lessons imparted in the movie if you will. It's next generation Karate Kid."
What Is Cobra Kai About?
Not too long ago, we found out that the series finds Johnny as a septic tank cleaner whose life has become rather depressing, so much that he's even mistaken for a homeless person. We're not sure how a guy like that has the money or resources to reopen a karate dojo, but we'll go along for the ride.
According to Entertainment Weekly, Johnny has a son named Robby (Tanner Buchanan) who is determined to prove himself to be nothing like his father, which probably doesn't feel all that great. That's likely why he takes a bullied convenience store clerk named Miguel (Xolo Maridueña) under his wing. Meanwhile, Ed Asner plays Johnny's step-father Sid Weinberg.
As for Daniel's family, Courtney Henggeler (Mom) will play his wife and business partner Amanda, and Mary Mouser (Freakish) plays their daughter, Samantha, who is described as a firecracker.
For some reason, the reopening of the Cobra Kai dojo doesn't sit well with Daniel, even if Johnny is using it to help a bullied kid. Maybe Daniel's seemingly perfect life as a car salesman with a family isn't as perfect as it seems. As you can see in the trailer above, Daniel and Johnny are at odds, but they will likely end up working together as some new bullies come into the picture: a wrestler named Kyler and his thug brothers who see karate as a joke.
Honestly, this series looks better than I anticipated, though admittedly this is a pretty short teaser. However, from the quick footage glimpsed in it, there might be some interesting angles to explore in the series. In fact, it looks like there's flashback to when Johnny first discovered the Cobra Kai dojo. Origin stories be damned – maybe it will provide some redemption for The Karate Kid bully.
Josh Heald (Hot Tub Time Machine) wrote Cobra Kai with Harold & Kumar franchise creators Jon Hurwitz and Hayden Schlossberg and they're all executive producing the series with Susan Ekins, Will Smith, James Lassiter, and Caleeb Pinkett.Cobra Kai debuts on YouTube Red sometime this year, but there's no release date yet.