'Pacific Rim: Uprising' IMAX Trailer Touts Monster Mayhem For The Massive Screen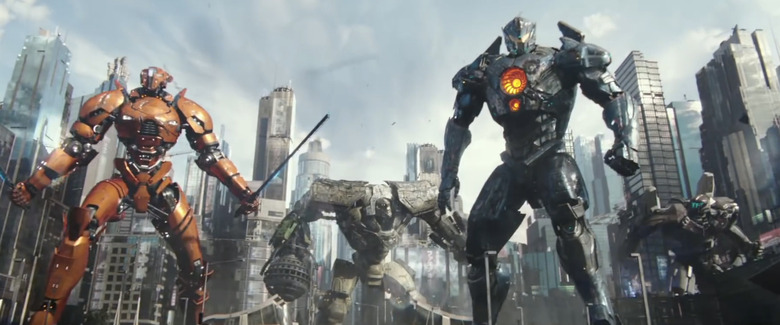 Black Panther might be what everyone is talking about this weekend, but next month will bring even bigger action to theaters in the form of the sequel Pacific Rim: Uprising.
The sequel to the 2013 sci-fi action adventure directed by Guillermo del Toro sees the kaiju making a return, and as the new Pacific Rim Uprising IMAX trailer shows, they're deadlier than ever. Thankfully, humanity has built up their Jaeger army enough for this to be an even fight this time. But it looks like the kaiju also have a few new tricks up their sleeve...
If we're being honest, this trailer shows a lot of action when it comes to the war between the kaiju and humanity. If you're already sold on seeing this, it might be best to avoid this trailer and save the fun for theaters.
Watch the Pacific Rim Uprising IMAX Trailer
This looks like a hell of a lot of fun, but I can't help but think the Jaeger pilots are being a little too reckless with the city they're trying to save. The new orange Jaeger (which you can find out more about here) with the electrified batons unnecessarily drags them through a couple buildings as a form of intimidation (I guess?), and that's going to cost millions more in property damage. Then Gipsy Avenger uses one of their new weapons to gather a bunch of debris on the streets in an an energy cluster, including some cars, just so they can throw it at the kaiju. That's someone's car in there!
Hopefully, the fun of this movie from director Steven S. DeKnight will be so distracting that we won't be worried about how much it's going to cost to fix the city after all this fighting is over.
Here's the official synopsis:
John Boyega (Star Wars: The Last Jedi) stars as the rebellious Jake Pentecost, a once-promising Jaeger pilot whose legendary father gave his life to secure humanity's victory against the monstrous "Kaiju." Jake has since abandoned his training only to become caught up in a criminal underworld. But when an even more unstoppable threat is unleashed to tear through our cities and bring the world to its knees, he is given one last chance to live up to his father's legacy by his estranged sister, Mako Mori (Rinko Kikuchi)—who is leading a brave new generation of pilots that have grown up in the shadow of war. As they seek justice for the fallen, their only hope is to unite together in a global uprising against the forces of extinction.
Jake is joined by gifted rival pilot Lambert (The Fate of the Furious' Scott Eastwood) and 15-year-old Jaeger hacker Amara (newcomer Cailee Spaeny), as the heroes of the PPDC become the only family he has left. Rising up to become the most powerful defense force to ever walk the earth, they will set course for a spectacular all-new adventure on a towering scale.
Pacific Rim Uprising is out in theaters on March 23, 2018.