'Black Panther 2': Marvel Hopes Director Ryan Coogler Will Return For The Sequel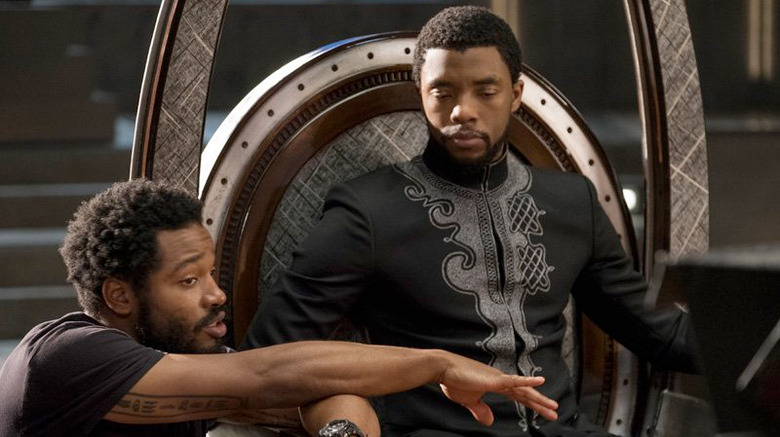 Marvel's Black Panther debuts in theaters tonight with sneak preview screenings for fans who just can't wait until Friday to see the movie. The film is already breaking records when it comes to ticket sales, and box office tracking suggests the movie could open to around $165 million. If the early buzz is any indicator, audiences are going to love it, and this movie is going to be huge.
That's why Marvel is already keen to bring back director Ryan Coogler for Black Panther 2.
Variety spoke to Marvel Studios boss Kevin Feige while making the publicity rounds for Black Panther, and he was asked about the future of the African superhero. After all, with such huge box office tracking and a 97% on Rotten Tomatoes at the time of this writing, surely there are already sequel plans, right? Feige won't flat out confirm that Black Panther 2 is in the works, but it sounds like he's just playing it safe for now:
"We always say we work on one movie at a time. If you have any good ideas, put it in the movie you're making. If you don't, you might not be able to make another one. That said, Panther has been around for more than half a century in the comic books and there are many, many stories to tell."
For a studio that plans their movies a few years out, saying that Marvel works on one movie at a time doesn't really hold true. But we can understand his trepidation and maybe even superstition with regards to counting on sequels. But hypothetically, if Black Panther 2 ends up coming together, Feige wants to get director Ryan Coogler back in the director's chair.
Feige was asked whether he thinks the Creed director will return for Black Panther 2 and he simply said "I hope so." And when the follow-up of whether they wanted Coogler back was posed, Feige said "Absolutely." Marvel Studios usually gets what they want, and it's probably a safe bet that we'll see Black Panther 2 come together sometime in the next few years.
Black Panther is going to be a game changer. It is bringing a superhero to the big screen who matters more now than ever before. All the hype around this movie isn't just a moment, but rather a movement that could change the face of blockbusters so that we see many more people of color represented in Hollywood's biggest movies.
If you'd like to hear more about Black Panther, be sure to check out our interview with director Ryan Coogler.