Hear The New 'Muppet Babies' Theme Song From 'Hamilton' Star Renée Elise Goldsberry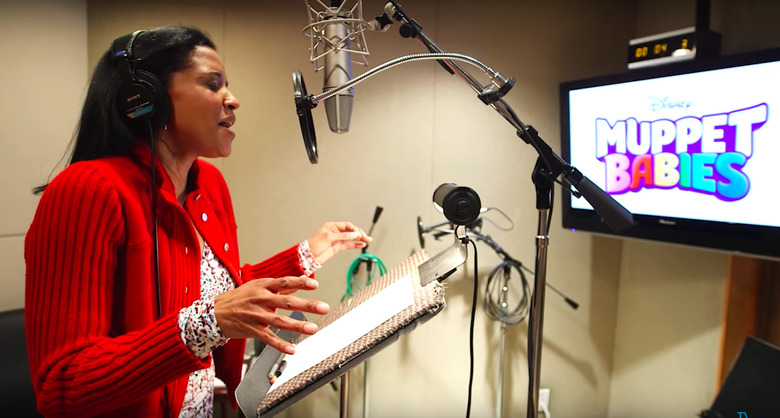 You can't have a Muppet Babies reboot without bringing back its iconic theme song, and who better to do that than the star of one of Broadway's biggest hits, Hamilton? If anything, this Muppet Babies reboot theme song will leave you perfectly satisfied.
Renée Elise Goldsberry got to revive the iconic Muppet Babies theme song, giving the legendary tune a modern spin. And it's still going to get stuck in your head for days.
The playroom shenanigans of Kermit the Frog, Miss Piggy, Fozzie Bear, and their friends wouldn't be complete without music, and Goldsberry is there to remedy that. While the theme song for the original 1980s Muppet Babies series was sung by the characters, Goldsberry will sing the entirety of the new song, complete with gasps and cute little giggles.
The featurette below gives us a sneak preview of the new Muppet Babies theme song.
Muppet Babies Reboot Theme Song
Sing it along with me: Muppet babieees~
Goldsberry gives the song a modern flair while retaining the simplicity and joy of the original. Though it's missing the adorable baby Muppet voices singing their separate parts, Goldsberry dancing and shrugging along to the song makes up for it.
"The vibe is so fun," Goldsberry says in the featurette. "It's like that wonderful period where music was really bouncy and really melodic."
The Tony Award winner is best known for her role as Angelica Schuyler in Hamilton, and she certainly put in the work, work for this Disney Junior theme song. Michelle Lewis, one-third of the theme's songwriting trio alongside Dan Petty and Kay Hanley, explained that Goldsberry was "such a perfect choice" for the job because "Her theater background gives the action that's  happening in the theme so much life."
The original Muppet Babies ran from 1984 to 1991 on CBS and featured several of the beloved Muppets in toddler form, living together in a nursery run by "Miss Nanny." It introduced a whole new generation of children in the '80s and '90s to the Muppets, and still remains a beloved cartoon classic today. Take a peek at its original theme song below.
Here is the synopsis for Muppet Babies:
The series will follow the hilarious playroom antics of the young Kermit the Frog, Miss Piggy, Fozzie Bear, Gonzo, Animal and Summer Penguin, a brand-new Muppet Baby. As always, Miss Nanny gently and cheerfully encourages the Muppet Babies to use their imaginations to explore the farthest corners of the universe and to utilize their creative thinking to solve most any problem.
The new Muppet Babies will premiere on the Disney Channel in March 2018.