Gerard Butler Fanatics Rejoice: A 'Den Of Thieves' Sequel Is Happening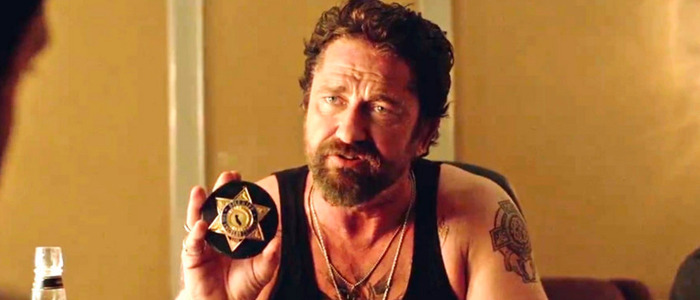 How did this happen? Den of Thieves, a heist flick that looked like a Heat remake starring Gerard Butler, is getting a sequel. Technically speaking, the first Den of Thieves wasn't what you'd call a huge hit. No matter! The Den of Thieves sequel is coming, so you better be prepared. Thank you, trash movie gods.
Alright, what is going on here? Den of Thieves, the low-rent Heat knock-off starring trash movie thespian Gerard Butler and Curtis "50 Cent" Jackson, made almost no impact when it opened in theaters last month. But apparently, the film made enough to inspire STXFilms to greenlight a Den of Thieves sequel. Deadline confirms stars Gerard Butler, Tucker Tooley, Mark Canton, Alan Siegel, and Curtis "50 Cent" Jackson are all set to return, and O'Shea Jackson, Jr. is currently in negotiations. Original Den of Thieves director Christian Gudegast will return as well, to give the film that Gudegast touch the fans demand.
Den of Thieves Trailer 
It's worth noting that some of the cast members returning here contradict events that happen in the first Den of Thieves, but lets not let logic stand in the way of Den of Thieves 2. Deadline says Den of Thieves took in $57M worldwide on a$30M budget. Those aren't blockbuster numbers, but 70% of the budget was covered through pre-sales and a tax incentive. In other words, STXFilms is fine with aiming low. The original Den of Thieves focused on an elite Los Angeles County Sheriff's Department Unit. Here's the synopsis.
Nick O'Brien is the hard-drinking leader of the Regulators, an elite unit of the Los Angeles County Sheriff's Department. Ray Merrimen is the recently paroled leader of the Outlaws, a gang of ex-military men who use their expertise and tactical skills to evade the law. O'Brien, Merrimen and their crews soon find themselves on a direct collision course as the criminals hatch an elaborate plan for a seemingly impossible heist — the city's Federal Reserve Bank.
I have so many questions. Will Nick O'Brien still be hard-drinking in the sequel? What new criminal gang will Nick O'Brien and the boys face this time? Will the boys crack open a cold one or two? /Film's Karen Han reviewed Den of Thieves when it hit theaters last month, and gave it an eyebrow-raising 3 out of 10. Here's how Karen summed up the film:
"The best thing that I can ultimately say about Den of Thieves is that it's a missed opportunity. All of the ingredients for a great cop movie are there, but instead of being cooked, they've been left to spoil in clichés and decidedly retrograde attitudes. It can't even be recommended as a mindless watch — it's too long and too loud for that."
Wow, certainly sounds like a winner! There's no release date set for Den of Thieves 2 yet, but I'm sure the first Den of Thieves will be on Blu-ray very soon. When that happens, you can watch it over and over again until the sequel arrives.