Chris Rock's 'Tamborine' Netflix Stand-Up Special Arrives On Valentine's Day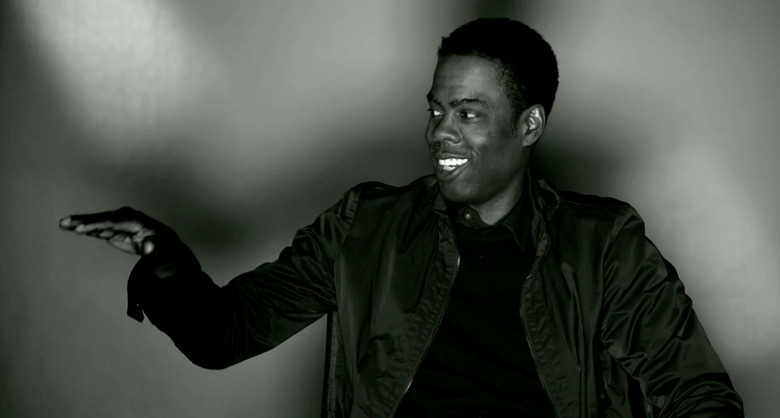 Over Super Bowl weekend, Netflix released a mysterious teaser trailer that just featured a bunch of tambourines being played. No one was really sure what it was all about, but today we got our answer, and the payoff is coming much sooner than you think.
Chris Rock's first Netflix stand-up special is making a surprise debut tomorrow, on Valentine's Day. The special in question is called Tamborine, which is the less conventional spelling for the musical instrument, but maybe there's a reason for that. The comedian posted the same video that debuted over a week ago, but this time with his name and the title of the special appearing at the end along with the release date.
Check out the Chris Rock Netflix special announcement video below.
There's no footage from the stand-up special in the teaser, but since this is Chris Rock we're talking about, we really don't need any. It's been 10 years since Rock debuted a new stand-up special, his last one being Kill the Messsenger from HBO in 2008, so we're overdue for some new stand-up material from him.
Tamborine was filmed at New York's Brooklyn Academy of Music, directed by fellow stand-up comedian Bo Burnham (who is just coming off directing the acclaimed Sundance comedy Eighth Grade). It's the first of two new specials that Chris Rock will be doing for the streaming service, but if his deal ends up going anything like Dave Chappelle's, there's a chance we might see even more from Rock coming to Netflix after that.
We're not sure what topics Rock will cover in Tamborine, but considering all the outrageous headlines there have been in recent years, he has plenty of material to pull from. Rock has tended to deal with race and society most predominantly in his specials, but he also tackles relationships and other more common comedic topics. Other more controversial topics have included gun control and terrorism. A few years ago, Rock also tackled the Freedom Tower, commercializing the holidays and more:
Chris Rock is one of several big name comedians who have struck big deals with Netflix for exclusive comedy specials. But Rock might have the biggest deal, earning $20 million for each. We'll find out tomorrow if Netflix's money was well spent, and considering how incredible Rock's stand-up specials have been in the past, that shouldn't be a problem.
Don't forget that Chris Rock also stars in the new Netflix comedy The Week Of with Adam Sandler this spring.