'John Wick' Director Chad Stahelski To Direct Dark Fantasy Film 'Sandman Slim'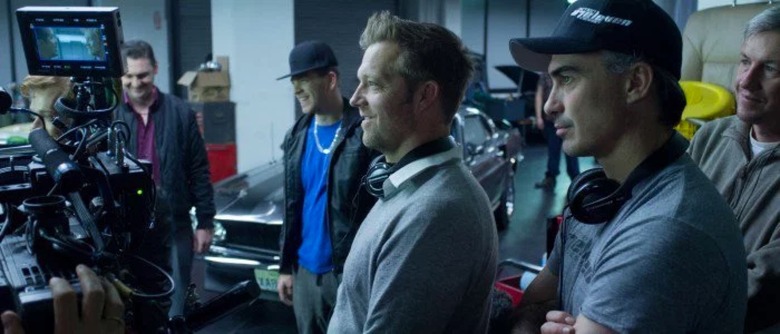 The co-directors of John Wick are moving on to big things. While David Leitch has put sleek action thrillers Atomic Blonde and Deadpool 2 under his belt, action fans have wondered what Chad Stahelski's next non-Wick movie will be.
Stahelski's directorial slate has been a bit up in the air after John Wick and John Wick 2, with two or three projects tentatively announced, including John Wick 3. Now, Stahelski has officially been tapped to helm the Studio 8 adaptation of Sandman Slim. 
Stahelski has been hired to direct the adaptation of Richard Kadrey's dark fantasy series for Studio 8, Deadline reported.
Sandman Slim is a superhero vigilante story about a half-human/half
-angel magician who escapes from Hell in order to exact revenge on those who killed his girlfriend. No, it's not a spin-off of Neil Gaiman's acclaimed Sandman series, which has also been itching for a feature film adaptation.
The novel will be adapted by Kerry Williamson, who penned the Netflix film What Happened to Monday. Kel Symons wrote a previous draft.
Here is the synopsis for the first book in Kadrey's nine-book series:
Normally the way things go is, life sucks and then you die. But not if you are James Stark. Instead you skip the dying, are betrayed by your so-called friends, and spend the next eleven years trapped in Hell. And believe me, you don't survive the devil's playground without learning a few tricks. Stark is no longer the man he once was – over a decade of fighting hellion monsters changes a person. He has finally escaped and is back in L.A. seeking revenge. But the road to absolution proves longer than expected and it doesn't take long for Stark to realize that both Heaven and Hell have their own plans for him.
Studio 8 acquired the rights to Sandman Slim in 2016 with the hopes that the series could launch a potential franchise. And with Stahelski at the helm, that's entirely possible. Alongside Leitch, Stahelski built a rich, complex world out of a simple revenge film in John Wick, which starred Keanu Reeves as the titular assassin who is forced out of retirement. What could have been a tired trope became one of the most exciting and kinetic films of 2014. The sequel, directed solely by Stahelski, kicked the first film's stylized action and insanity up a notch, turning the series into a full-fledged action epic.
Stahelski is still set to direct John Wick 3, which is scheduled for a May 17, 2019 release.