'The Kitchen' Puts Melissa McCarthy And Tiffany Haddish In A Gritty Comic Book Adaptation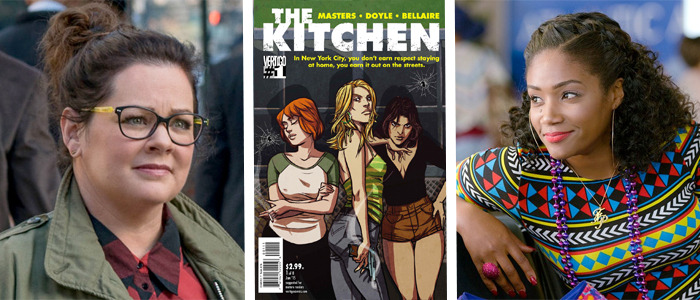 We may receive a commission on purchases made from links.
After starring in Girls Trip this past summer, Tiffany Haddish is on the rise to becoming quite the comedy star. She already has some promising movies coming up soon, such as the Thanksgiving comedy The Oath with Ike Barinholtz and John Cho and Night School with Kevin Hart and Taran Killam. Her next big project, however, will take her into new territory.
Tiffany Haddish is slated to star in The Kitchen, an adaptation of the Vertigo comic book of the same name that is set up at New Line Cinema and DC Entertainment. Now Melissa McCarthy is finalizing a deal to join her in the project, which is a gritty story about three Irish mob wives who take over the criminal business in Hell's Kitchen after their husbands are captured by the FBI.
Deadline has word on the casting of Melissa McCarthy alongside Tiffany Haddish in a film that sounds unlike anything either of them have done before. The project is described as a gritty drama, and there's a third lead female role that has yet to be cast. However, the premise does feel ripe for comedic potential, so maybe some more laughs will be injected into the story. Or maybe it will be funny in the way that Martin Scorsese's crime dramas are sometimes funny. That's something that I'd love to see Haddish and McCarthy tackling together.
At the very least, even if this takes a more comedic approach to the source material, it will be quite the violent affair. The story actually sees these three wives becoming considerably more vicious than their husbands ever were when running the illicit business. Again, that's something that could be mined for laughs, but I'm hoping this will allow McCarthy and Haddish to show a side of themselves that we haven't seen on the big screen yet.
The project isn't just putting female talent in front of the camera, either. Straight Out of Compton co-writer Andrea Berloff will make her directorial debut on the project. The studio must have confidence in the team they're assembling to give an untested filmmaker control over intellectual property like this. It's nice to see that kind of chance taken on a project that has so much female power behind it.
Oscar nominee Michael De Luca is producing the film, but there's no word on when the project will hit theaters. My best would be sometime in 2019, but we don't know when the film will go into production, so it's hard to know for sure. Even so, this project sounds very promising and we hope to hear more about it sooner than later.