'Star Wars: Episode 9' Hires 'Blade Runner 2049' Art Director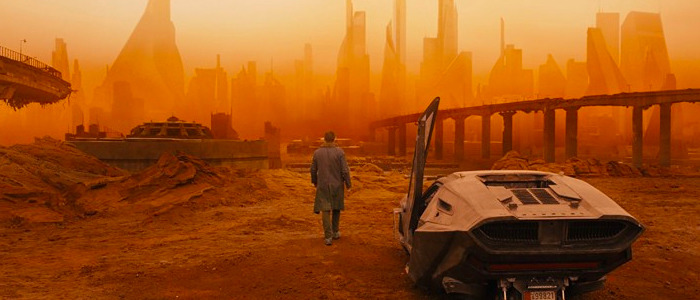 Details about Star Wars: Episode 9 are sketchy at the moment, but one thing we do know now is that the film will look great. Paul Inglis, art director of Blade Runner 2049, has just been hired for the upcoming J.J. Abrams-directed sequel. More on the Episode 9 art director below.
Paul Inglis, art director on Skyfall, Game of Thrones, Prometheus, Mission: Impossible – Rogue Nation, Children of Men, and of course, Blade Runner 2049, is headed to a galaxy far, far away for Star Wars: Episode 9. Omega Underground confirms Inglis' involvement with the film. Star Wars: The Force Awakens director J.J. Abrams will return to helm the latest chapter in the on-going Skywalker saga, which is expected to start filming in June 2018.
Art directors oversee the entire art department on a film, and help realize the production designer's overall vision. They also oversee the construction of sets. Whatever you think of Blade Runner 2049 (it's great, btw), one thing everyone can agree on is that the film looks amazing. A big part of that is due to Roger Deakins' fantastic cinematography, but aiding that was the overall look and design of the film itself, which Inglis played a major part in. Having him on board for Star Wars: Episode 9 is an indication that no matter how the next Star Wars chapter turns out, it's going to look great.
Inglis is just one piece in a huge puzzle that will make up the finished film. We have absolutely zero plot details at the moment, which means you're free to speculate wildly about what the film will feature. Go ahead, assume Sy Snootles is in every scene. Anything goes for now!
Director J.J. Abrams was brought in to take over Episode 9 after original director Colin Trevorrow left the project (or was fired, depending on who you ask). "With The Force Awakens, J.J. delivered everything we could have possibly hoped for, and I am so excited that he is coming back to close out this trilogy," said Lucasfilm President Kathleen Kennedy when Abrams signed on to helm the film.
Episode 9 is one of several upcoming Star Wars films. Besides the Star Wars spin-off film Solo: A Star Wars Story hitting theaters later this year, Lucasfilm and Disney also have a brand new Star Wars trilogy in the works with Star Wars: The Last Jedi director Rian Johnson at the helm. In addition to this, a whole new Star Wars series written by Game of Thrones creators David Benioff and D.B. Weiss is also in development. Johnson's films, and the films from the Game of Thrones creators, will both exist outside the Skywalker saga. If that wasn't enough Star Wars for you, don't worry – there's more. Disney is also working on multiple Star Wars TV shows for their upcoming streaming service.
Star Wars: Episode 9 opens on December 20, 2019.