New Blu-Ray Releases: 'The Silence Of The Lambs' And 'Night Of The Living Dead' From The Criterion Collection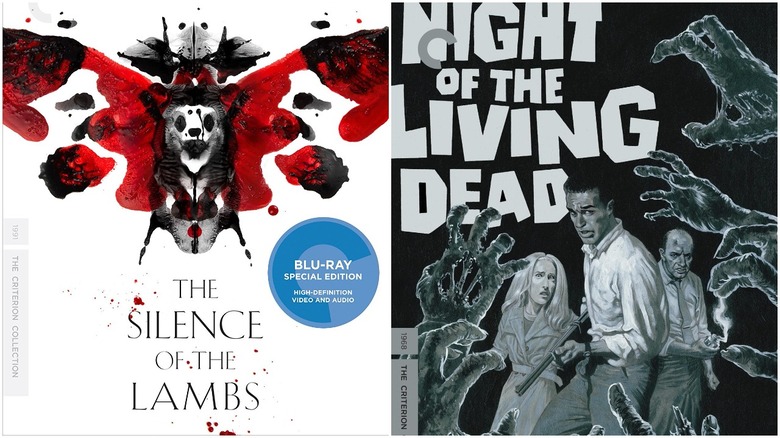 (Welcome to Not Dead Yet, a feature dedicated to new Blu-ray releases and what special features you should be excited about. Because yes, some of us still like to own physical copies of our movies.)
What a great week for Blu-rays. The Criterion Collection has two must-have releases this week: Jonathan Demme's Silence of the Lambs and George A. Romero's Night of the Living Dead. Beyond that, we have The Bird With the Crystal Plumage and Re-Animator from Arrow Video, the under-seen drama Only the Brave, and the Lyndon Johnson biopic LBJ. Last but not least, we have an exclusive clip from Roman J. Israel, Esq.
Here are the new Blu-ray releases you should check out this week.
The Silence of the Lambs
It's a minor miracle that Jonathan Demme's The Silence of the Lambs swept the Oscars, taking home trophies for Best Picture, Best Director, Best Actor, Best Actress and Best Adapted Screenplay. Not because the film didn't deserve those awards, but simply because Silence of the Lambs is not your typical Oscar film. It's a dark and disturbing portrait of almost preternatural evil, brimming with truly gruesome sequences.Yet despite all the horror lurking within the frames of this film, Silence of the Lambs is a fiercely, yet subtly, feminist film. Silence's heroine Clarice Starling (played to absolute perfection by Jodie Foster) doesn't have big, dramatic speeches in which she declares herself a female in a man's world, but almost every action she takes represents this. This is heightened by Jonathan Demme's wonderful direction – one of the most memorable images in the film isn't a moment of graphic horror, but rather the image of the petite Starling surrounded in an elevator by tall, indistinguishable men.No matter how many times I've seen Silence of the Lambs (dozens, if not more), I never fail to be taken aback at what flat-out masterpiece this is. In the years since the film's release, there's been a tendency to label Anthony Hopkins' take on Hannibal Lecter here "hammy." While Hopkins did indeed adopt a full-blown porcine treatment when he reprised the role in Hannibal and Red Dragon, his work here is far more nuanced; far more incredible. The animalistic way he sizes up Foster from the get-go is a treat to behold.As magnificent as Hopkins and Foster are (ditto Ted Levine as the nightmarish-yet-tragic Buffalo Bill), what makes Silence shine is Demme, The late filmmaker's direction elevates what could've been a standard pulpy thriller into something far more intimate. Demme's point-of-view camera shots – where every actor, except Foster, talks right to the camera – is jarring at first, but the more you watch, the more natural it seems. It effectively puts us within Foster's head, carrying us through her journey from beginning to end.Notable Special Features:The Criterion Collection originally released The Silence of the Lambs on laserdisc, approximately 100 years ago, and then DVD. Now, they've thankfully updated to a wonderful new Blu-ray that comes packed with previous features, and some new ones to boot.An engrossing interview with critic Maitland McDonagh walks through both Silence of the Lambs and serial killer cinema in general. McDonagh is informative and charming, and my only complaint is this featurette isn't longer. I could've sat through a full hour of this.Beyond this, there are several making-of documentaries about the film. Technically, none of these are new, and if you've owned Silence of the Lambs in the past on Blu-ray or DVD, you might have already seen some of these. Still, it's nice to have them all in one place. Through these documentaries, one can learn some interesting bits of trivia about the film. For instance: Jonathan Demme originally wanted his Married to the Mob star Michelle Pfeiffer to play Starling, but Pfeiffer passed. Foster, meanwhile, continued to lobby for the part until she got it. As for Lecter, Demme wanted Anthony Hopkins, but offered the part to Sean Connery, assuming that since Connery was a bigger name at the time, it would be better for box office. Connery wanted no part of the film, Hopkins got the part, and the rest is history.There's a slew of deleted scenes on the disc, some of them quite raw and unfinished. None of the deleted scenes add much, and in some cases, having them in the film would completely destroy the perfect pace of the final cut. Still, it's fun to watch some of them, particularly a moment after Lecter's famous escape sequence – the one where he wears another man's skinned face. After the good doctor kills ambulance workers and makes off with their ambulance, he sings to himself as he wipes blood from his face.This release is a must-have for any film fan, or fan of Silence of the Lambs. One of the best elements of the release is the transfer itself: a new 4K digital restoration, approved by director of photography Tak Fujimoto, which maintains the original film's grain. It's gorgeous to behold.
Special Features Include:
New 4K digital restoration, approved by director of photography Tak Fujimoto, with 2.0 surround DTS-HD Master Audio soundtrack on the Blu-ray
Alternate 5.1 surround DTS-HD Master Audio soundtrack on the Blu-ray
Audio commentary from 1994 featuring director Jonathan Demme, actors Jodie Foster and Anthony Hopkins, screenwriter Ted Tally, and former FBI agent John Douglas
New interview with critic Maitland McDonagh
Thirty-eight minutes of deleted scenes
Four documentaries featuring hours of interviews with cast and crew
Behind-the-scenes featurette
Storyboards
Trailer
PLUS: A book featuring an introduction by Foster, an essay by critic Amy Taubin, pieces from 2000 and 2013 by author Thomas Harris on the origins of the character Hannibal Lecter, and a 1991 interview with Demme
Night of the Living Dead
George A. Romero's immortal classic gets the Criterion treatment it so richly deserves. Here, in 2018, where zombie-based entertainment is a dime a dozen, it's easy to forget how wildly influential Romero's film was. With a small crew, a cast of unknowns, and a paltry budget, Romero birthed an entirely new genre of film – a genre that still resonates to this day.Night of the Living Dead's set-up is deceptively simple: a group of strangers get trapped in a house during a zombie outbreak. But from this simple premise springs a film bursting with social commentary and brilliant on-the-fly filmmaking techniques. Romero always claimed that casting a black actor (Duane Jones) in the lead was a simple decision. To hear Romero tell it, Jones was the best actor he knew, and that's why he got the lead. Still, whether or not Romero intended it, Johnson's presence – the lone black man, keeping his calm in a house full of hysterical white people – creates an entirely new subtext to Romero's zombie narrative.Romero's zombie films would go on to be bigger and bolder, but Night of the Living Dead remains the gold standard. Few low budget horror films pack as much punch as this. But beyond the shuffling, flesh-eating ghouls that swarm through the film there's a bleak, nihilistic message undercutting the proceedings. Try as we might, human beings are no match for themselves. No matter how calm and level-headed we try to remain, our bickering and prejudices will ultimately bring about our doom.
Notable Special Features:Romero and company accidentally forgot to copyright Night of the Living Dead, and as a result, the film entered the public domain after it was released. Because of this, there have been countless home video releases of the film. Yet the new Criterion Collection release is unquestionably the best of the bunch.For one thing, the film has never looked better. A new 4K digital restoration, supervised by director Romero, co-writer John A. Russo, sound engineer Gary R. Streiner, and producer Russell W. Streiner, restores the film to the point where it almost looks as if it were filmed yesterday.On top of that, there is a solid collection of special features here. The most interesting of the bunch is Night of Anubis, which is essentially a recreation of the original workprint of the film. Rough, uncorrected, and not even close to pristine, this is still a fascinating look at the very raw elements that eventually created the film as we know it.An interview with co-writer John A. Russo details both the making of the film, and the early commercial work Russo and Romero did together. Here, we get to witness some of the early TV commercials Romero directed, which have more energy and clever editing than most modern feature films.There's also a great, but sadly far-too-brief, featurette in which filmmakers Frank Darabont, Guillermo del Toro, and Robert Rodriguez discuss the legacy of the film. All three filmmakers are suitably respectful and in awe of Romero's work, and I wish I could've listened to them – particularly del Toro – talk about Living Dead in much greater depth.Special Features Include:
New 4K digital restoration, supervised by director George A. Romero, coscreenwriter John A. Russo, sound engineer Gary R. Streiner, and producer Russell W. Streiner
New restoration of the monaural soundtrack, supervised by Romero and Gary Streiner and presented uncompressed on the Blu-ray
Night of Anubis, a never-before-presented work-print edit of the film
New program featuring filmmakers Frank Darabont, Guillermo del Toro, and Robert Rodriguez
Never-before-seen 16 mm dailies reel
New program featuring Russo on the commercial and industrial-film production company where key Night of the Living Dead filmmakers got their start
Two audio commentaries from 1994 featuring Romero, Russo, producer Karl Hardman, actor Judith O'Dea, and others
Archival interviews with Romero and actors Duane Jones and Judith Ridley
New programs about the film's style and score
New interview program about the direction of ghouls, featuring members of the cast and crew
New interviews with Gary Streiner and Russell Streiner
Newsreels from 1967
Trailer, radio spots, and TV spots
PLUS: An essay by critic Stuart Klawans
The Bird With the Crystal Plumage
Dario Argento's directorial debut receives a great new Blu-ray release from the good folks at Arrow Video. While most of the trademarks of Argento's future giallo filmography are here – close-ups of a killer's black-gloved hands, bursts of violence, a hero bumbling into the story – The Bird With the Crystal Plumage is slightly more subdued. Argento would eventually grow into his more lurid flourishes.Sam Dalmas (Tony Musante), an American in Rome, witness a near-fatal attack of a woman (Eva Renzi), and soon starts playing detective. His snooping makes him the target of the killer, who is also going around town slaughtering people left and right.There's a psycho-sexual undercurrent here, as is to be expected with most Argento films. But most of all, Crystal Plumage is inherently watchable, almost hypnotic. The narrative has bizarre little touches and side-trips – in one lengthy sequence, Sam ends up at the run-down barn of an artist, and soon discovers the artist eats cats. Weird little touches like this heighten Crystal Plumage's overall mood into near fever-dream levels. Quite simply put, there aren't many films like this.
Notable Special Features:Critic Kat Ellinger offers an essential analysis of the film, discussing how Argento came to create the film and its many themes. Argeno is on hand as well in a separate interview, talking about how he came to direct. The filmmaker originally planned to just write the script, but eventually decided to direct as well. There was one problem: the first time director didn't know how to shoot scenes. Luckily, cinematographer Vittorio Storaro was there to assist.There's a video essay from writer Alexandra Heller-Nicholas, and while Heller-Nicholas is a phenomenal writer, this feature is a bit of a disappointment. Part of the reason is the audio quality of Heller-Nicholas' narration is oddly poor. On top of that, the narration is a bit stiff. One gets the sense that this video essay would be better off as just a regular essay.Special Features Include:
Brand new 4K restoration of the film from the camera negative in its original 2.35:1 aspect ratio, produced by Arrow Video exclusively for this release
High Definition Blu-ray (1080p) and Standard Definition DVD presentations
Original mono Italian and English soundtracks (lossless on the Blu-ray Disc)
English subtitles for the Italian soundtrack
Optional English subtitles for the deaf and hard of hearing for the English soundtrack
New audio commentary by Troy Howarth, author of So Deadly, So Perverse: 50 Years of Italian Giallo Films
The Power of Perception, a new visual essay on the cinema of Dario Argento by Alexandra Heller-Nicholas, author of Devil's Advocates: Suspiria and Rape-Revenge Films: A Critical Study
New analysis of the film by critic Kat Ellinger
New interview with writer/director Dario Argento
New interview with actor Gildo Di Marco (Garullo the pimp)
Reversible sleeve featuring original and newly commissioned artwork by Candice Tripp
Double-sided fold-out poster featuring
6 Lobby Card reproductions
Limited edition 60-page booklet illustrated by Matthew Griffin, featuring an appreciation of the film by Michael Mackenzie, and new writing by Howard Hughes and Jack Seabrook
Re-Animator
Stuart Gordon's Re-Animator is one of those rare movies that somehow gets better every time you see it. Gordon took H.P. Lovecraft's short story Herbert West–Reanimator and turned it into this glorious, gory, over-the-top horror-comedy.What makes Re-Animator work is the fact that while there's some very silly stuff going on here, everyone is playing it absolutely straight. As a result, you can't help but burst out laughing at lines like, "Cat dead, details later."Jeffrey Combs is a delight as smug, arrogant med student Herbert West. West is in possession of a glowing green liquid that has the power to resurrect the dead. What could go wrong? Literally everything. Soon, West has pulled his hapless landlord and fellow med student Dan (Bruce Abbott) into his schemes.Very few horror films manage to be as much fun as Re-Animator is. The last half of the movie, which involves a character toting around his own severed head, must be seen to be believed. Re-Animator inspired several sequels, as well as a comic book, but nothing even comes close to the original movie.
Notable Special Features:The new Arrow Video Blu-ray release combines several special features that were previously on other home video editions. There's also a new audio commentary featuring director Stuart Gordon and actors Graham Skipper and Jesse Merlin of Re-Animator: The Musical. While this is a fun listen – "How can you make a musical out of this?" was Gordon's first reaction to the musical idea, followed by, "Why not?" – the bulk of the commentary is more focused on the musical than Gordon's film.A feature-length documentary goes through both the making of the film, and nearly every single scene in the movie. It's extensive and exhaustive. Gordon talks about his theatre roots and how he wanted to make a movie, and realized horror would be the easiest to get backing. At one point, Gordon tried to get PBS to finance a series of short half-hour adaptations of the Re-Animator story. Eventually, this blossomed into a feature film. There's a lot to take in here, including the revelation that Gordon took the entire cast to the LA County Morgue before filming began as research. Sounds fun! Another fun revelation: the sets the film shot on were so old that silent film star Mary Pickford had once filmed there. Yeesh.Another great feature here is an interview with Barbara Crampton, the hardest-working woman in indie horror. Crampton doesn't just talk about making Re-Animator, she walks interviewer Alan Jones through her entire career. It's a must-watch for fans of the actress.Special Features Include:
4K restoration of the Unrated version
High Definition Blu-ray (1080p) presentation
Optional English subtitles for the deaf and hard of hearing
Mono, Stereo and 5.1 DTS-HD MA Surround Audio Options
Isolated Score
Audio commentary with director Stuart Gordon and actors Graham Skipper and Jesse Merlin of Re-Animator: The Musical
Audio commentary with Stuart Gordon
Audio commentary with producer Brian Yuzna, actors Jeffrey Combs, Barbara Crampton, Bruce Abbott and Robert Sampson
Re-Animator: Resurrectus – feature-length documentary on the making of the film, featuring extensive interviews with cast and crew
Interviews with director Stuart Gordon and producer Brian Yuzna, writer
Dennis Paoli, composer Richard Band and former Fangoria editor Tony Timpone
Music discussion with composer Richard Band
Barbara Crampton in Conversation – the Re-Animator star sits down with journalist Alan Jones for this career-spanning 2015 interview
The Catastrophe of Success: Stuart Gordon and The Organic Theater – director Stuart Gordon discusses his early theater roots and his continued commitment to the stage
Theater of Blood – Re-Animator: The Musical lyricist Mark Nutter on adapting the cult classic for musical theatre
Extended Scenes
Deleted Scene
Trailer & TV Spots
Still Gallery
Screenplay (BD-ROM Content)
Reversible sleeve with newly commissioned artwork by Justin Erickson
Only The Brave
There was absolutely no buzz about Joseph Kosinski's 2017 film Only the Brave, which means now is the perfect time to discover the movie on Blu-ray. Because the fact is, Only the Brave is surprisingly good. I had feared this was going to be the type of lifeless working-class-hero movie that Mark Wahlberg tends to make. Instead, Only the Brave is a finely tuned, well-cast, often emotional drama about people risking their lives because it's the only thing they know how to do.Based on a true, tragic story, Josh Brolin plays the leader of an elite crew of firefighters – known as Hot Shots – who rush into huge, dangerous forest fires. While your ordinary firefighter may battle flames with water, the Hot Shots fight fire literally with fire, using controlled blazes. Needless to say, this is an extremely dangerous line of work.Only the Brave unfolds with several narratives. One involves Brolin's character and his addiction to the job and his strained relationship with his loving wife (Jennifer Connelly). Another involves a new member of the team, played by Miles Teller. Teller's character starts off as a drug addict, but when he learns he's going to be a father, he wants to turn his life around. The only job that will hire him are the Hot Shots.While Only the Brave is close to what I'd call a great movie, it doesn't quite get there. There are some story issues here and there – Connelly's character is, sadly, underused. But ultimately, the film is much better than your standard "Based On A True Story" drama, and while audiences skipped Only the Brave in theaters, I hope they'll give the movie a chance on home video.
Notable Special Features:There are two Only the Brave deleted scenes: in one, Miles Teller gets blisters on his hands; in the other, Jeff Bridges places a phone call to Josh Brolin after Jennifer Connelly crashes her truck. Okay, I'll admit it: neither of these are that interesting.But beyond that, there are several featurettes about the making of the film. "Honoring the Heroes" has the cast and crew talking about remembering when they heard about the true story of the Hot Shots. Josh Brolin says it's one of the most important stories he's been involved with."Behind the Brotherhood" reveals how hard everyone involved with the film worked to be respectful to the legacy of the real people they were portraying. The real Brendan McDonough and Amanda Marsh, whom Teller and Connelly respectively play in the film, are on hand to talk about how unsure and nervous they were when they heard a movie was being made about their lives. Ultimately though, they came to realize how respectful everyone involved with the film was being in regards the story.The "Boot Camp" featurette first discloses how detailed and complicated and dangerous the job of a Hot Shot firefighter is. Director Joseph Kosinski talks about how authenticity was important to the film, and how he had the cast put through a boot camp to train them to be as authentic as possible in portraying their firefighter characters.Special Features Include:
Deleted Scenes
Feature Audio Commentary with Director Joseph Kosinski and Josh Brolin
Featurettes:
"Honoring the Heroes: The True Stories"
"Behind the Brotherhood: The Characters"
"Boot Camp: Becoming a Hotshot"          
Dierks Bentley featuring S. Carey's "Hold The Light" Music Video & Featurette
LBJ
Rob Reiner's LBJ was delayed a bit before being dumped into theaters, and it's easy to see why. While Reiner has a fascinating subject in the flawed president that was Lyndon B. Johnson, his film is a strictly by-the-numbers biopic that reduces Johnson's life down to a series of talking points.Which is a shame, because the film features a rather fine lead performance from Woody Harrelson. Buried under unconvincing Halloween make-up, Harrelson still manages to create a real, flesh-and-blood character. While his Johnson is probably far removed from the real man, Harrelson still does a magnificent job with the material he has to work with.LBJ mostly focuses on Johnson's relationship with the Kennedys. While he was already a storied politician by the time he became Kennedy's Vice President, most of Johnson's life is completely ignored, and once he finally takes office after JFK's assassination, the film breezes through his early, shaky days and then wraps things up with a few title cards.
Notable Special Features:There are zero special features here, which is a bit amazing. While I can't say I enjoyed the film, to have no features at all seems silly. At the very least, a digital copy of the movie should've been provided. What gives? At least put the effort in.
***
Also on Blu-ray this week: Roman J. Israel, Esq. In this exclusive Roman J. Israel, Esq clip, director Dan Gilroy talks about working on the film and working with star Denzel Washington. Denzel Washington is also on hand to talk about his character.
Roman J. Israel, Esq. Exclusive Clip