Disney Parks Reveals 'Star Wars' Hotel Details, New Marvel Rides And Pixar Pier Opening Date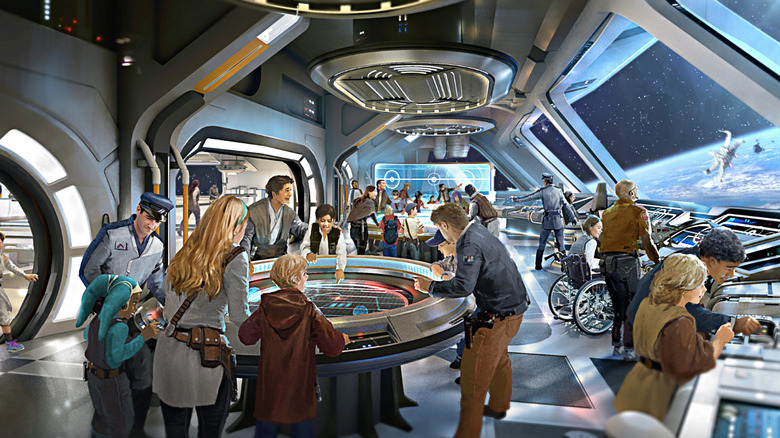 D23 Expo Japan was held over the weekend and you know what that means: lots of Disney news. But the biggest news to come out of this event hails not from the realm of film and television, but from theme parks. Specifically, theme park stuff based on film and television.
You want to know more about the Star Wars hotel? The Guardians of the Galaxy coaster coming to Epcot? Superhero-themed rides popping up all over the world? That new Mickey Mouse ride coming to the Hollywood Studios park? We've compiled all of the major D23 Expo Japan announcements you need to know below.
Star Wars: Galaxy's Edge Will Be More Immersive Than You've Heard
The modern theme park experience is all about creating a sense of immersion. And it looks like Star Wars: Galaxy's Edge is looking to topple Universal's Wizarding World of Harry Potter from its throne. We've already heard about
"in-character" vendors and dining experiences and "storylines" that will follow you as you explore the area
, but now we know that the new Star Wars hotel will work overtime to complete the illusion of authenticity.
Walt Disney parks and resorts chairman Bob Chapek revealed that the lavish hotel
will be directly connected to Galaxy's Edge
. That means hotel guests will be able to walk straight from the hotel to the themed land and vice versa, creating the illusion of boarding an intergalactic cruiser docked at the planet Batuu. There have been stories of Disney wanting an "in-park" hotel for years, and Galaxy's Edge looks like it will finally bring that long-gestating plan to fruition.
Of course, this goes a step beyond being just a hotel in the park. Guests will be able to dress like citizens of the Star Wars galaxy and every window will be a screen offering a look at "outer space." You can see what this will look like in the concept art video above.
It should be noted that this hotel is only confirmed for the version of Galaxy's Edge coming to Walt Disney World's Hollywood Studios park. If there is a plan to bring it to Disneyland, it has not been announced.
Chapek also re-confirmed that there will be two major attractions in Galaxy's Edge: a ride that will put you in the cockpit of the Millennium Falcon and one that will see you trying to escape a Star Destroyer during a battle between the Resistance and the First Order.
In-Universe Merch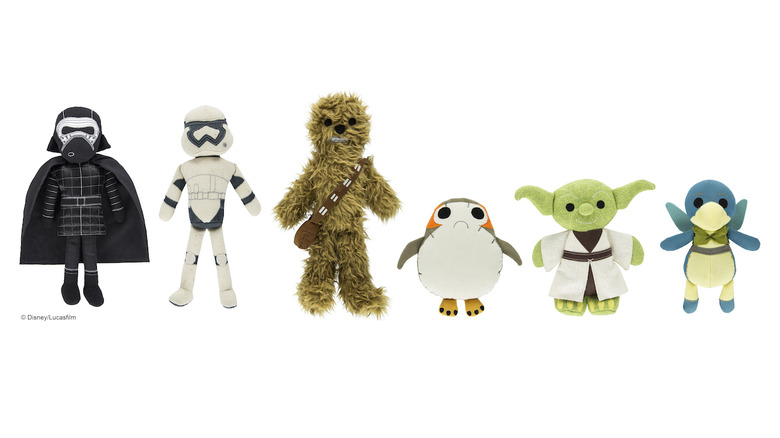 Even the merchandise is being designed to exist in-universe. Disney
a series of toys that will be on sale in the park, and they're designed to look like dolls crafted by "local artisans." Yup, that Stormtrooper looks just like the one owned by young Jyn Erso in Rogue One. Even much of the Harry Potter merchandise down the road still looks like a product, complete with logos and branding. But this? This is very, very cool and it looks like it was borrowed straight from a fictional world.
Mickey & Minnie's Runaway Railway opens in 2019 at @WaltDisneyWorld's Disney's Hollywood Studios! #D23ExpoJapan18 pic.twitter.com/kdW1UHNUie

— Disney (@Disney) February 12, 2018
Mickey & Minnie's Runaway Railroad
While Star Wars: Galaxy's Edge tends to hog all of the headlines when it comes to new attractions opening at Walt Disney World's Hollywood Studios, we can't forget about Mickey & Minnie's Runaway Railroad. After all, this will be the first ride guests see when they enter the park! Housed in the mammoth building that used to be The Great Movie Ride, this will, somehow, be the first major attraction in Disney history to be based around the company's most iconic character.
And it was a announced at D23 Expo Japan that the ride will open in 2019. The news was accompanied by a charming piece of concept art, which you can see above. Details about the ride remain under wraps, but we know it will transport riders into a Mickey Mouse cartoon and will make that happen via some very advanced, very snazzy theme park technology.
Guardians of the Galaxy Heads to Epoct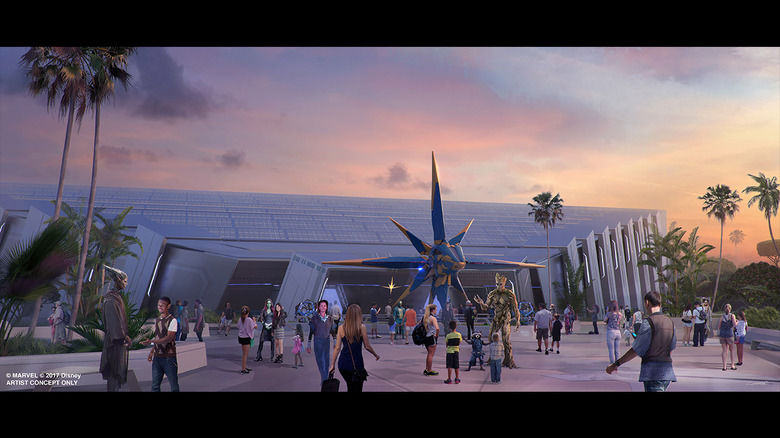 After several years of rumors, it was officially announced last year that the Universe of Energy pavilion at Walt Disney World's Epcot would be closing its doors. In its place will open a Guardians of the Galaxy-themed indoor roller coaster. And notably,
as one of the longest indoor roller coasters in the world, with a new ride system that will "wow" guests.
Indoor thrill rides with innovative ride systems is nothing new, but this is an area where Universal has been leading the charge (the systems used to navigate their Harry Potter rides are nothing short of astonishing). It's going to be interesting to see how this new Guardians attraction differentiates itself from the competition, especially since it has so much space to work with in the old Energy pavilion.
And while D23 Expo Japan was full of news about old rides getting drastic makeovers (we'll get there in a just a moment), the mere existence of a Guardians of the Galaxy ride at Epoct seems to suggest that the Twilight Zone Tower of Terror at Hollywood Studios is safe. The Disneyland version of the ride got a Guardians-themed re-skin last year, but it seems like the east coast original will remain untouched. For now.
Rock 'n' Roller Coaster Gets a Marvel-ous Makeover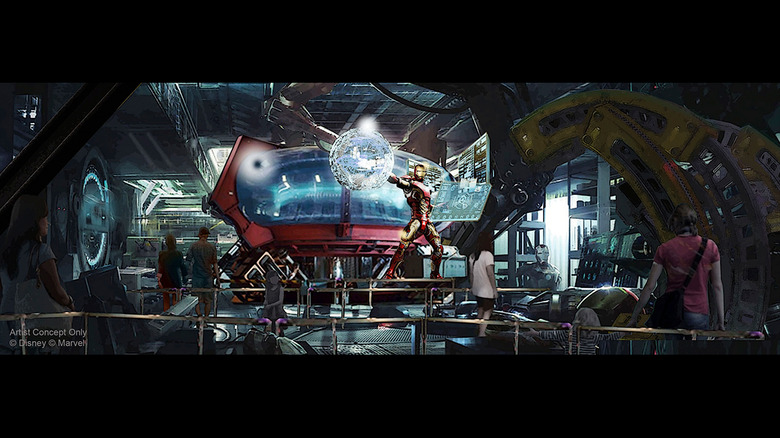 Speaking of rides that originated at Hollywood Studios getting superhero-themed re-skins in other parks...
The Disneyland Paris version of Rock 'n' Roller Coaster Starring Aerosmith is
getting remade as a Marvel attraction
. Details and dates have not been announced, but the new version of the ride will be a "high-speed, hyper-kinetic adventure, in which guests will team up with Iron Man and their favorite Avengers." The original ride is a thrilling and awesomely cheesy indoor roller coaster set to an Aerosmith soundtrack. It could probably use a fresh coat of paint. Maybe even a total re-theme. But I know I'd miss it.
Still, the skeleton is here for a very cool Marvel ride. Rock 'n' Roller Coaster never took full advantage of its indoor setting to build a detailed world. That's something Disney can easily do with modern technology and all of that space.
Like with Tower of Terror, this probably means the original version is safe for now. Disney tends to keep one version of each classic ride intact, even as other versions around world get re-imagined. Still, theme park fans may note that the Hollywood Studios versions of these rides are right next to each other and that may be enough to convince Disney to transform that corner of the park into a Marvel Land within the next few years.
BREAKING: Rock 'n' Roller Coaster at Walt Disney Studios Paris to be rethemed as an Iron Man/Avengers coaster. Hong Kong Disneyland's retheme of Buzz Lightyear Astro Blasters confirmed to be Ant-Man and the Wasp. #D23ExpoJapan2018 pic.twitter.com/97Rsdv4Msn

— MouseInfo (@MouseInfo) February 12, 2018
Ant-Man and the Wasp Are Taking Over Astro Blasters
Meanwhile, another classic ride at another park is getting the Marvel treatment. Buzz Lightyear's Astro Blasters at Hong Kong Disneyland is getting re-themed around Ant-Man and the Wasp. The new ride will feature the title characters as they do battle with Arnim Zola (last seen as an evil computer in Captain America: The Winter Soldier) and his swam of Hydra robots.
Astro Blasters is a very fun, if somewhat dated, attraction where riders pass through a series of scenes and use plastic weapons attached to their vehicle to shoot enemies. It's easy to imagine this concept getting reconfigured around Marvel characters. You're being recruited by Ant-Man and the Wasp to get shrunk down so you can go on an adventure! Imagine riding through rooms designed to make you feel tiny, firing your weapon at bad guys.
Once again, the Disneyland and Walt Disney World versions of this ride are probably safe for now. They're too beloved and re-theming them would feel very out-place-place in their current locations. In Hong Kong Disneyland, this re-imagined ride will be neighbors with the park's Iron Man simulator attraction.
Superheroes in Disneyland Paris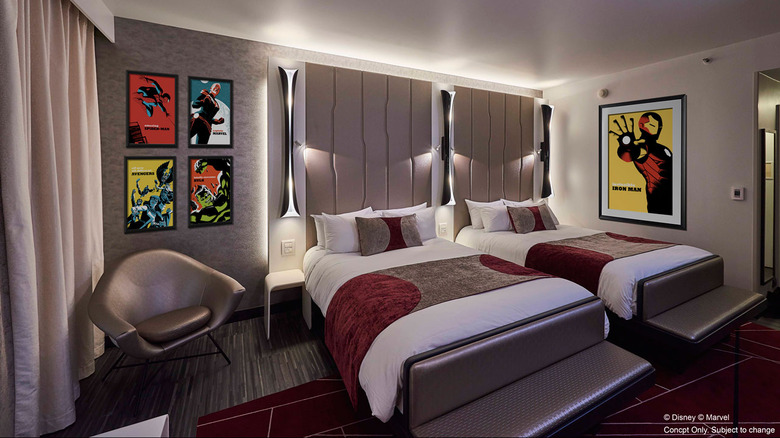 That image above offers a taste of what you'll experience if you stay
at Disneyland Paris' Hotel New York – The Art of Marvel
. The new resort is set to open in 2020 and "will showcase the inspiring worlds of Iron Man, The Avengers, and Spider-Man, among others in the style of a contemporary art gallery." In other words, it's very much catering to the slightly older crowds who tend to populate Disneyland Paris – a somewhat more sophisticated take on the superhero experience.
If you do want a more traditional experience, Disneyland Paris will play host to the Marvel Summer of Super-Heroes event staring on June 10. This will allow visitors to meet heroes like  Iron Man, Thor, Captain America, Spider-Man, Star-Lord and Black Widow. "Breathtaking, epic shows" are also being promised.
Everything Pixar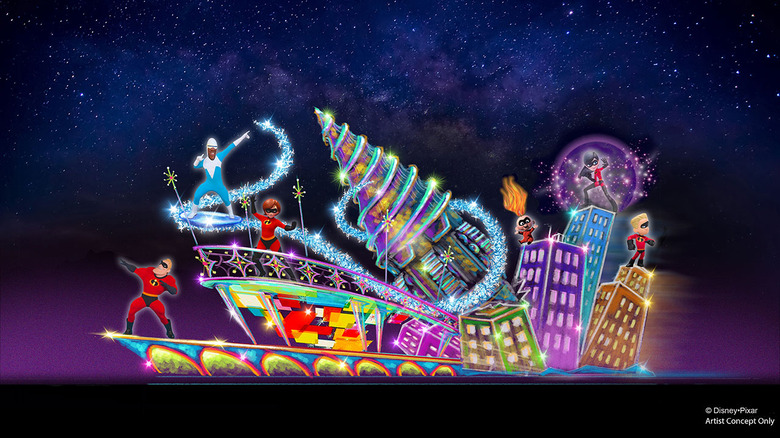 Meanwhile, Disney California Adventure's Pixar Pier, a re-theming of the park's Paraside Pier, will open on June 23. In addition to new and re-skinned attractions featuring Pixar characters, the opening of the new area will see The Incredibles joining the Paint the Night parade. You can see the concept art for their float above.
Of course, all of this is just part of the park's new Pixar Fest event, which is described as follows:
Beginning April 13, the first-ever Pixar Fest will be a celebration of friendship and beyond throughout the Disneyland Resort. Pixar Fest will feature the debut of the all-new "Together Forever – A Pixar Nighttime Spectacular," the return of "Paint the Night" parade and Pixar Play Parade as well as even more beloved Pixar characters, new décor, atmosphere entertainment, themed food and beverage and new merchandise items. Opening during Pixar Fest, the newly reimagined Pixar Pier will bring new, whimsical neighborhoods filled with your friends from "The Incredibles," "Inside Out" and even more of your pals from "Toy Story." The centerpiece of Pixar Pier will be the new Incredicoaster, a super combination of character figures, lighting and special effects that will bring the Parr family racing alongside you in an attempt to catch baby Jack-Jack.