First 'Death Wish' Clip Pushes You Into The Crawlspace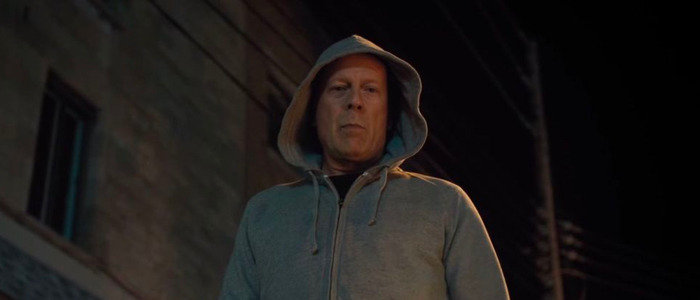 We may not need a Death Wish remake, but we're getting one anyway. Eli Roth helms the updated revenge-thriller, which stars Bruce Willis as an angry man who takes the law into his own hands. In the first official Death Wish clip, Willis' character very calmly decides to shove his daughter into a crawlspace.
I remain puzzled by the Death Wish remake. Maybe I'm wrong, but the film, about a guy who decides to get some guns and shoot a bunch of people, seems like the complete opposite type of movie we need in 2018. Also, the remake comes from director Eli Roth, who hasn't exactly had the best track record lately. Then you have Bruce Willis, an actor who can occasionally deliver a great performance, but more often than not tends to sleepwalk through his roles. There's always a chance Death Wish will turn out to be surprisingly good, but as of now, I'm skeptical.
Not helping matters is this first Death Wish clip, which is truly weird. In the clip, Willis' character Dr. Paul Kersey calmly talks his daughter (Camila Morrone) into hiding in a crawlspace.
Death Wish Clip
Bruce Willis braces for home invaders in this scene from the upcoming vigilante remake #DeathWishMovie! pic.twitter.com/CS4QLf2QNq

— IGN (@IGN) February 12, 2018
Come on, that was weird. With absolutely no sense of tension or pacing, Willis casually pushes his daughter into a crawlspace as the young woman yells, "Why are you putting me under the stairs?!" Why indeed?
It would be wrong to judge an entire movie based on a brief clip, but this certainly isn't helping make Death Wish's case. It seems like MGM isn't entirely sure how to sell Death Wish. This clip is tension-free and kind of generic, and it clashes heavily with the Grindhouse-style trailer released last week. Roth and company have likely had a tough time handling marketing for the film, especially in light of recent events. Case in point: Death Wish was originally set for a November 2017 release, but in the wake of the tragic Las Vegas shooting in October of 2017, MGM pushed the release back to 2018.
Death Wish opens on March 2, 2018.
Metro-Goldwyn-Mayer Pictures presents director Eli Roth's reimagining of the 1974 revenge thriller Death Wish. Dr. Paul Kersey (Bruce Willis) is a surgeon who only sees the aftermath of his city's violence as it's rushed into his ER – until his wife (Elisabeth Shue) and college-age daughter (Camila Morrone) are viciously attacked in their suburban home. With the police overloaded with crimes, Paul, burning for revenge, hunts for his family's assailants to deliver justice. As the anonymous slayings of criminals grabs the media's attention, the city wonders if this deadly avenger is a guardian angel...or a grim reaper. Fury and fate collide in the intense action-thriller Death Wish.