'Benji' Trailer: Netflix Reboots The Lovable Dog Franchise And Keeps It Cheesy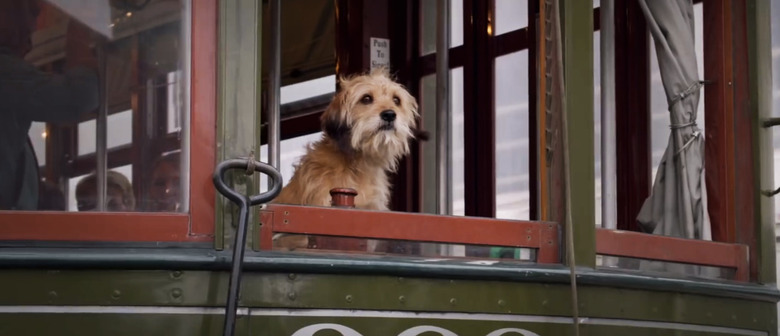 The loveable dog Benji has been the star of plenty of movies and TV specials. But now the canine has a new home on Netflix, and the first Benji trailer shows us what the dog is up to this time.
Benji brings back everyone's favorite mutt who is always at the right place at the right time to give people love and help when they need it the most. In a new Netflix original movie, Benji meets a young boy and his sister who take him in as their new pet, even though their police officer mother isn't too keen on the prospect of having a dog. But she might change her tune when Benji looks like the one chance they have at finding her kids after they've been kidnapped.
Watch the Benji Trailer
At first, I thought this movie might take place in the 1990s, because what young kid in this day and age has a Michael Jordan action figure, let alone even knows who Michael Jordan is? But throughout the trailer you'll see a flat screen TV and modern cars, so this movie is most certainly set in the present day, though it still has a bit of a timeless feel to it.
When a reboot of Benji was announced awhile back, I wondered if they would try to update it for today's audiences. To me, Benji movies have always felt a bit dated and out of touch with even the current filmmaking style in the time period in which they were made. Sadly, that trend continues with this latest iteration that feels like a straight-to-DVD adventure that no one really asked for.
The new Benji just feels like it's trying to hard to be harmless and innocent, almost like a Pureflix movie but without any of the overt religious messages. The use of the Pete Townshend song "Let My Love Open the Door" doesn't really help, and it makes the movie seem like a parody of itself, especially when the kidnapping plot is introduced.
This movie will probably be just fine for the kids it is geared towards, giving parents an hour and a half of peace. But I just wish producers of movies like this would try a little harder to make them more appealing for kids and adults. At the very least get some more recognizable faces involved, since this movie only stars Kiele Sanchez (Lost), Gabriel Bateman (Stalker) and Darby Camp (Big Little Lies).
Here's the official synopsis for Benji:
A modern day retelling of the classic, the story of Benji follows one orphaned puppy and Carter and Frankie, two capricious New Orleans school kids who strike up a friendship with the tenacious street dog.  When danger befalls them and they end up kidnapped by robbers who are in over their heads, Benji and his scruffy sidekick come to the rescue.
Benji hits Netflix on March 16, 2018.