New 'Annihilation' Featurette Highlights The All-Female Cast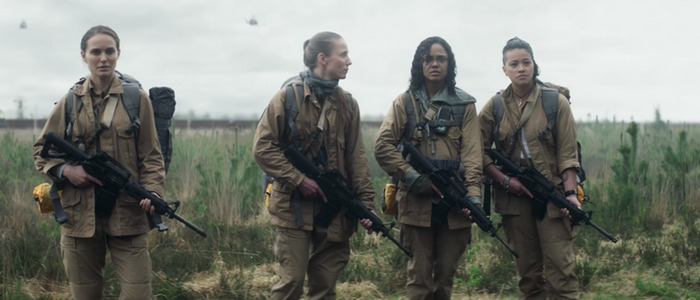 Alex Garland's Annihilation already has folks heralding it as a modern sci-fi classic. In anticipation of the upcoming release, a new Annihilation featurette takes a quick look at the nearly all-female cast of the film.
Annihilation is a big, audacious sci-fi film that also happens to have an all-female cast (give or take an Oscar Isaac or two). Hopefully, there will come a time when having an all-female in your big movie won't seem like a big deal, but for now, it is. A new Annihilation featurette focuses on that cast, including Natalie Portman, Jennifer Jason Leigh, Gina Rodriguez and Tessa Thompson. Check it out.
Annihilation Featurette
This featurette is quick and to point. Co-star Tessa Thompson sums it up perfectly when she says Hollywood should be open to "make more interesting movies with women at the forefront." Damn right.
Annihilation is one of my most anticipated films of the year. I have not had a chance to see the film yet, because I live in a small little backwater called Philadelphia. You have probably never heard of it. But folks in real places, like New York and LA, had the chance last week, and they were raving. /Film's own Ben Pearson said, "This is the type of sci-if we always say we want to see. Bold, challenging, singular, visually dazzling. Would not be the least bit surprised to see it hailed as a masterpiece (and it might actually be one)."
Changes From Page to Screen
One thing that is clear from this featurette, and the various trailers: Annihilation is going to be completely different from Jeff VanderMeer's original novel. Having not seen the film yet, I'm not sure if that's a good thing or not. But the signs of change are everywhere. For one thing, this featurette makes it clear all the characters have full names, but one of the distinguishing traits of VanderMeer's novel was that everyone went by a title, not a name – the anthropologist, the surveyor, the biologist, the psychologist, and so on.
Garland spoke a bit about the changes to Collider:
"This [adaptation] is probably more of a free for all. It's a very dreamlike, very beautiful novel and it worked well for my purposes. I loved what [author] Jeff [VanderMeer] had done but one thing I know... Years ago I used to work as a novelist and I know that novels & films are independent of each other."
Annihilation opens February 23, 2018.
"Lena, a biologist and former soldier, joins a mission to uncover what happened to her husband inside Area X – a sinister and mysterious phenomenon that is expanding across the American coastline. Once inside, the expedition discovers a world of mutated landscape and creatures, as dangerous as it is beautiful, that threatens both their lives and their sanity."