'A Quiet Place' Trailer: Monsters Hunt Emily Blunt And John Krasinski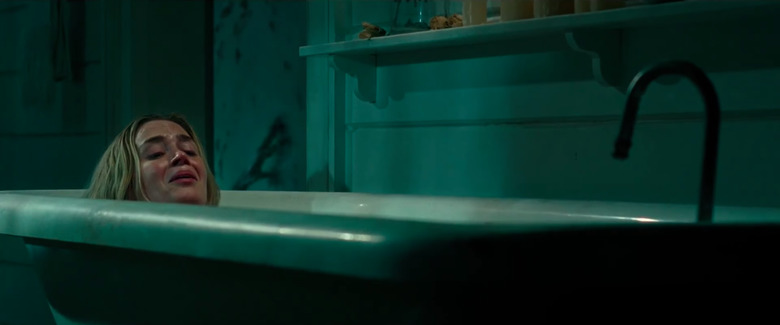 It's become a steadily growing problem in the digital age: How do you sell a horror movie without revealing too much about the movie? Horror films are built on shocks and scares, and today's spoiler-happy culture threatens that very foundation. But if you have an intriguing enough premise, you can get audiences in theaters, right?
A Quiet Place certainly has that intriguing premise down pat: Emily Blunt and John Krasinski play the parents of a family who are forced to live in utter silence for fear of being hunted by mysterious creatures drawn to noise. But as the taut horror thriller rolls out its trailers, it seems like it's being forced to reveal more and more...including a glimpse at the terrifying monsters at the center of it all.
A Quiet Place Trailer
The new trailer for A Quiet Place, which premiered on the Ellen Show, reveals a whole slew of new footage, including a few other children that Krasinski and Blunt's characters are looking after, and the first dialogue spoken in all of the film's trailers. "Who are we if we can't protect them?" Blunt shakily whispers to Krasinski. "We have to protect them."
From what I can glean from the trailer, it seems like this conversation takes place just after the couple lose their youngest child: a boy who naively turns on the loud toy plane. Krasinski sprints to save him from the monster hurtling through the woods, but horrifyingly, it appears that he fails — the boy is the third and youngest child of the bunch, and never again appears in later shots of the four-member family.
The trailer offers a better understanding of how this family operates in the world: they sprinkle a path of sand wherever they go so they can walk barefoot, they communicate in sign language, leap over crunchy leaves. But then it all comes crashing down.
The monsters hunting the family seem to be humanoid creatures, which we first got a glimpse of in the Super Bowl spot. Now behold: the monster's arm. It appears behind Blunt as her character gives birth in the bathtub, struggling with all her might not to scream. But it seems like her efforts were doomed from the start.
Krasinski directs and stars in A Quiet Place, his first venture into horror filmmaking in his brief career as a director. Few details are offered about A Quiet Place other than its cryptic tag line "If they can't hear you, they can't hunt you." The film also stars Wonderstruck breakout Millicent Simmonds and newcomer Noah Jupe.
A Quiet Place is set to hit theaters on April 6, 2018.