Oscar Isaac Sometimes Shot 'The Last Jedi' And 'Annihilation' On The Same Day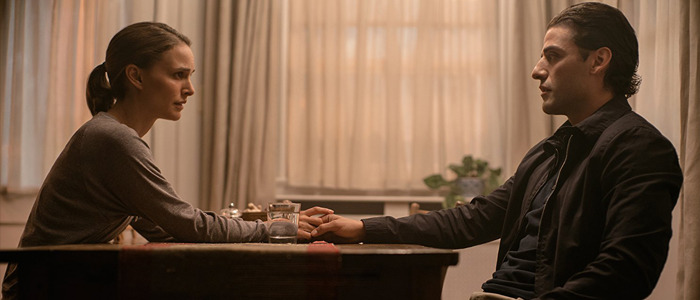 Poe Dameron, the cocksure flyboy of Star Wars: The Last Jedi, and Kane, the mysterious character whom Oscar Isaac plays in the upcoming sci-fi movie Annihilation, could not be more different. But while an actor typically has the ability to immerse themselves in a single character when he or she makes a movie, Isaac was sometimes shooting scenes from both movies on the very same day.
We spoke with Isaac and Annihilation writer/director Alex Garland at the film's press junket last week, and the two explained Isaac's intense shooting schedule, why it reminded the actor of Pee-Wee's Big Adventure, and how Rian Johnson and his Star Wars team went out of their way to help the Annihilation production achieve what they needed.
Here's the relevant portion of our Alex Garland Oscar Isaac Annihilation interview. The rest will be published the week of release, and there may even be a spoiler-heavy section that goes up the Monday after the film debuts. In the meantime, read their comments about Isaac's "pretty wild" experience filming both movies at the same time.
***
With this and Star Wars, you're a part of two big recent sci-fi movies that proudly feature women at the forefront of the cast, which is really cool. I know you're separated from a lot of the ensemble here, but tell me about working with Natalie Portman on this.
Isaac: I was shooting Star Wars at the exact same time, too, so that was a wild thing to –
Wait, you were jumping back and forth between sets?
Isaac: It was literally the same studio.
Oh, cool.
Isaac: So some days I would walk from – I think I still used my trailer from Star Wars...
Garland: Yeah, we didn't have trailers. But there were days where you were, on the same day, shooting both things.
Isaac: Yeah, there were. I would shoot something in the morning and then have a little bit of down time and then switch it up. So that was wild.
Garland: We'd catch him at his lunch break and say, 'We've got to shoot this now!' (laughs)
Isaac: I think I visited, too, still dressed up as Poe on the set.
Garland: Yeah, totally.
Isaac: It was pretty wild. It reminded me a little of Pee-Wee's Big Adventure, when he's on the lot and you see all the different actors walking around. There was something very classic about it. So there was very little time, and not a lot of rehearsal time, and Natalie and I didn't know each other. It happens in movies, obviously – you have to suddenly be very intimate with someone very quickly. I think the fact that she was willing to trust me and I was trusting her, and we just went in there and did it and tried to find a real intimacy. Which is always a weird, awkward, strange thing to do suddenly in front of a bunch of people. But we found that, and I really enjoyed those scenes with her. She is very focused, but also in those scenes, very emotionally available as well, so I really enjoyed that.
Garland: It makes me want to name-check Rian [Johnson] and Ram [Bergman], the producer on Star Wars [The Last Jedi]. I think because they come from an indie film background, here they are making like the biggest movie of all time, and they were unbelievably helpful and accommodating to us. And they really didn't have to be at all. Most big productions would not even dream of doing that. And they went out of their way – whilst making fucking Star Wars, for Christ's sake – to help this really small movie next door. It was very cool and I'm truly grateful for it, actually.
***
Annihilation arrives in theaters on February 23, 2018. Watch the trailer right here.