'Red Sparrow' Featurette Reveals The Art Of Manipulation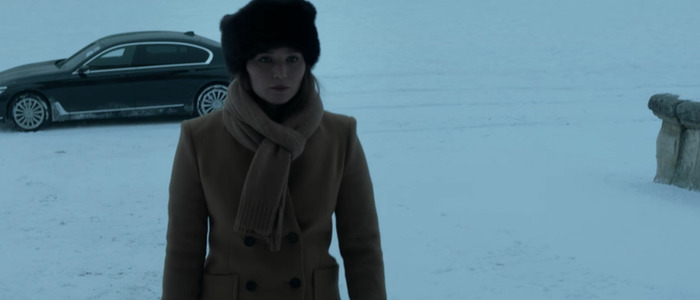 Red Sparrow is less than a month away from theaters. In anticipation of the new spy thriller starring Jennifer Lawrence, a Red Sparrow featurette goes behind-the-scenes and reveals the real-life inspirations for the story. Watch it below.
Are you excited for Red Sparrow? There is no real buzz for the film, but it has potential. Perhaps it'll end up being a nice surprise, or a sleeper hit. Jennifer Lawrence stars as a former ballerina who finds herself forced into the dangerous world of spycraft. Many heavy accents and intense situations follow. A new Red Sparrow featurette goes behind-the-scenes of the film. Check it out.
Red Sparrow Featurette
The biggest takeaway from this featurette is that Jason Matthews, who wrote the novel the film is based on, was himself a CIA agent. I feel like Red Sparrow should be making a bigger deal about this with their advertising: having your film's spy story written by an actual CIA agent is pretty darn cool. Matthews didn't write the screenplay adaptation – those duties fell to Justin Haythe, writer of the absolutely bat-shit-insane A Cure for Wellness.
In the featurette, writer and former spy Matthews pushes the film's authenticity, claiming Red Sparrow features, "Very authentic cold war techniques." I'll take his word for it.
Red Sparrow also stars Joel Edgerton, Matthias Schoenaerts, Charlotte Rampling, Mary-Louise Parker and Jeremy Irons. That is one solid cast, folks. I want this movie to be good. I'd love a new movie that isn't part of a comic book franchise, or a sequel, or a remake. Something original, geared towards adults. We need more movies like that! I just can't quite get a sense of what Red Sparrow will turn out to be. Trailers, and even this featurette, make it seem way too low-key. Not every female-lead spy thriller needs to be drenched in neon and style like the recent Atomic Blonde. Still, it would be nice to see some sort of life in this thing. At the very least, I'll give it a chance, and so should you.Red Sparrow opens March 2, 2018.
Prima ballerina Dominika Egorova faces a bleak and uncertain future after she suffers an injury that ends her career. She soon turns to Sparrow School, a secret intelligence service that trains exceptional young people to use their minds and bodies as weapons. Egorova emerges as the most dangerous S
parrow after completing the sadistic training process. As she comes to terms with her new abilities, Dominika meets a CIA agent who tries to convince her that he is the only person she can trust.