'Child's Play' TV Series In The Works From Original Writer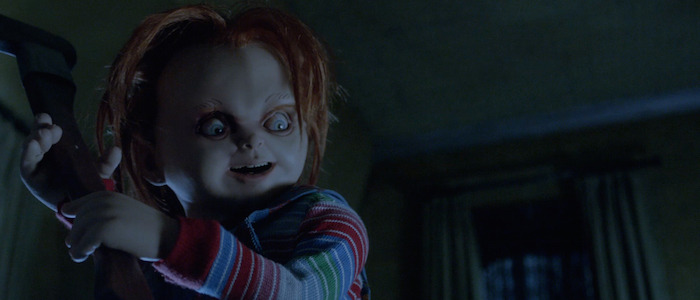 All horror icons grow old, stop being scary, and eventually vanish into the ether. It's just the circle of life. It happened to Freddy Krueger. It happened to Jason Voorhees. It happened to Michael Myers (although that new movie may have something to say about that). But Chucky? The kids' doll possessed by the soul of a psychopathic criminal? He's somehow kept on trucking. And now, the little guy's killing spree will continue on the small screen in a new Child's Play TV series.
The Child's Play TV Series
Bloody Disgusting spoke to Don Mancini, who has written every single script in the Child's Play series and has become the keeper of franchise. He even directed the last three entries in the series, including last year's Cult of Chucky. So when he says he's developing a Child's Play TV series with franchise producer David Kirschner, he's probably not BS-ing around. He told Bloody Disgusting:
We plan to use Child's Play in the title. We want to definitely signal that we are going dark, darker than ever before. It's going to be very creepy.
Mancini says the "dark and disturbing" series was set up at the end of Cult of Chucky. Take from that what you will, horror fans.
Bloody Disgusting reached out to Kirschner, who confirmed that the series is in the works:
I don't think there's a relationship that lasted this long. I'm incredibly excited about the series and to explore a world in which we've never done before. [...] Don has taken the franchise in a wonderfully frightening direction. He seems to outdo himself every time.
This Could Actually Work
There are a few things to note here. First, Mancini is no stranger to television. He's a writer/producer on Syfy's Channel Zero (the best horror show on TV), so he knows his way around the small screen. He also worked on the late, great Hannibal. Meanwhile, Channel Zero creator Nick Antosca (another Hannibal vet) has previously teased a television collaboration with Mancini. Does this mean the Channel Zero crew is bringing Chucky to the small screen? Maybe even to the genre-friendly Syfy? It would be one hell of a creative team and the right network.
The other thing to note: this doesn't sound like a bad idea. While other horror icons have only grown less interesting over the years, Chucky has evolved with the times, shifting genres and remaining shockingly malleable. Reviews were mixed on Cult of Chucky (Chris Evangelista didn't care for it, but Chucky fanatic Matt Donato is a fan), but this is a series that, somehow, still has plenty of gas in the tank.
No other details about the Child's Play TV series are available, but Bloody Disgusting is reporting that it will be an eight-episode, hourlong series. Let's see if it comes together.