Trailer Round-Up: 'B: The Beginning', 'The Titan', 'Josie', 'Spinning Man', 'Outside In'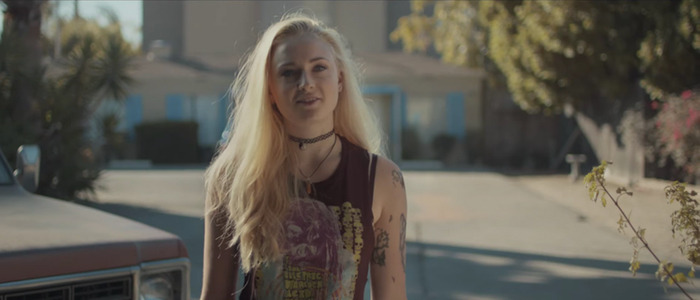 Time for a good old-fashioned trailer round-up! We've compiled several recent trailers together in one convenient place, because we care about you. Below you'll see new trailers for Netflix's new anime B: The Beginning, the sci-fi thriller The Titan, Sophie Turner in Josie, Pierce Brosnan and Guy Pearce in Spinning Man, and the indie film Outside In.
B: The Beginning 
I am not an anime fan. I'm not saying I dislike anime, I'm just saying I never got into it. But anime has a big following, and Netflix wants in on it. Their new anime B: The Beginning comes from co-director Kazuto Nakazawa, who created the anime sequence in Kill Bill Vol. 1. The show comes from Production I.G., who were also behind the Ghost in the Shell series. B: The Beginning premieres March 3, 2018 on Netflix.
In a world powered by advanced technology, crime and action unfold in the archipelagic nation of Cremona. Koku, the protagonist. Keith, the legendary investigator of the royal police force RIS. A mysterious criminal organization. A wide variety of characters race through the fortified city as it is beset by the serial killer, Killer 

B

, and a chain of crimes in this suspense drama by director Kazuto Nakazawa and Production I.G.
The Titan
What the hell is this? I don't know, but it looks kind of incredible. Sam Worthington, of Avatar fame, is back on his bullshit again, turning himself over to government experiments that give him a whole new body. There's a shot in here where Worthington is in a pool and then starts swimming like a dolphin. It's wild, y'all. The Titan also stars Nathalie Emmanuel, Taylor Schilling and Tom Wilkinson. Look for it on April 13, 2018.
In the near future, a military family is relocated so it can participate in a groundbreaking experiment of man's genetic evolution into space.
Josie
Game of Thrones star Sophie Turner adopts a shaky Southern accent and gets covered in tattoos in Josie. Turner's character comes storming into a small town, and catches the eye of older man Dylan McDermott. Things get intense. Jack Kilmer, Daeg Faerch, Kurt Fuller, Robin Bartlett, Lombardo Boyar, and George Todd McLachlan also star. Josie opens March 16, 2018.
Everyone knows everyone in Huntsville. So when tattooed, sweet-talking Josie (Sophie Turner) struts into town, heads turn. Striking up relationships with young punk Gator and loner Hank (Dylan McDermott), she quickly becomes a hot topic of local gossip. But her true intentions for showing up in this small, southern community are far more sinister as her dark past comes to light.
Spinning Man
Spinning Man is a bad title for a movie, but here we are. This murder mystery has Detective Pierce Brosnan investigating college professor Guy Pearce after a student goes missing. Pearce becomes the prime suspect, and things get intense. Then Clark Gregg shows up! Minnie Driver also stars in the film, and it actually looks pretty good despite its truly dreadful title. Spinning Man opens April 6, 2018.
Evan Birch (Guy Pearce) is a family man and esteemed professor at a distinguished college, where his charm and reputation have made his philosophy class very popular. When a female student named Joyce goes missing, Evan's previous off-campus dalliances make his wife (Minnie Driver) question his alibi. Gruff police Detective Malloy (Pierce Brosnan) has even more reason to be suspicious when crucial evidence makes Evan the prime suspect in Joyce's disappearance. Suddenly, the questions Evan faces aren't merely academic – they're a matter of life or death.
Outside In
Edie Falco, Jay Duplass, Kaitlyn Dever, and Ben Schwartz star in the indie drama Outside In. Duplass plays an ex-con who gets out of jail and finds himself bonding with his former teacher, played by Falco. Outside In probably won't be a blockbuster, but it looks genuinely well-made and emotional. I will be seeing it for sure. Outside In opens March 30, 2018.
An ex-con adjusting to modern life forms an intense bond with his former teacher, who herself is struggling to connect with her daughter.