Elizabeth Olsen To Lead A New Facebook Original Series From 'Spectacular Now' Director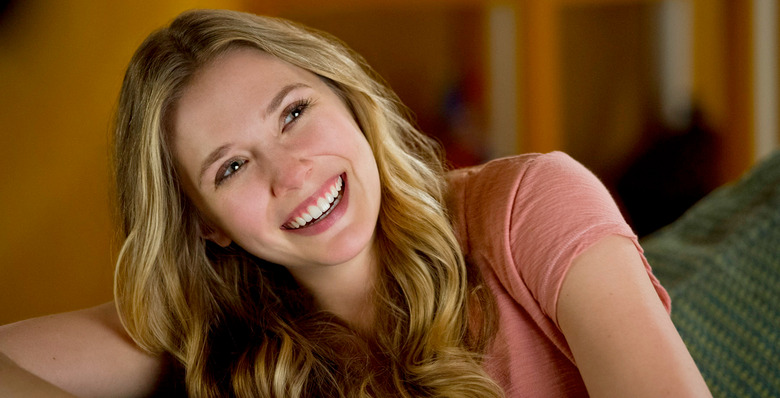 In case you haven't heard, Facebook is trying to following in the footsteps of YouTube, Netflix and Hulu by creating their own original content for binge-watching, stream-hungry audiences to throw their gaze upon. The initiative is called Facebook Watch, and it was first focused on helping all creators and publishers find an audience, build a community of fans, and earn money for their work. But now it's going to be a platform for Facebook to launch their own original programming, and the social media company has just ordered their first major project.
Elizabeth Olsen will be starring in a currently untitled half-hour dramedy series created and written by Kit Steinkellner (Amazon's Z: The Beginning of Everything). The Avengers franchise star will also be producing the series with The Spectacular Now director James Ponsoldt, who will be directing the pilot and several more episodes in the Elizabeth Olsen Facebook series.The Hollywood Reporter has news of Facebook's new original programming endeavor, but any details on the plot of the series are being kept under wraps for the time being. However, it sounds like whatever lies within the script is something that Olsen has been wanting to see come together for some time:
"I couldn't be prouder of the group we have brought together for this show. Kit's story has been near and dear to me for years and I can't wait to share our dark, funny and complicated show with the world."
Joining Olsen, Steinkellner and Ponsoldt on the series will be Robin Schwartz, Marc Turtletaub and Peter Saraf at Big Beach TV as well as Cynthia Pett, Brad Petrigala and Jon Liebman at Brillstein Entertainment Partners. Switched at Birth creator Lizzy Weiss is set to serve as the showrunner.
Facebook's Push into Original Content
This marks a new path that Facebook is carving. They had already started to use their Watch platform for short-form unscripted programming like Ball in the Family and Returning the Favor with Mike Rowe, as well as the scripted series Strangers and the comedy Loosely Exactly Nicole, which they saved from being canceled at MTV. Those were all shows that ran under 20 minutes in length. So this is their first big high profile endeavor for original programming that is more along the lines of standard TV and streaming programming.
While Facebook was originally interested in partially funding shows for Watch, they will now focus their funds on a smaller number of higher profile projects. Along with the aforementioned new series starring Elizabeth Olsen, Facebook is also developing a high school drama set in Chicago called Five Points that will be executive produced by Kerry Washington.
Will Facebook be able to get any traction with their original programming? Facebook has added a lot of new functionality over the years, including elements that make the social media experience more engaging on the website, but could it really become a prime destination for original programming? Will users even know where to go to check it out? This doesn't sound like the a promising new endeavor for Facebook, but only time will tell.