'Annihilation' Director Alex Garland's Next Project Is A TV Series Like 'Ex Machina' Or 'Never Let Me Go'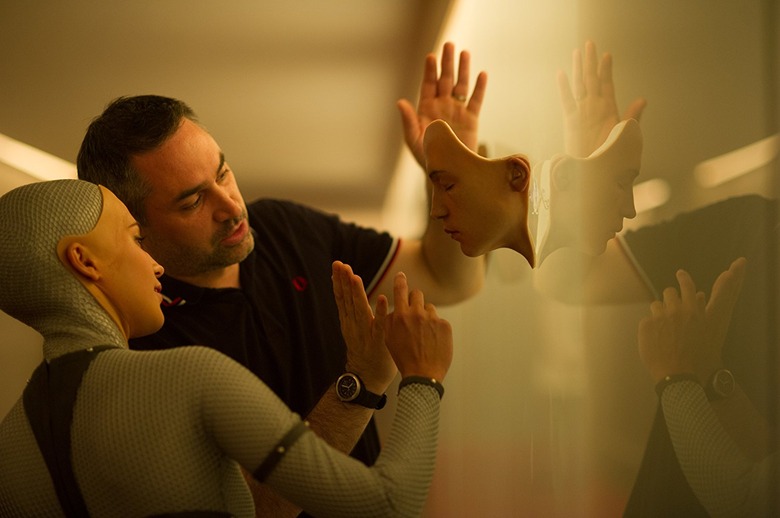 Alex Garland only has two feature films under his belt as a director, but he's quickly become one of the most exciting science-fiction filmmakers working today. And with early buzz for his upcoming film Annihilation suggesting that his directorial debut Ex Machina was no fluke, all eyes are on what Garland will do next.
It turns out, he'll be doing much of the same — but this time, it's on TV.
Garland appears to operate by the "if it ain't broke, don't fix it" philosophy. The filmmaker rose to fame as the screenwriter of several acclaimed sci-fi films, including 28 Days Later, Sunshine, and Never Let Me Go, before making the leap to the director's chair with Ex Machina in 2015. Not content with a straightforward sci-fi thriller, Garland's stories more often veer toward cerebral and challenging.
Now, Garland is planning to bring that fixation on the humanistic side of sci-fi to TV. Garland will be creating an eight-part sci-fi TV series for FX, Garland revealed to Fandango:
"The next project, provided it happens – hopefully we're gonna shoot it later this year – [and it's] an eight-part television series for FX. It's a sort of science fiction, but it's a much more technology based sci fi whereas Annihilation is a more hallucinogenic form of sci fi and more fantastical form of sci fi.
This is slightly more in common with projects I've worked on like Ex Machina or Never Let Me Go, which are taking something about our world now – not our world in the future, but our world as it is right now – and then drawing sort of inferences and conclusions from it."
In 2017, Garland signed a deal with FX to create new television projects. This untitled eight-part series will be his first collaboration with the network.
Garland didn't offer any more details about the project, but he did tell Fandango, "It's already written [and] my plan at the moment is to direct the eight episodes, but for practical reasons that might not be possible."
At first glance, Ex Machina and Never Let Me Go don't have too much in common. Ex Machina is a cold, chilling sci-fi thriller that blurs the line between humanity and artificial intelligence. Never Let Me Go is a distressing coming-of-age film about clones whose sole reasons for existence are as expendable organ donors. But they deal with a similar question: What does it mean to be human?
It's an intriguing premise for a sci-fi series, especially for a network that doesn't shy away from ambitious, boundary-pushing series. FX has arguably the best current slate of TV shows on cable TV, ranging from trippy superhero series like Legion, surreal comedies like Atlanta, and powerful character vehicles like Fargo. An Alex Garland sci-fi series exploring the meaning of humanity is a perfect match with the network.