Meet The New 'Solo' Characters In The Ever-Expanding 'Star Wars' Universe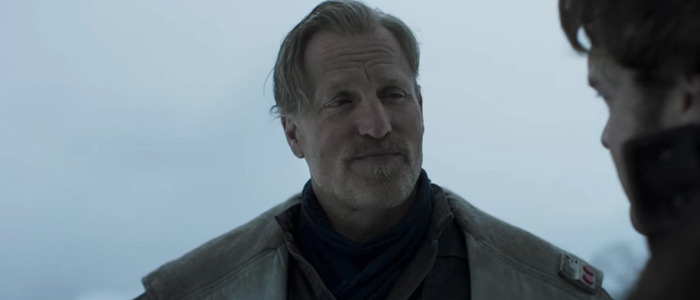 If you thought you could finish out the week without one more Solo news story, think again! New info has just emerged about the three new potentially villainous Solo characters played by Woody Harrelson, Thandie Newton, and Paul Bettany.
When it comes to Solo: A Star Wars Story, there are some things we know, and some things we don't. We know that Han Solo will blossom into the lovable rogue we're familiar with and we know he'll team-up with mainstay Star Wars characters Chewbacca and Lando. But what about the new characters? Where do they fit into this latest Star Wars adventure? We've already learned a bit about Emilia Clarke's new character Qi'Ra. Now, thanks to Entertainment Weekly, we have some new details about the characters played by Woody Harrelson, Thandie Newton, and Paul Bettany.
Woody Harrelson is Tobias Beckett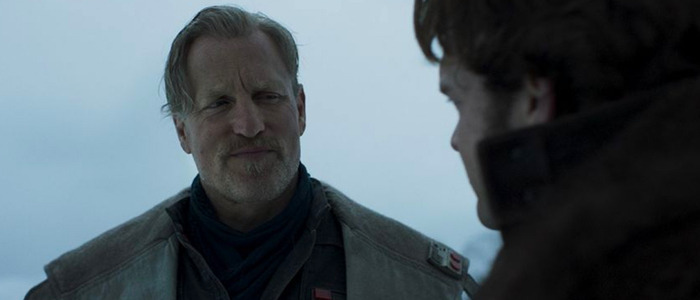 We've known for a while now that Woody Harrelson would be playing a kind of mentor to Alden Ehrenreich's Han Solo. Director Ron Howard tells EW that Harrelson's character, named Tobias Beckett, "shapes Han really more than anybody, as Han comes to realize that in a lawless time he needs to try to come to terms with some kind of moral code."
Per Screenwriters Lawrence and Jon Kasdan, Harrelson's character is inspired, in part, by Long John Silver from Robert Louis Stevenson's Treasure Island. In case you haven't read that novel since AP English class back in the day, Long John Silver is an opportunistic, morally grey character – he's willing to switch sides at the drop of the hat if it serves his interests.
Thandie Newton is Val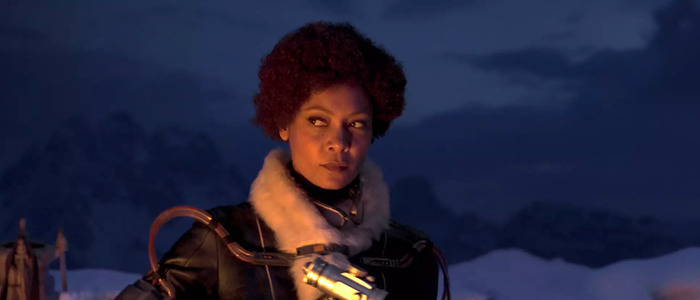 We don't know a whole lot about Thandie Newton's character, Val. Kathleen Kennedy tells EW Val is tied to Harrelson's character in some way: "They've been partners a long time." Co-writer Jon Kasdan says that Newton's character is "skeptical" of Han. Kasdan adds, "Her relationship with him goes in, I think, an...interesting direction." This could mean literally anything, so let's not speculate too wildly here.
A side-note about Newton's performance: in the past, the actress revealed that the bulk of her scenes were actually shot by original directors Phil Miller and Chris Lord. "[Lord and Miller's] work is everywhere in it," Newton said. "Ninety percent of my stuff is with them. And it certainly wasn't about, 'Oh we have to start again and do it all over.'"
Had to say goodbye to my friend @Paul_Bettany today. Another terrific performance from a world class talent. pic.twitter.com/6jkNKQNQZZ

— Ron Howard (@RealRonHoward) September 16, 2017
Paul Bettany is Dryden Vos
Paul Bettany's character, Dryden Vos, was originally played by Boardwalk Empire actor Michael K. Williams. When Ron Howard came on board to reshoot a large chunk of Solo, Williams was unable to return due to another commitment. Bettany was brought in as a replacement. We've learned in the past that Bettany's character is a "intergalactic gangster." EW confirms that, stating that Bettany's Dryden Vos is a successful crime boss. "He's way deeper in the crime world than anyone else that we meet in the movie," says Jon Kasdan.
In sharp contrast to Newton's statements about a large portion of Lord and Miller's original work remaining in the film, Bettany said in the past that Howard reshot most of the movie:
"[Ron Howard's] staging ability is so fucking brilliant...I think he went in and he was like a laser, working out what needed to be done when he looked at the footage. And then, as things moved on, everybody felt so secure with him. And they gave him more. He reshot a lot more than was originally intended."
Solo: A Star Wars Story opens on May 25, 2018.