Joel Kinnaman Joins 'Hanna' TV Series – What This Means For 'Altered Carbon'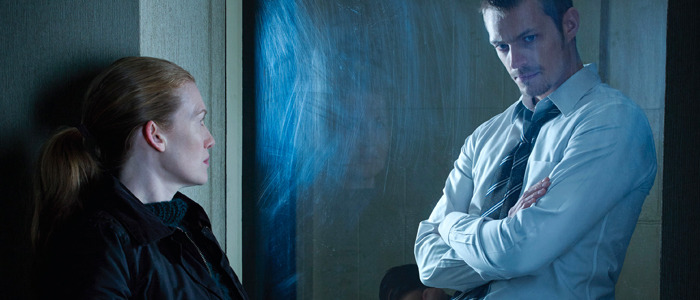 Joel Kinnaman and Mireille Enos, who co-starred on AMC's The Killing, have been cast in leading roles in Amazon's Hanna TV show, a small screen adaptation of Joe Wright's 2011 teen assassin thriller. Holder and Linden ride again!
But since Kinnaman is currently starring on Netflix's new sci-fi series Altered Carbon, what does this mean for his participation in season 2 of that show?
Reunited and It Feels So Good
According to The Hollywood Reporter, Kinnaman (Suicide Squad, Robocop) and Enos (World War Z, Gangster Squad) will play two of the key adult roles in the new show. This will mark their first TV reunion since the murder mystery drama The Killing, which began on AMC in 2011 and wrapped up its run over on Netflix in 2014.
For those who don't remember, Hanna was a smart survival thriller punctuated with intense action scenes about a young girl who was trained to kill by her CIA agent father. It's perhaps most notable as a significant stepping stone for launching Saoirse Ronan's career, and for the way Wright mixed the action with an eerie fairy tale sensibility. Take a look at the movie's trailer:
In the show, Kinnaman will play Erik Heller, "a hardened, intuitive and uncompromising soldier and mercenary, who, for the past 15 years, has raised his daughter in the remote forests of northern Poland." Eric Bana originated the role in the 2011 film.
Enos will play Marissa, the role Cate Blanchett played in the movie. Marissa is described as "an efficient and ruthless agent who has risen up the ranks of the CIA. However, beneath her cool exterior is a deeply buried secret that continues to haunt her."
Saoirse Ronan, who's currently nominated for Best Actress at the Oscars for her work in Lady Bird, played the title role in the 2011 film. Newcomer Esme Creed-Miles will take over for her in the TV version. David Farr, who wrote the movie, is back to write the show, and Sarah Adina Smith (Legion) is directing the pilot for Amazon.
"Hanna aims to be both a raw-knuckle ride and a deeply touching family drama," Farr said in a statement. "It has the visceral excitement of a genuine conspiracy thriller but also the simple humanity of a rites of passage drama. Hanna is in a very unusual family. She's a very special teenager. But all teenagers think they're abnormal. She's just a little more abnormal than most."
What About Altered Carbon?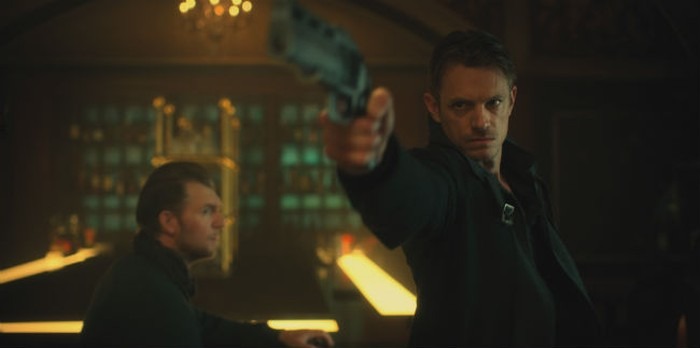 Spoilers ahead for season one of Altered Carbon.
Kinnaman only signed a one-year deal to star on the Netflix sci-fi series, so it's doubtful his new gig on Hanna would impact anything in that regard. I haven't watched Altered Carbon yet myself, but in the show, Kinnaman plays a man whose consciousness has been uploaded to another person's body. In an interview with TV Guide, Kinnaman said he probably wouldn't be back to reprise his role in a second season:
"I don't think so, no. We have no idea what the second season would be, but my guess is that they would follow the two other books, and they are all on completely different planets, completely different worlds, and my guess is — and I don't know — my guess is that it's sort of going to be an anthology show where maybe a couple of the characters continue into the next season. But no one knows what's going on in the second season."
In the books on which the show is based, the main character changed his "sleeve" (human host body) often, meaning that there are opportunities for other actors to come in and play that character in future seasons. So while the character of Takeshi Kovacs will return, it almost certainly won't be in Kinnaman's skin.