Emilia Clarke Hints At Qi'Ra's Long History With Han In 'Solo: A Star Wars Story'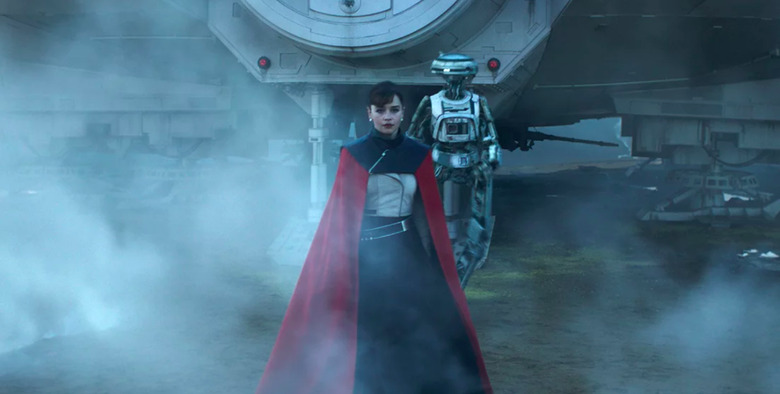 After months of frustrating silence, we're being blessed with a slew of first looks at and details of the upcoming Solo: A Star Wars Story. And after the charming rogue Han and his arguably more charming friend Lando received the spotlight, we get to learn about a brand new character: Qi'ra.
Emilia Clarke's femme fatale is a shadowy character who shares a long, storied past with Han. But despite that fancy cloak, Clarke assures us that the mysterious Qi'ra has a "core of steel."
Qi'Ra and Han Solo Are Partners in Crime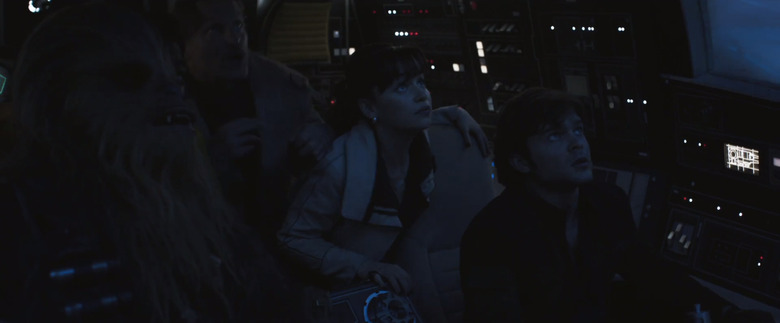 Before Han Solo and Chewbacca had their bromantic meet-cute, it was Han and Qi'ra. Entertainment Weekly spoke with Emilia Clarke about her character's past with Han, which stretches back even further than we thought.
Rather than a glamorous stranger that Han meets when he joins Tobias Beckett's criminal crew, Qi'ra was a childhood friend who had grown up with him, Clarke revealed:
Well, they grew up as comrades, essentially. They grew up as pals, as partners in crime. There is obviously the romantic side of things. But they grew up together. So they were kids together. And the beautiful thing about this Han Solo story is it's highlighting all of the most brilliant aspects of Han Solo the character and characterizing those aspects in characters that he meets on his journey to becoming who he is.
However, Clarke played coy when asked whether this movie would show a dramatic reunion. "The point where you meet her, she is with Han," Clarke said, referring to an opening scene in the trailer where Han and Qi'ra are racing away in a speeder, evading Stormtroopers.
How Big of an Influence is Qi'Ra on Han?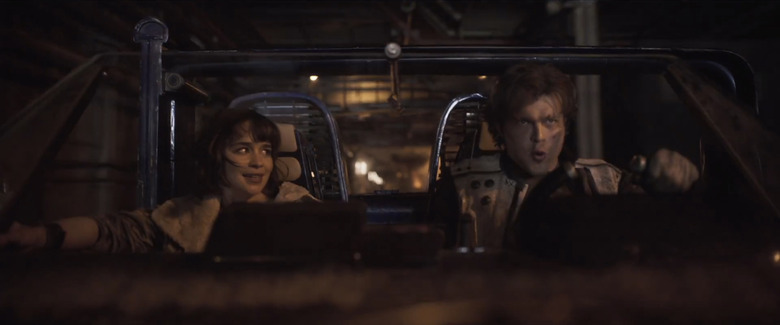 But if Qi'ra played such a big part in Han's life, why was she never once mentioned by him after the fact? Clarke hinted that perhaps a traumatic event is in play here, either of betrayal or of a more dire fate.
Something must happened to affect him as a person, but for us fans not to know about her. Twists happen, and there is this great idea of trust — and who do you trust and how do you trust? And which side of the tracks are either character from — or going to?
It sounds like Qi'ra is living up to her femme fatale label to a worrying amount: the seductive, mysterious woman who ends up suffering for her devious ways. A dynamo of a woman who ultimately gets fridged for the development of our male hero. But Clarke assures that Qi'ra's influence on Han is more than the sum of her parts:
You see the beginnings of him, this loveable rogue. You get it fine-tuned throughout these relationships, and Qi'ra is one of those relationships that has an impact on him as a character. I mean, hopefully [laughs] — if I have done my job. And within that relationship, the thing that that you see with Qi'ra is that she an enigma.
Qi'ra is Just Fighting to Stay Alive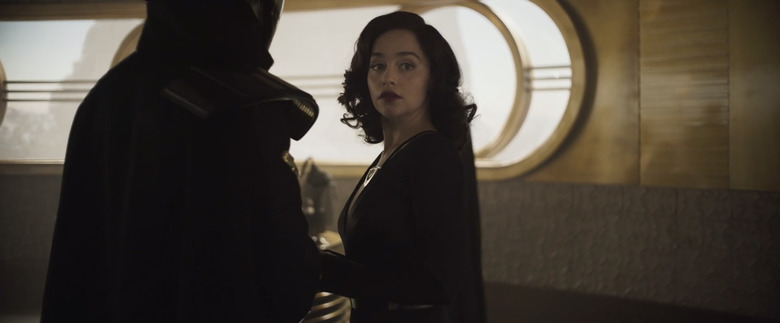 Qi'ra has been described by the filmmakers as a femme fatale more than once, but underneath that wardrobe of sweeping cloaks and glamorous dresses, she is simply another scrappy nobody trying to get by.  She's a "really glamorous lady in a really sordid environment you kind of know that maybe the glamour is hiding a few rough roads," Clarke told EW. She continued:
They are both doing what they've got to do to survive. And that is Qi'ra the whole the movie. The whole way through, she is surviving. And surviving in the underworld that we know to be [filled with] smuggling, aloof gamblers, wrong-side-of-the-tracks nasty ones.
...There are loads of different gangster-y elements running through it. It has been really fun to put Qi'ra in that. She has a couple of guises, but essentially she is just fighting to stay alive.
But though Qi'ra has her share of vulnerabilities and layers, she won't be that easy to dissect — for the audience, or for Han. Throughout the film, she remains a puzzle, a mystery that may never be deciphered, Clarke said:
There is a thing throughout the relationship you just can't put your finger on. And that's Qi'ra. Every time you think you have got her number you realize you haven't at all. [Laughs] Which is really hard to play. The goal is that the shadow of Qi'ra is there in Han as a character that we know. This girl is another texture that makes up who he is when we first meet him.
Solo: A Star Wars Story hits theaters this summer on May 25, 2018.