'Isle Of Dogs' Clip: Wes Anderson Stages A Dog Fight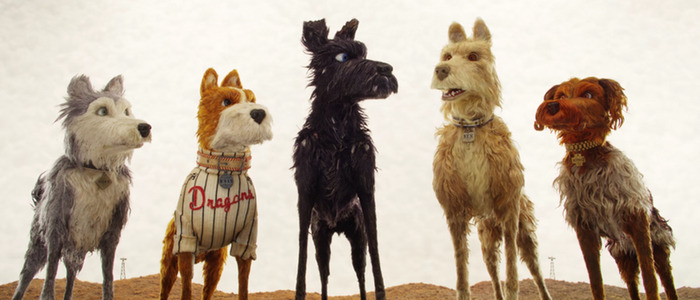 There's a new Isle of Dogs clip, and it's predictably delightful. Wes Anderson's new stop-motion film boasts a stellar cast of voice actors while once again transferring the filmmaker's trademark style to an animated playing field. The new Isle of Dogs clip is light on plot, but big on personality and dog fights. Watch it below.
Wes Anderson's Isle of Dogs is one of our most anticipated films of the year, and can you blame us? It's Anderson's first flick since his exceptional 2014 film The Grand Budapest Hotel, and it boasts a killer cast that includes Bryan Cranston, Edward Norton, Bill Murray, Jeff Goldblum, Kunichi Nomura, Ken Watanabe, Greta Gerwig, Frances McDormand, Courtney B. Vance, Fisher Stevens, Nijiro Murakami, Harvey Keitel, Koyu Rankin, Liev Schreiber, Bob Balaban, Scarlett Johansson,Tilda Swinton, Akira Ito, Akira Takayama, F. Murray Abraham, Yojiro Noda, Mari Natsuki, Yoko Ono, and Frank Wood.
It's also Anderson's first stop-motion film since his charming-as-hell 2009 adaptation of Fantastic Mr. Fox. Isle of Dogs focuses on a pack of mangy mutts living in a garbage dump. The first Isle of Dogs clip shows off our very good dogs as they tussle with another pack of canines over a mysterious sack. Check it out.
Isle of Dogs Clip
In the past, Anderson has said that Isle of Dogs was inspired both by the films of Akira Kurosawa and stop-motion holiday specials, like Frosty the Snowman and Rudolph the Red Nosed Reindeer:
"The new film is less influenced by stop-motion movies than it is by Akira Kurosawa. I really liked these TV Christmas specials in America...I always liked the creatures in the Harryhausen-type films, but really these American Christmas specials were probably the thing that really made me want to do it."
If you want more, you can watch an hour-long video below in which Anderson discusses the inspirations behind Isle of Dogs, and provides some insight into his career in general.
Isle of Dogs opens on March 23, 2018, but it'll first serve as the closing night film at SXSW.
ISLE OF DOGS tells the story of ATARI KOBAYASHI, 12-year-old ward to corrupt Mayor Kobayashi. When, by Executive Decree, all the canine pets of Megasaki City are exiled to a vast garbage-dump called Trash Island, Atari sets off alone in a miniature Junior-Turbo Prop and flies across the river in search of his bodyguard-dog, Spots. There, with the assistance of a pack of newly-found mongrel friends, he begins an epic journey that will decide the fate and future of the entire Prefecture.